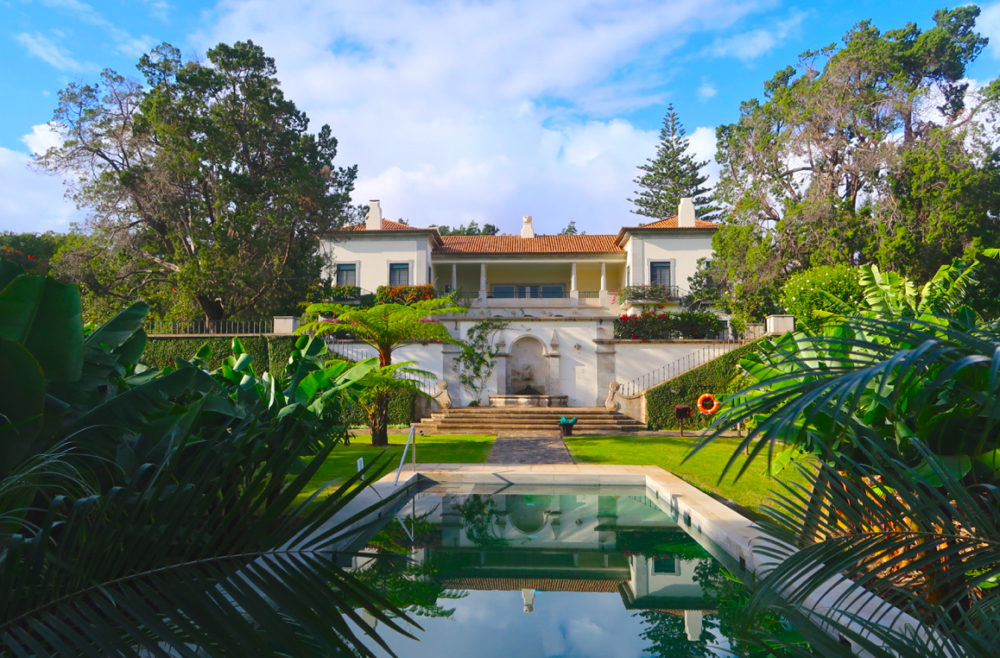 Arrival at Quinta da Casa Branca is at the highest point within the grounds and there is immediate wow factor. Just metres from the city hubbub, yet shielded from the noise and urban surroundings. All you can see (and smell) are the beautiful tropical gardens and the manor house in its perfectly romantic setting. It is quite spectacular, with the vista falling away to views over the bay of Funchal. Reception is an all glass affair which does the whole view considerable justice!
Quinta da Casa Branca is the former family residence of the owners of the hotel and so whilst it houses a modern design hotel, everything about the development is in agreement with the family. I think this gives it the local aristocratic style that it wouldn't otherwise have. You enter a rarefied atmosphere when you arrive. This is a fancy hotel, but there's no loud voices or showing off. Everyone is lulled into the peace, quiet and slow pace of the surroundings, making for an even more relaxing stay.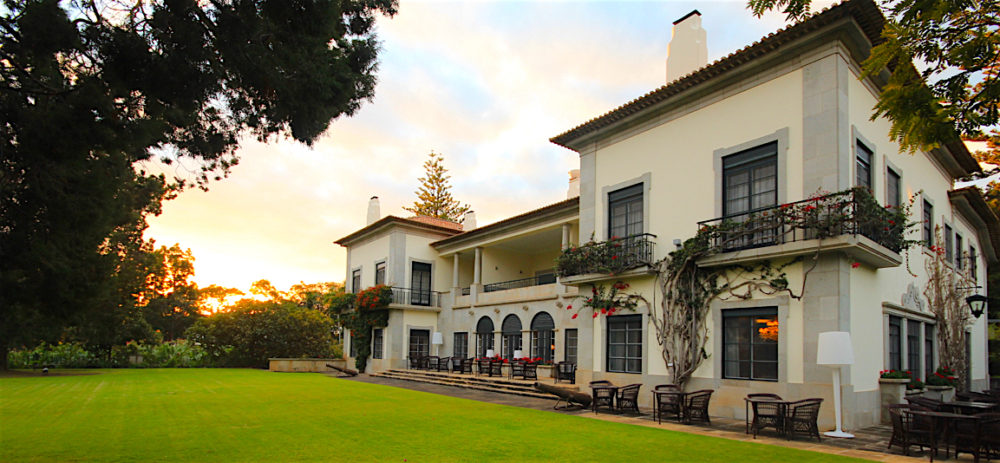 Our villa
For our two nights here we were very lucky indeed. We were staying in the Pool Villa. A simple traditional building from the outside, but step inside and be wowed…
Set inside its own gardens this charming residence gives you oodles of luxurious space as well as plenty of history. The villa dates back to the early 19th Century and it really does give you a private experience inside the quinta. The interior is divine. An airy and spacious hallway greets you with a swanky high-backed sofa.
Shuttered windows surround the property so sun can bathe in. The living room is enormous and airy and features stunning antique furniture as well as modern comfortable seating. The juxtaposition works a treat. Particular highlights are the fireplace, grandfather clock and tiny piano.
The bedroom is romantic in reds and pinks. Striking wall-paper makes it incredibly classic and glamorous. As you might imagine we truly relaxed and slept like logs.  Because there is a separate dressing room it stayed so tidy. The chaise longue was a perfect place to read in the evening.
Onwards through the dressing room and you meet your ideal bathroom! The floor tiles are beautiful, they had me at hello. The rest of the room is white-washed and bright. A free-standing bath (with Mr P's favourite taps), twin feature sinks and then separate doors to the enormous rain shower and toilet. The Claus-Porto Banho toiletries are divine.
There is a large garden area with loungers as well as table and chairs to the front of the property. We actually preferred the terrace area on the other side. It catches the morning and afternoon sun perfectly and is sheltered from any breeze. There's comfortable cushions and the smells from the garden are quite divine.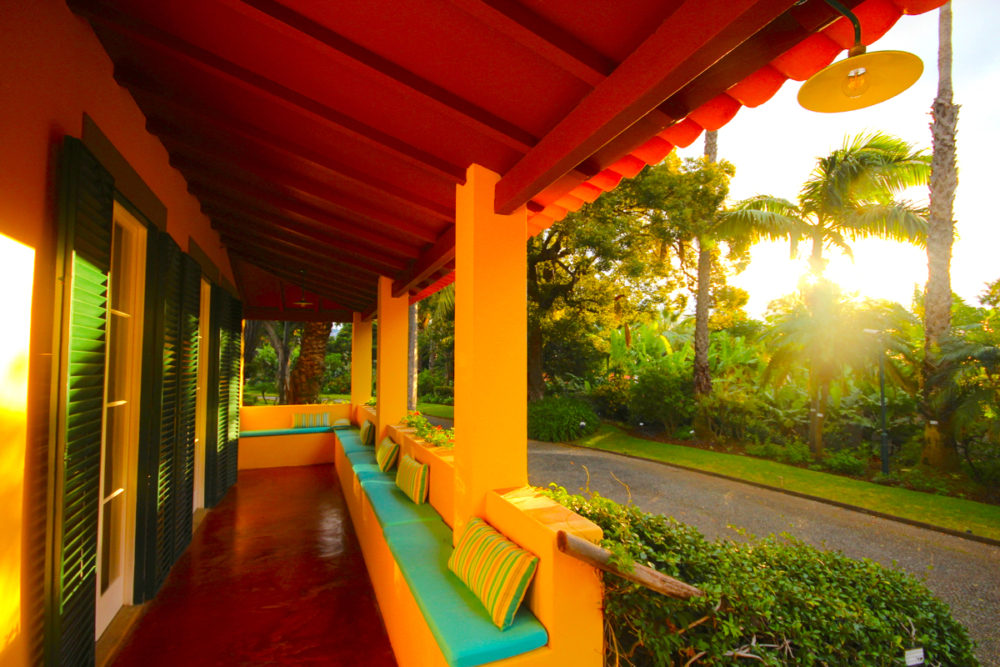 Sat with my eyes shut enjoying the scents it whisked me back to Jamaica! It's the perfect spot for a morning coffee, or an afternoon drink in the sun. Mr P enjoyed the house wine (Leacock Madeira wine) here especially!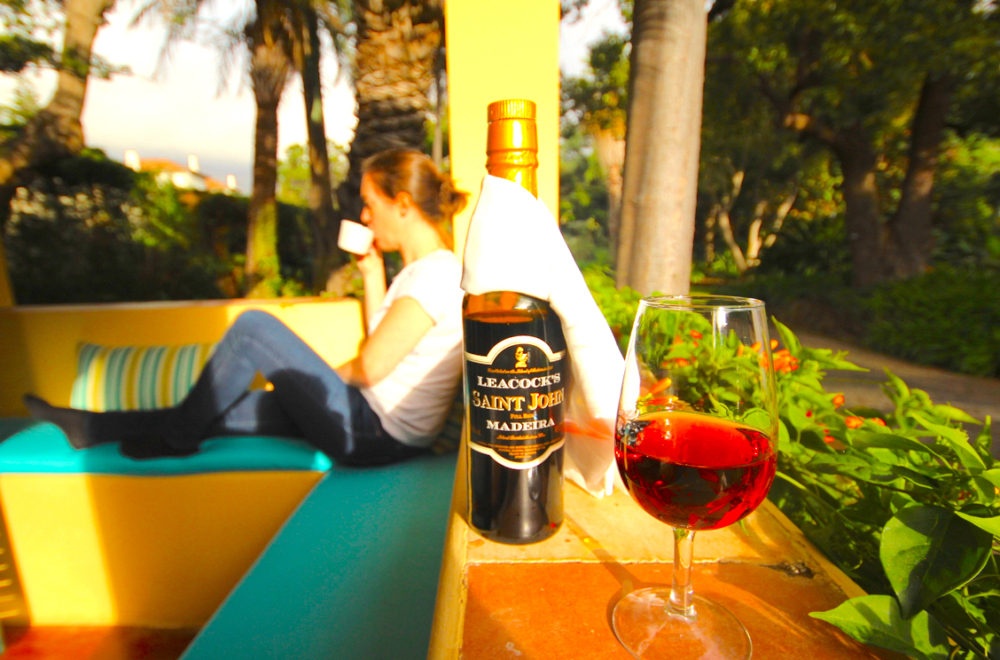 I love the traditional homestead nature of the villa, I felt like I was in Little House on the Prairie, yet we were in a city! More so we adored just how luxuriously put together the relaxing space is.
The hotel
In addition to the villa, there are 5 suites in the manor house. Similarly spectacular and historical. The manor house is closed to other guests apart from in the evenings when it opens its grand doors for dinner. So it really is a private treat for the suite and villa residents, who can use the lounge, library and hall seating area (complete with priceless tapestry) at their leisure. This is right not to over-use. It was someone's home and the family collection remains in situ. The suites in here are classically decorated and have either large balconies or terraces.
Casa Branca manor house dates back to the mid 19th Century, and local art and furnishings from the family collection remain. It's an alluring building, white and grey – dominant yet pretty. British ancestors of the current owners laid the surrounding land to vines and banana trees. The family was actually one of the largest producers of Madeira wine until 1925. Whilst the grounds are now a little smaller, you can still see the ancient ornate entrance gates along the busy road by Reid's Palace. And a small banana plantation remains to the south of the grounds.
The main hotel is a modern development of 43 rooms. Each room faces south and the private terraces catch the sun all day. There are loungers or day beds on the balconies and terraces. As we strolled past it looked like the perfect room set up. Plenty of privacy between rooms and slick and smart interiors. Casa Branca is part of Small Luxury Hotels, you can understand why.
Facilities
There are two pools in the quinta, which is a lot for the small number of rooms. But when you have the space, in a city, why not… The smaller pool is in front of the manor house and is for adults only. A neighbouring lawn is dotted with sunbeds and surrounded by banana trees! The larger pool has a lovely setting, surrounded by a manicured hedge. Both pools are warm, there's no chill factor here!
Hidden away is a small Phytoceane spa, including gym, steam room and jacuzzi. I enjoyed a 70 minute relaxing massage which I must say was perfect. The therapist was excellent and knew her stuff.  She identified that I carry my stress in my arms. I know this, but in the many massages I have had over the years no one has noticed this or thought to suggest how I can relieve it myself. Essential advice. There's a lovely relaxation room with navy day beds and white blankets.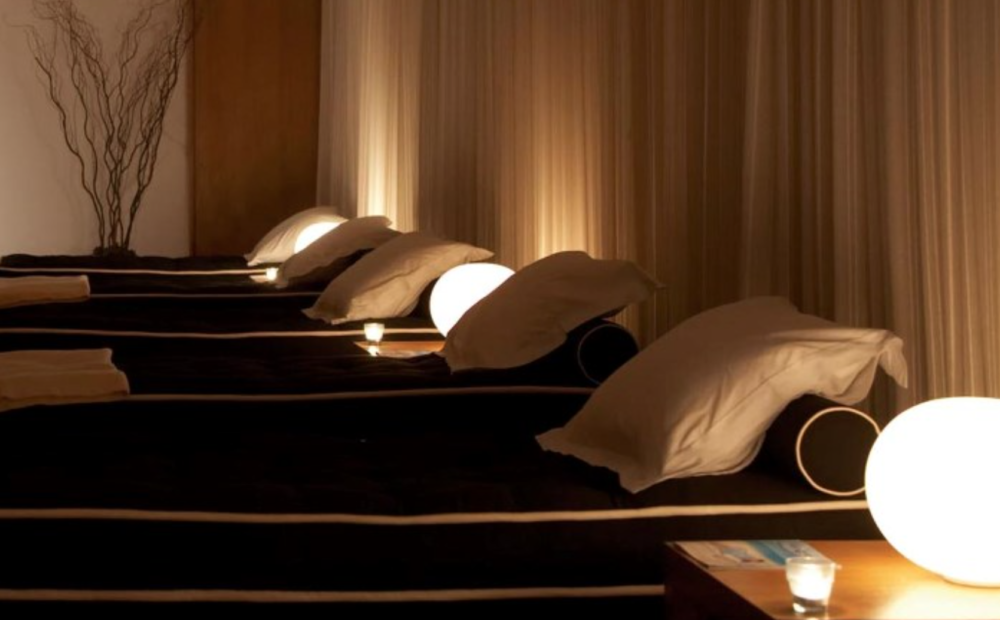 Dining delights
Dining at Casa Branca is an absolute delight. Our first meal was in the Manor House on the evening we arrived. Having spent time with one of the owners earlier in the week, we couldn't get over the thrill it must have been to grow up in the house. It has such grandeur and elegance but at the same time you can see how it would make such a warm and fun family home. Dinner here is an occasion. But casual and relaxing despite the surroundings.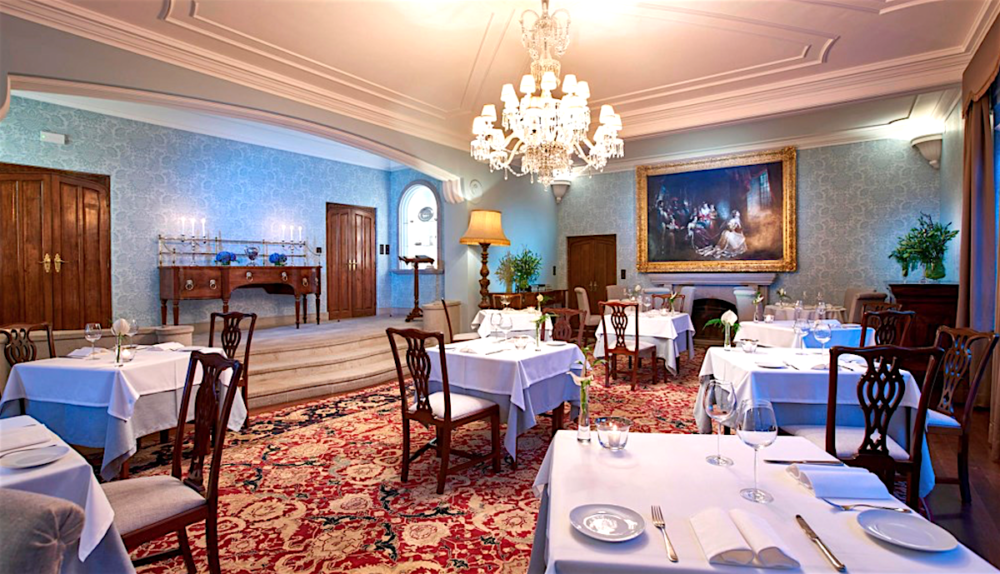 The food was exquisite and beautifully presented. Clever, contemporary food but in a dining room that takes you back to the 19th Century! So good was it that Mr P (not me, he) insisted on taking photos of the food! Even better, each dish was paired with a suggested wine which made choosing very simple. There's a lovely outdoor terrace as well for warmer evenings.
The dining staff here are so attentive and their command of English, and the sense of humour, was outstanding. Particularly impressive was that Jardins do Lago (same ownership and management) passed on to this hotel that I had a dairy intolerance. This was mentioned to us at check in and then at dinner my menu choices were discreetly altered. Better still, come breakfast there was lactofree Madeira cake for me too! I've only experienced this at one hotel before – The Chewton Glen – so I would say this hotel is in excellent company!
One can also dine in the Casa da Quinta Bar for a more simple affair. But it isn't a step down in quality or service. The bar is dotted with Leacock family history at the same time as being swanky and modern. Afternoon tea is served here too.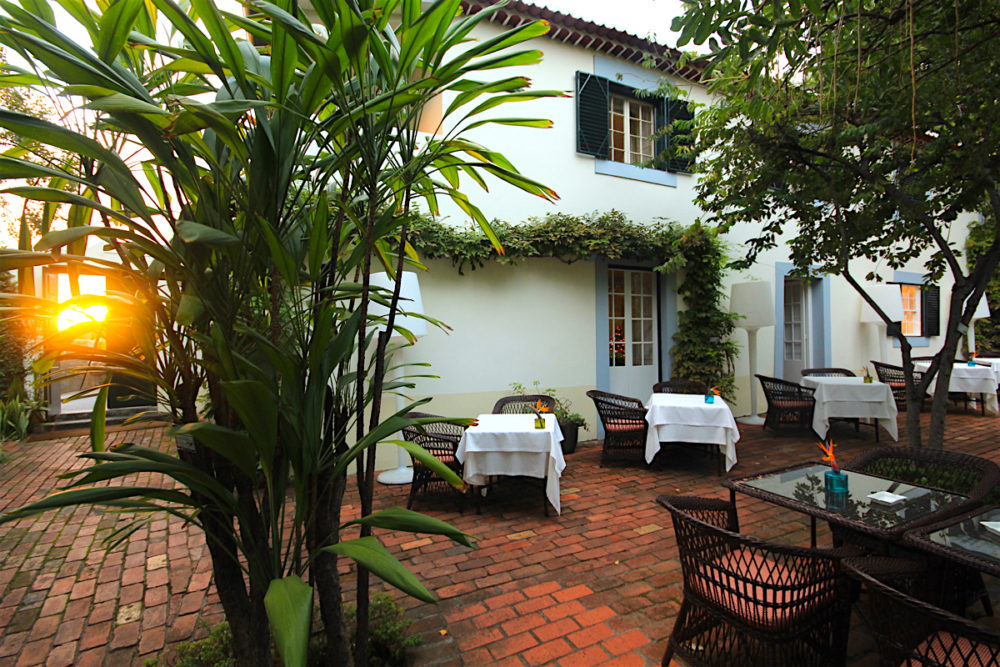 Let us not forget breakfast. A stone's throw from our villa, it was once again an excellent spread. Freshly pressed orange juice appears as you take a seat (pressed apple juice was a treat I had during our stay too), followed swiftly by eggs of your choice and tea or coffee.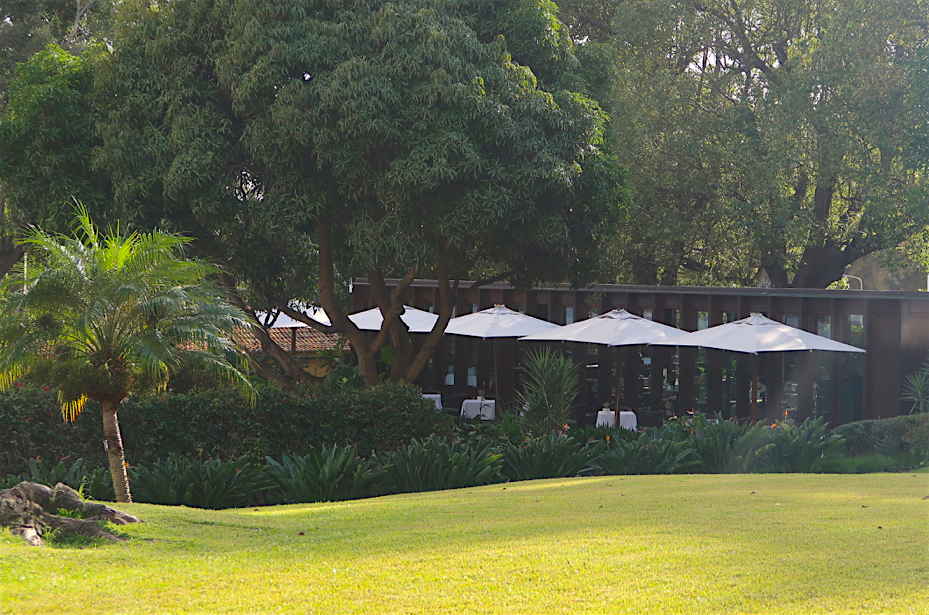 Both mornings we sat on the little terrace enjoying the garden and looking up into the sun-drenched hills. The buffet spread is a cornucopia of local taste. Every tropical fruit imaginable and countless cakes, pastries, meats and cheeses.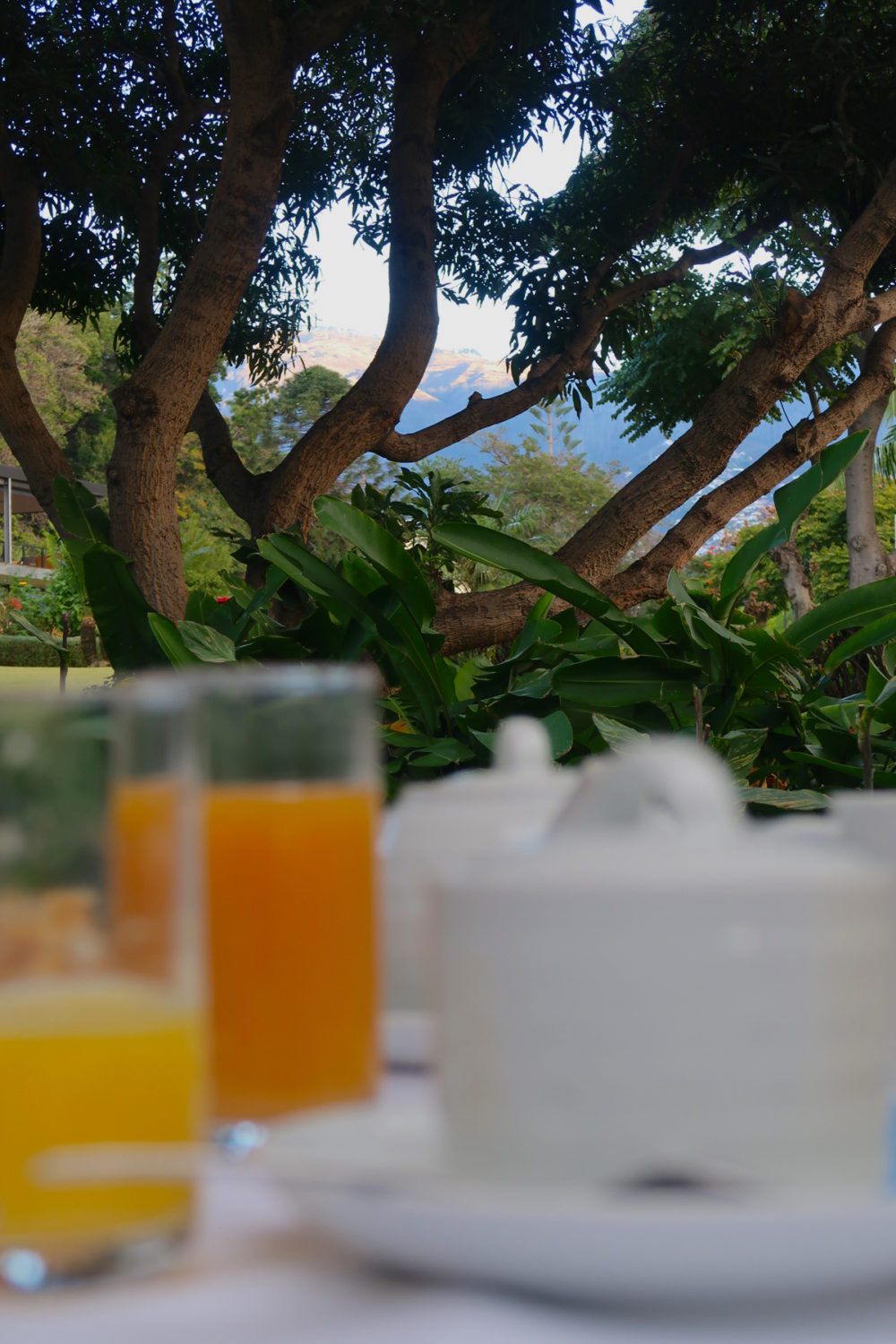 A true gem
Quietly hidden behind the unassuming quinta walls and discreetly luxurious, this really is a gorgeous place to stay for a real treat. It's rare to have so much space in a city. Rarer still to stay in a former family home where everything is done with their approval. Those factors really made it perfect for us, boutique and unique. A sublime stay.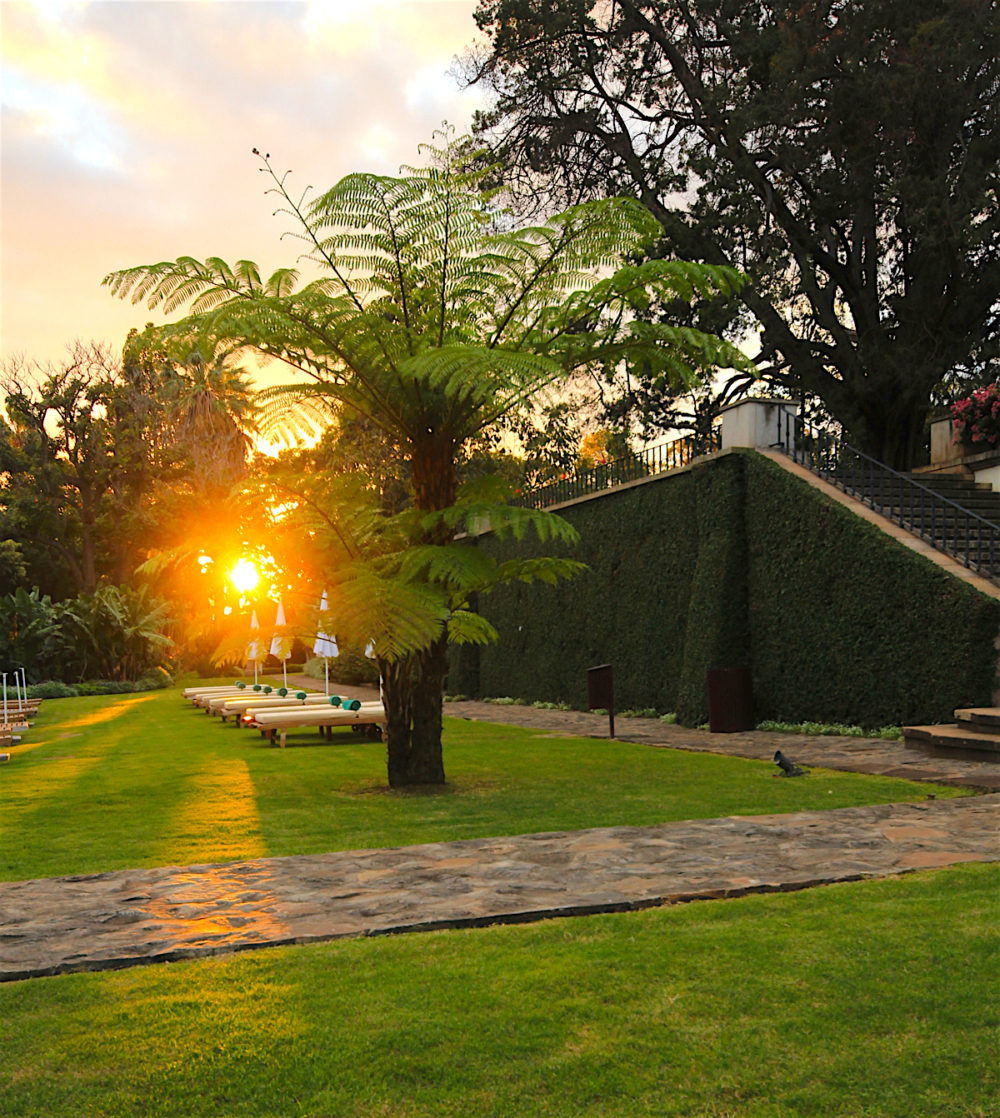 I would love to return. Casa Branca is one of those places I know will be relaxing even at the height of summer and the gardens are perfect for dappled sun on a hot summers day.
We were very lucky guests of Quinta da Casa Branca. The hotel was also lucky that we didn't unpack and move in!
SaveSave
SaveSave
SaveSave
SaveSave
SaveSave
SaveSave
SaveSave
SaveSave
SaveSave
SaveSave