The concept of a supper club is entirely new to me. As (let's be honest these days) is going out on a work night! So it was quite the occasion last week when we trundled off to a private home in Winchester for our very first supper club.
Let me introduce Club Epicure, an excellent new dining option on the Winchester foodie scene. Alex and Hatty are definitely the hosts with the most – hosting and catering for two dining nights each month in their own home.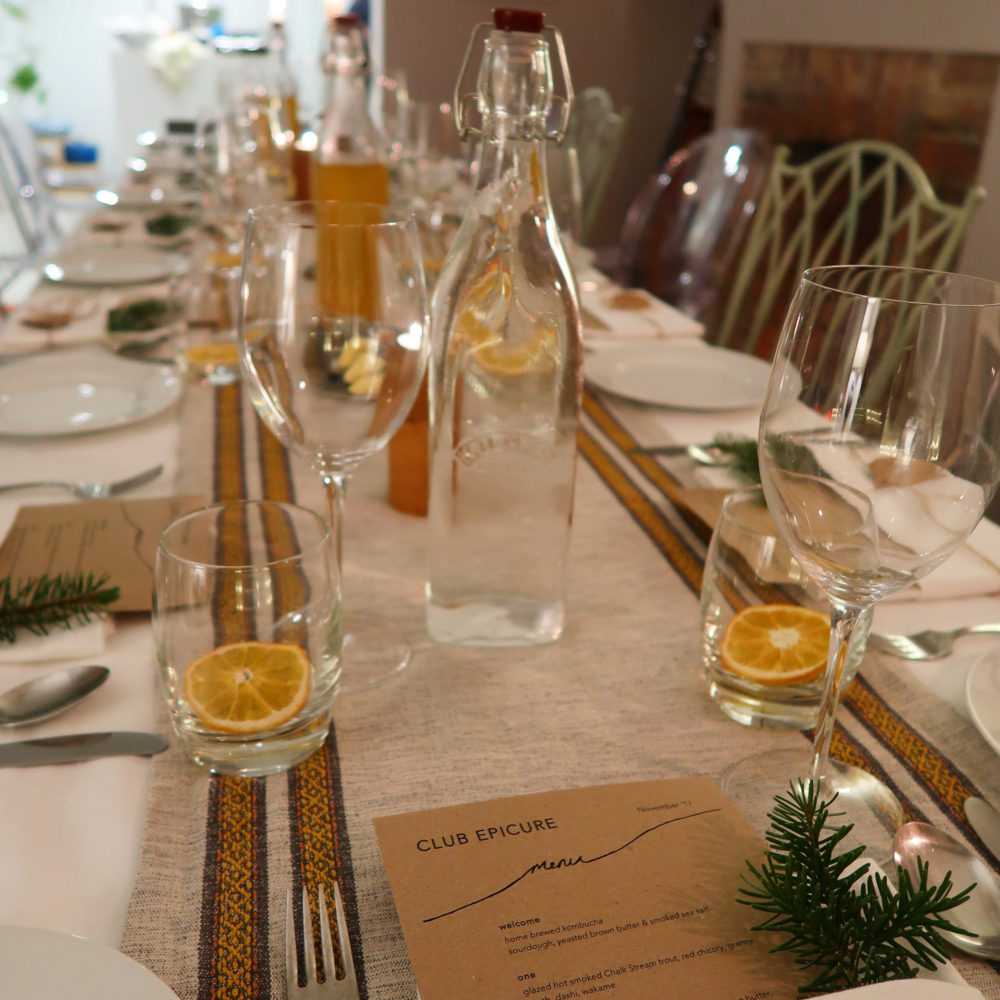 It is like dining at a friends house, only the food is professional and the set up is like a very fashionable restaurant. Going to supper with people you don't know may well not be everyone's cup of tea. But I urge you to try it. It is really good fun, you'll meet some new people (Instagrammers we all were) and time flies.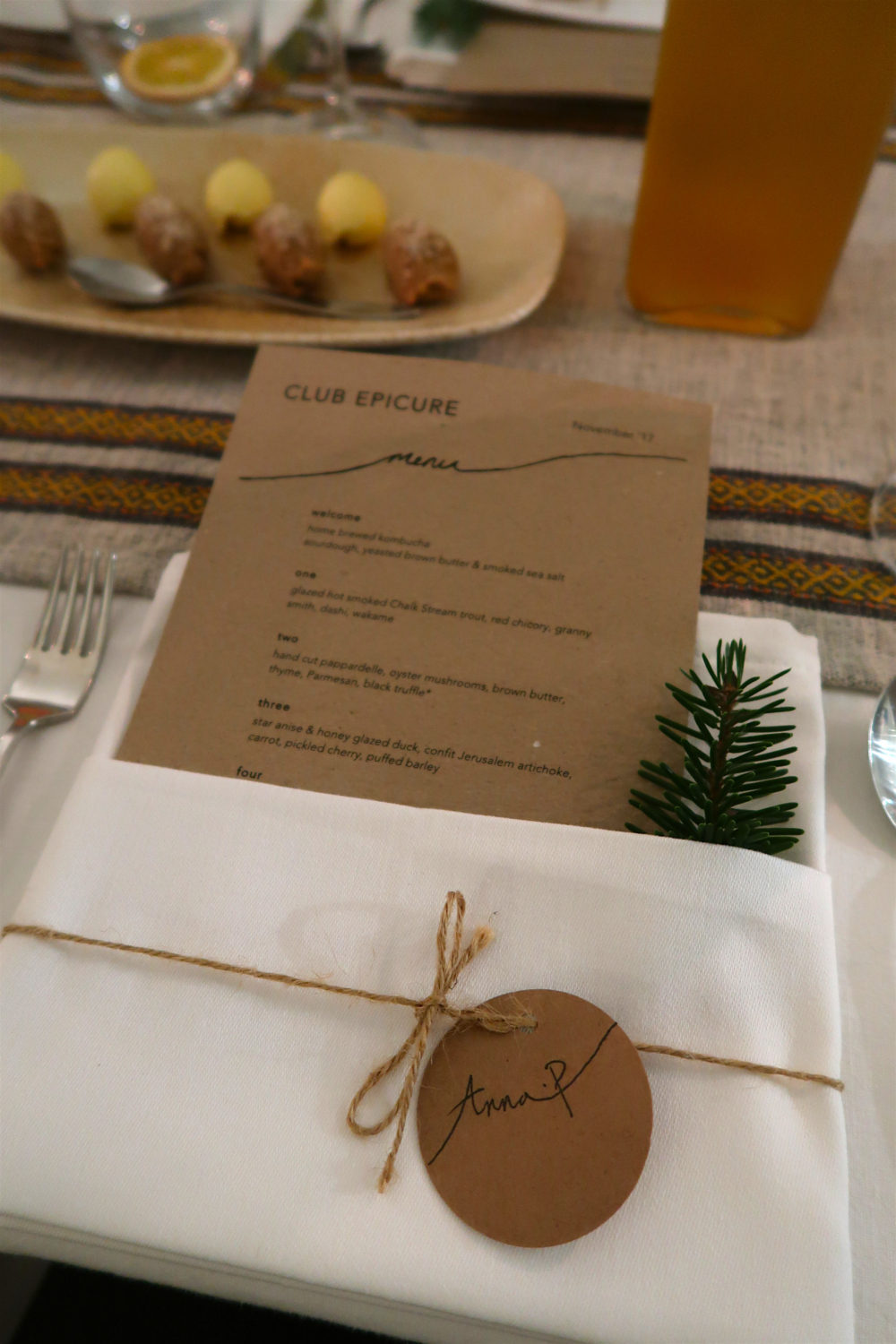 We can all learn from Hatty's example for our dinner parties as the table is presented beautifully. It is perculiarily fun to turn up at a secret location and be greeted as if you are are long-lost friends. Half of the dining experience is the environment and it absolutely works! And the kitchen which was completely calm throughout!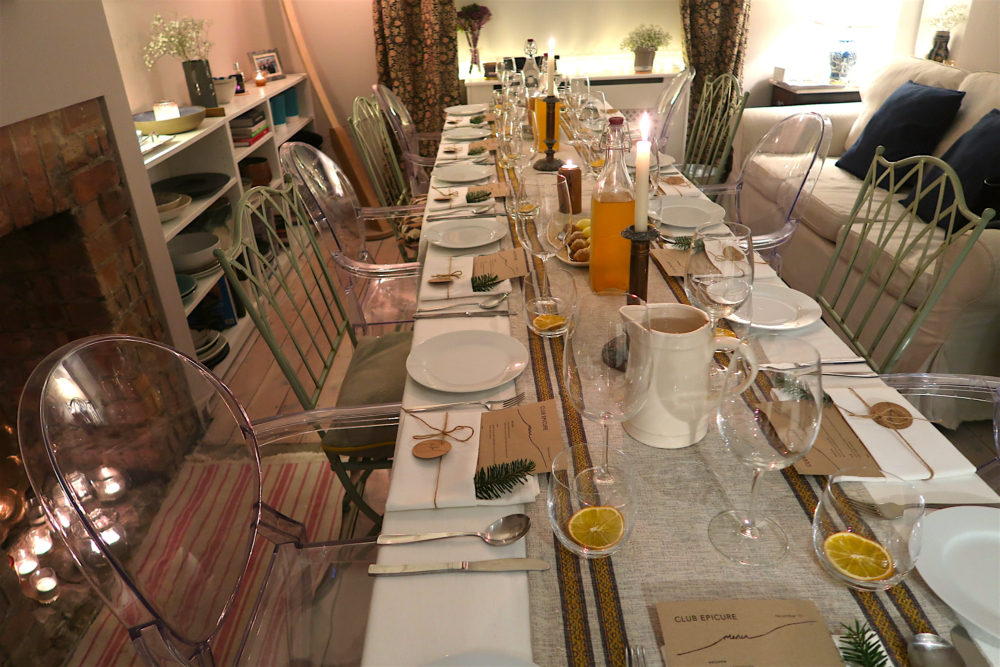 I think that Alex has a bit of a 'thing' for plates, just check out his Instagram feed! As dinner progressed it was quite amusing, as we all cooed as much about the gorgeous plates as the superb food on the plates! I had real crockery-envy, if that is even a thing!
Alex will happily cater for dietary requirements, but having had a sneak peak of the menu when it was in its infancy, it was definitely a rare night of enjoying dairy for me! Thank goodness for lactase!
Before our first course were a couple of scrummy canapés. These were accompanied with bread and one of the most fascinating things on the table – yeasted brown butter. Mr P was already a fan having eaten it off a spoon at The Black Rat many times. Now we know how to make it too!
Each of the courses surprised us with dishes and ingredients we would never otherwise try (or know what it was). There's no choosing and it actually rather nice not to have to for once!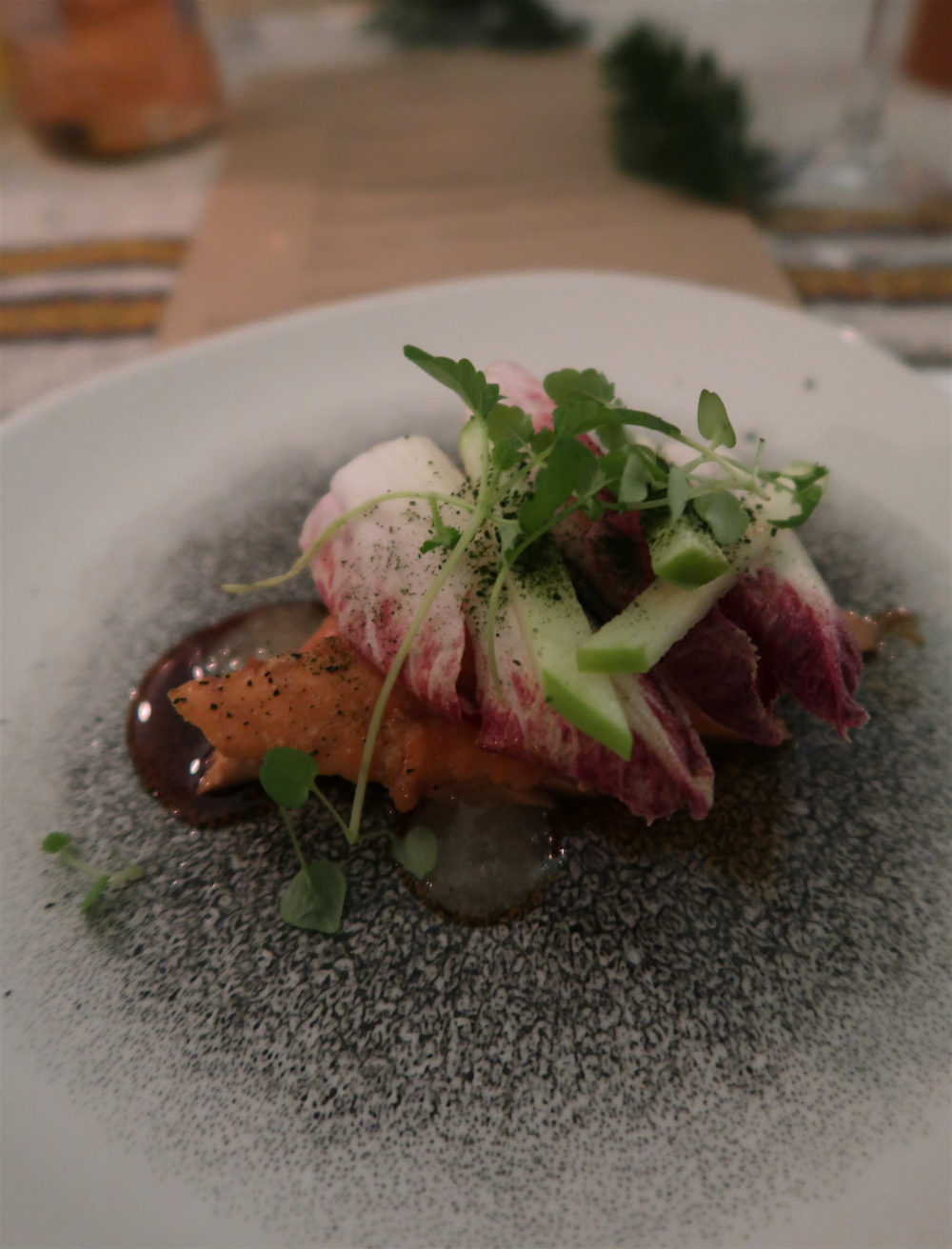 Take the trout served with chicory, apple, dashi and wakame. Very tasty and pretty. I would never pick it on a menu – but put it in front of me and it's delicious.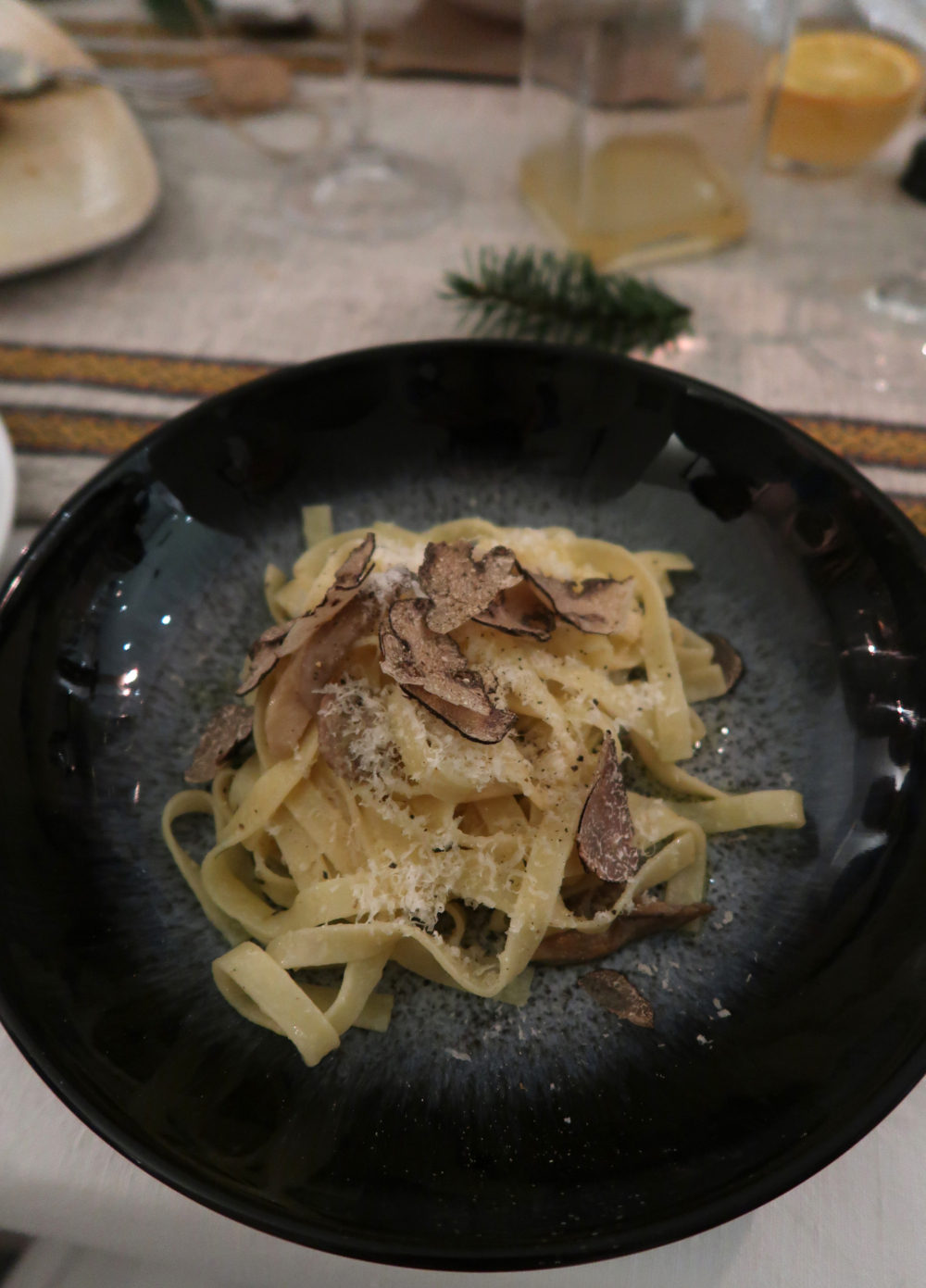 No meal is complete without ultimate comfort food. But with truffle to up the ante. The sort of dish I could just keep eating straight from the pot – I love perfectly cooked pappardelle and mushrooms.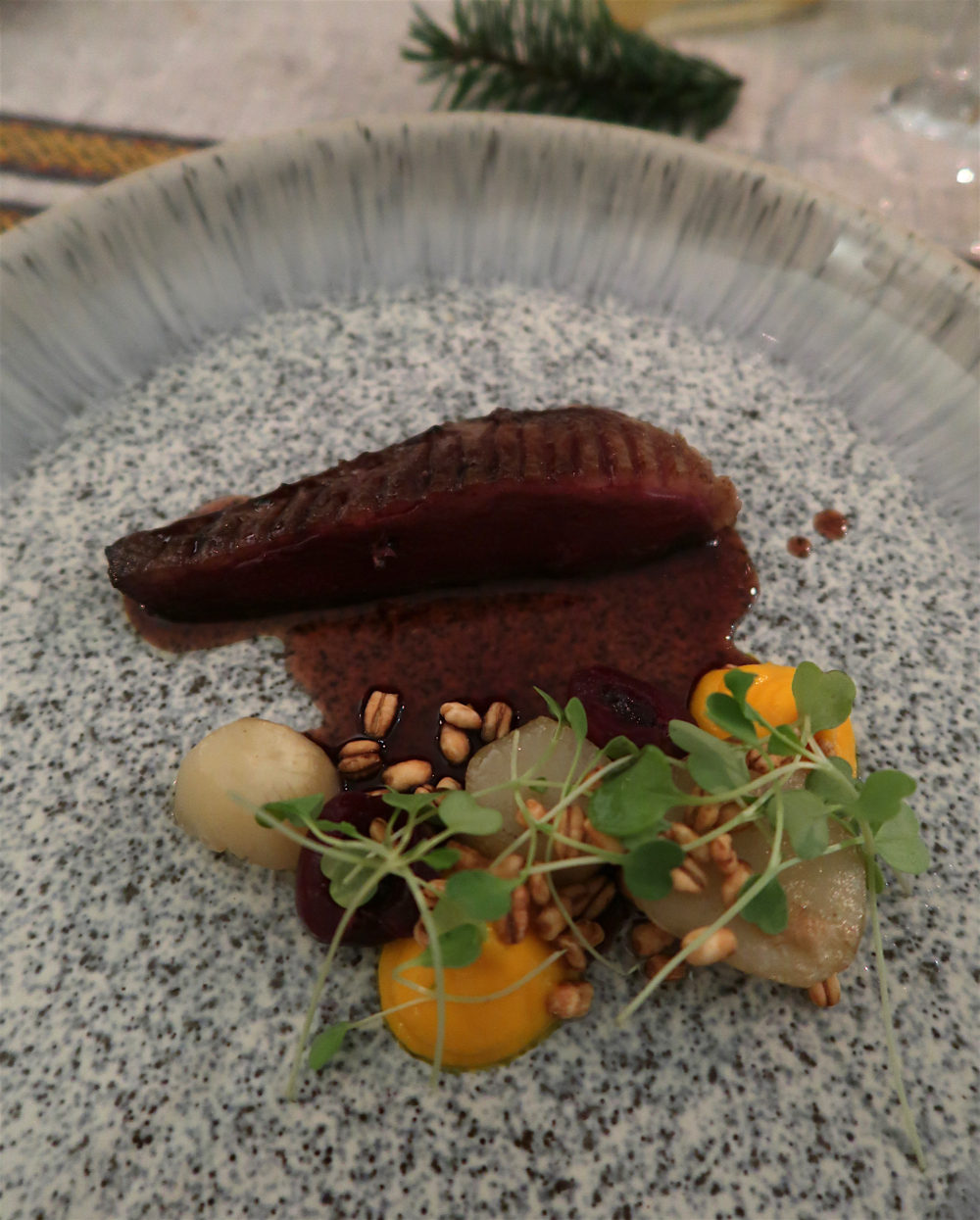 Laughing about a neighbour who'd recently been given a 'duck' to cook, after first plucking it…. I devoured the duck. The honey and star anise jus was super guey and tasty. And crunchy puffed barley is particularly good. I loved the plate – it reminded me of the divine pudding I ate off a similar one at Vanilla Black!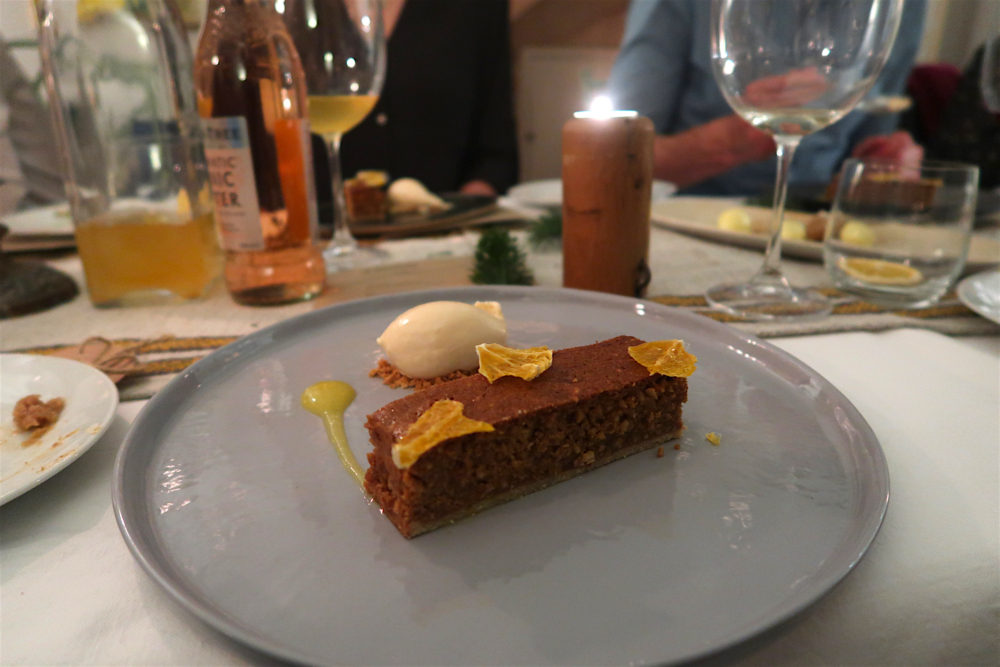 As a typical pudding avoider, I was thrilled (having taken my lactase) that it wasn't just the one course. First up jaggery and cashew tart. Jaggery it turns out is a sugar! Not jiggery pokery! Accompanied by Campari marmalade ice cream. I'm not a big orange fan, but there was something about putting Campari into marmalade and putting that into ice cream!
Just when we were expecting 'petit fours' as the menu promised… There was a flurry of activity in the kitchen. Delicate dipping of balls of ice cream on sticks into dark chocolate before dipping into a caramel sugar.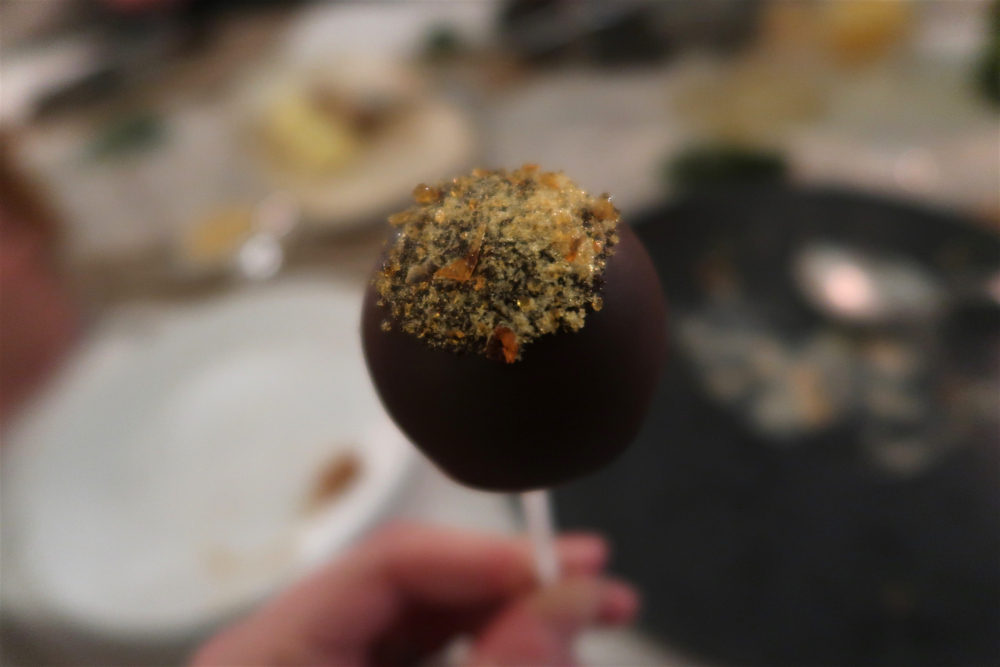 Eat your heart out toffee apples and petit fours, this is the pudding you want on a stick!
Mr P and I can't even imagine how you cook like this, as well as have a day job. It's no mean feat. Restaurant spec food whistled up after work! If you live locally I would really recommend booking a spot.
Perhaps we were late the supper club party idea, but now we've been we'll certainly be back for more with Club Epicure in 2018!  First though, Alex is catering for our village New Years Eve party…
Supper is £40 per person and guests provide their own wine. In the run up, the menu and wine suggestions are emailed to help you plan. And keen Instagrammers will be able to drool over the photos that Alex and Club Epicure share as the menu comes together!
SaveSave
SaveSave
SaveSave
SaveSave
SaveSave
SaveSave