The coastline of Cornwall is a complete set of footpaths. So there is no shortage of stunning walks. Each time we visit Cornwall we find a new one – normally one that has been mentioned years ago by my Grandpa or parents. This time, with a windy north-easterly wind forecast, we headed for the south coast, between the Lizard and Lands End.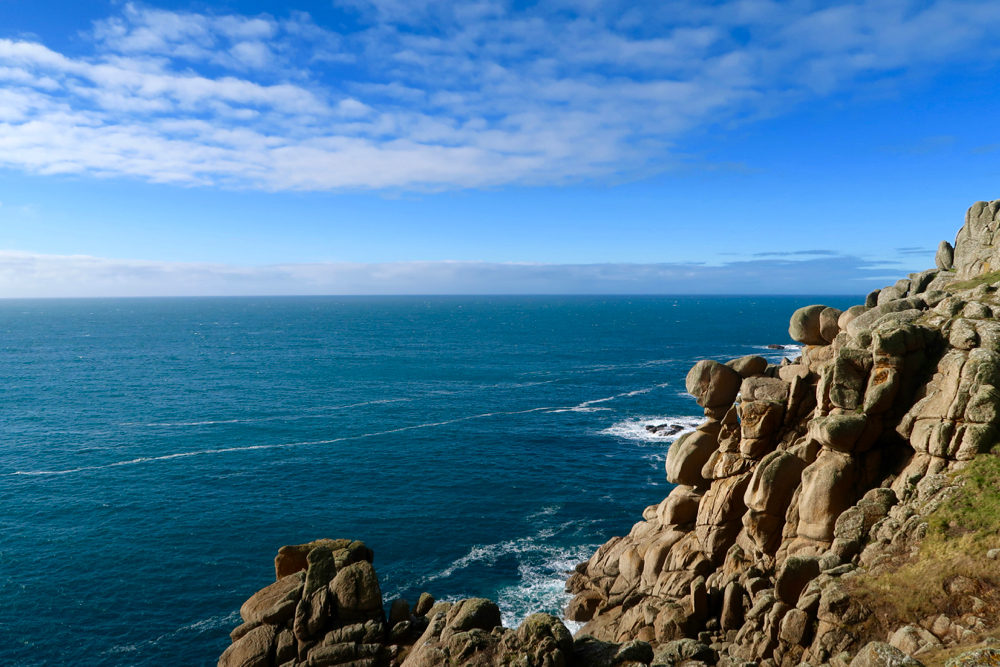 Do you recognise the smugglers cove of Porthgwarra from Poldark? We first came here many years ago. That time we headed east to the Minack and Porthcurno. Wanting to see more of the coast and taken by the name of Nanjizal we returned but took the coastal path north-west instead.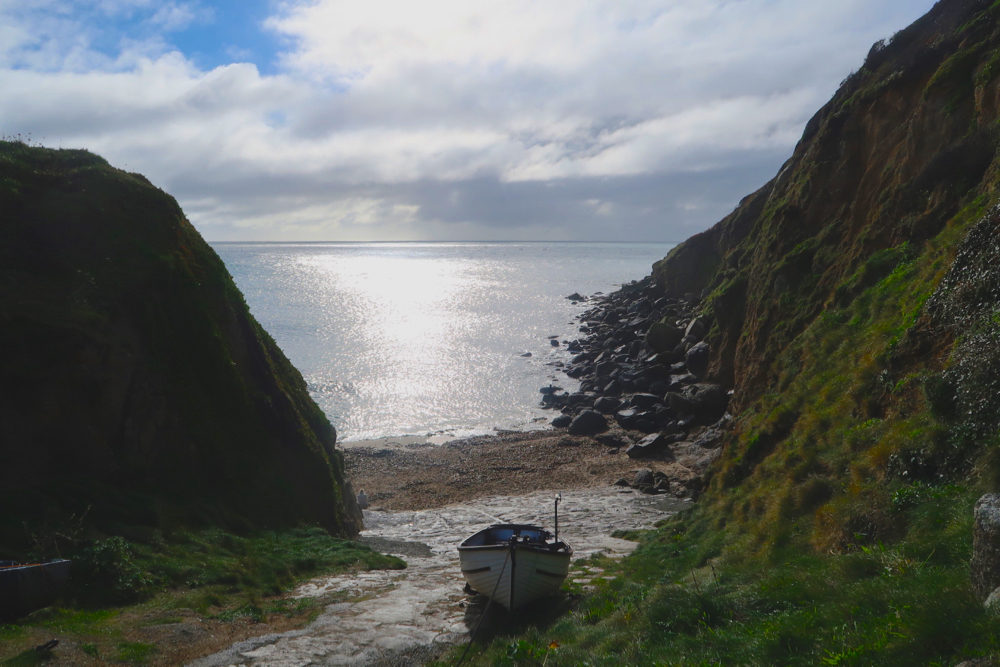 The parking is in a private-estate carpark. £4 for the day. There is also a little coffee shop that opens at 10am, as well as toilets. We stopped en route at the Artist Residence in Penzance for a fabulous breakfast. Because of the clocks changing (and due to simple living meaning the fridge was empty), we were wide awake at 8am and it's hard to find anywhere open pre 10am on a Sunday. So we took a punt on Chapel Street in Penzance. A good gamble – perfect coffee and excellent avo on toast for me and scrambled eggs and cornish blue for him. Well fed and watered we were ready to hike-off those breakfast calories.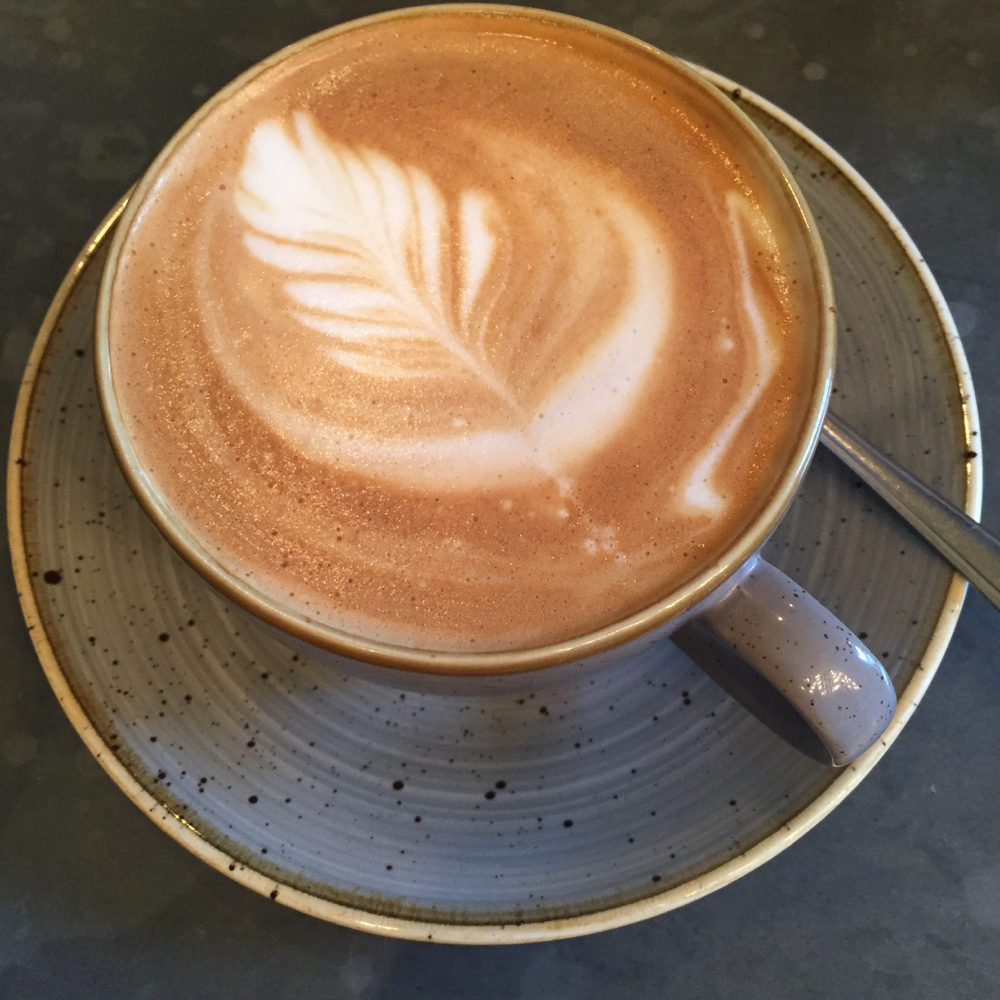 We were pretty much the only people at Porthgwarra when we arrived. Sadly no seals like last time – perhaps they didn't like Poldark. But there was a cormorant drying its wings, and plenty of little fishing boats out at sea. We sipped our tea and enjoyed the view then scrambled through the caves to the even quieter beach.
I was itching to get walking, it was gorgeously sunny. The footpath out of Porthgwarra is steep – I guessed the view from the top would be even more spectacular. And wind-swept and remote. In fact we were so taken with it that I had to keep encouraging Mr P to 'keep walking' and stop snapping with the DSLR!
There are a fair few footpaths along the cliff edge. We obviously found ourselves on the one right next to a vertical drop. Mostly fine, although I did have to put my travel-mug away for a while so my arms were free for better balance. That's because we had the cliff face on our left and a massive blow hole on our right. A good place to walk swiftly and stably. Mr P pointed out there wasn't much below us apart from air! Even the seagulls were surprised to see us! In the photo below it's the little path back left…
The peak of the walk is at Gwennap Head where the National Coastwatch Institute is based. There's a handy chart pointing out the sites of interest at sea. It was fun to try and spot them out there. Distance looks far less from up high than when you are sailing to one of these waypoints!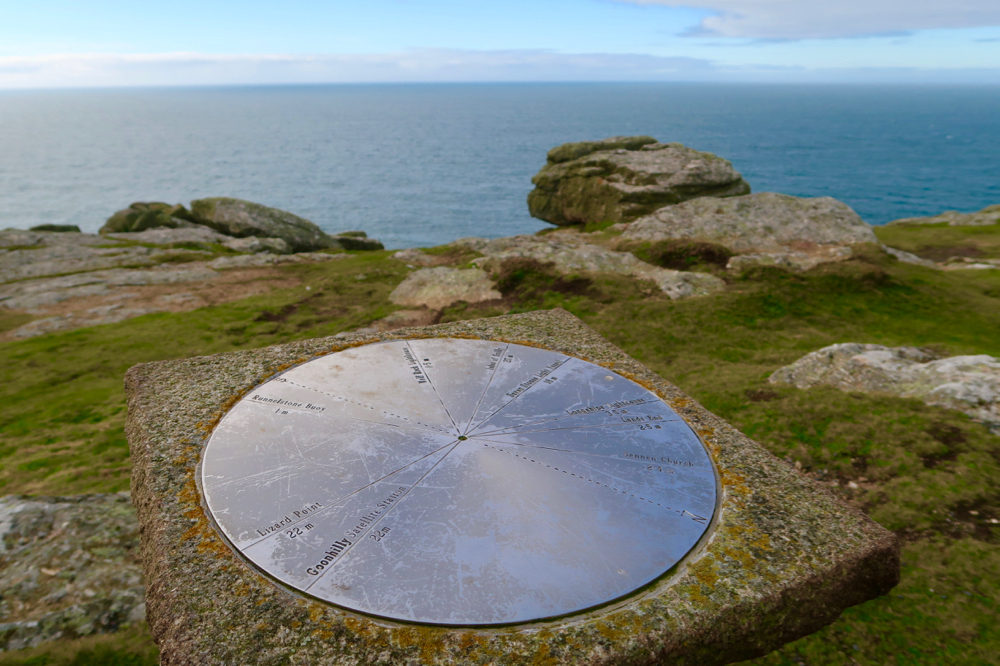 The coastline in this area really reminded me of Ploumanach in Brittany. We used to go camping there in the summer. The impressive rock structures are something to behold. Rounded and smoothed granite – the formations are spectacular. Such big rock caves and detail – oh to be a seal and explore!
Up and over Bosistow hill we went to the outer most point of our walk – Nanjizal. The highlight for me was that the beach was completely empty. This is impressive just a mile or two from the theme-park which is Lands End! I love nothing more than a private beach. We scrambled over the massive boulders (a lot like Cot Valley which isn't far away) down to the sea and watched the waves breaking. There's also tonnes of rock pools – it was just like being a kid again!
The beach is famous for the 'Song of the Sea' cave. It is a tall rock archway that the sea has broken through. Mesmerising to watch the surf and swell swirl through it.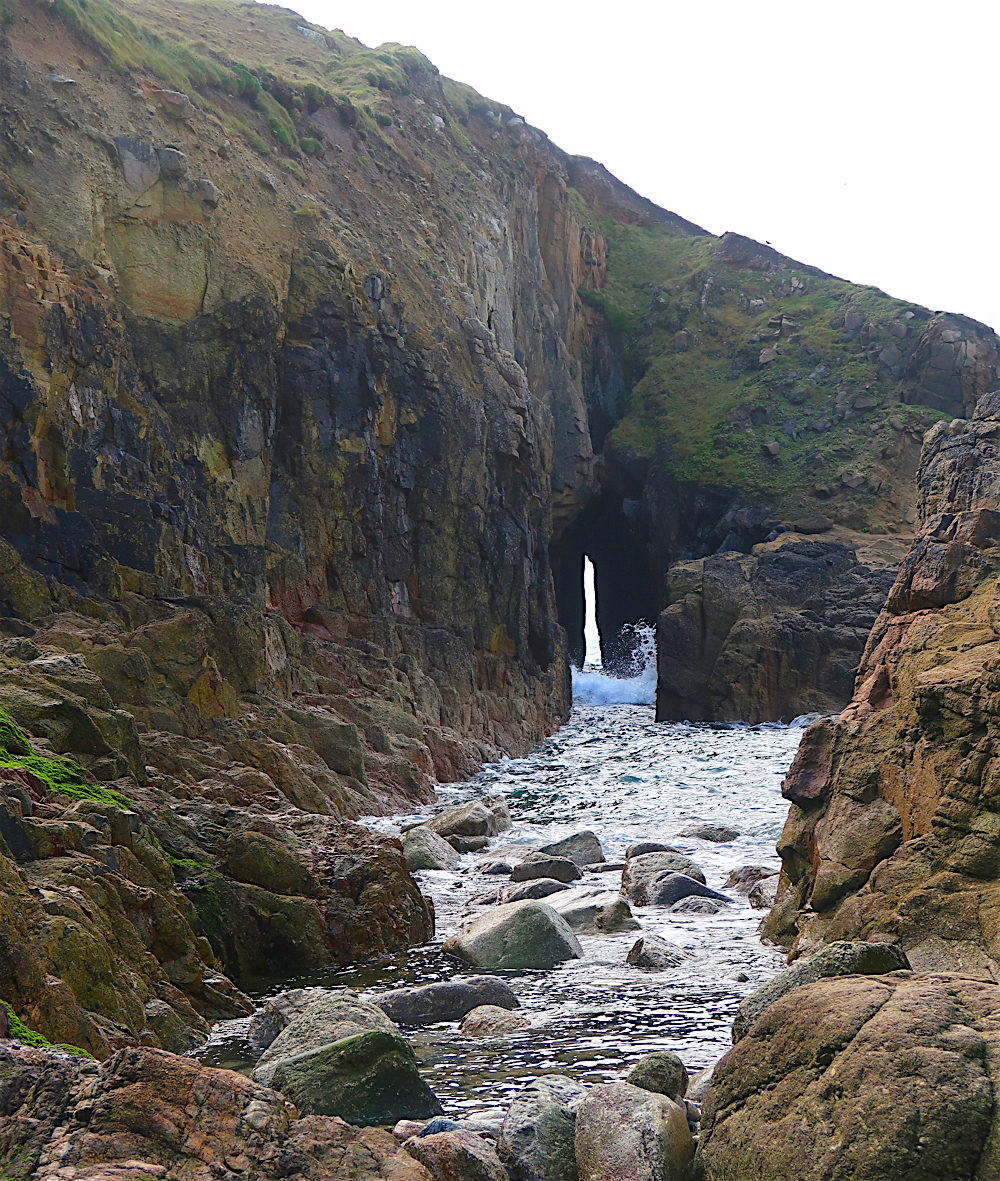 For the route back, rather than retracing our steps, we headed inland. Not before I mastered the art of the camera on a timer to get a great view from the top of the wooden steps onto the beach!
The walk up the valley from the beach to Bosistow Farm would be best done backwards! The view across the fields, and the sweetcorn farm is that beautiful – a lovely mix of colours! It's all very rustic and muddy and you're surrounded by Cornish 'hedges'. Mr P finds these hilarious, as they are actually dry stone walls that vegetarian has overrun. But they're called hedges, not walls!
We had a little bit of road walking to take us back towards Porthgwarra. But we didn't begrudge this one bit – it really looked like it was going to rain, so fast-paced was good! We managed to disrupt a few thousand starlings so ended up right in the middle of a murmuration…
Spectacular, but birds that close is scary! After startling the starlings, we dropped back down into Porthgwarra via another little footpath, picked up a coffee in the little cafe and sat in the last of the sun on the beach and watched a gorgeous labrador puppy play with the kelp and the surf!
When I say "last of the sunshine", I really mean it!..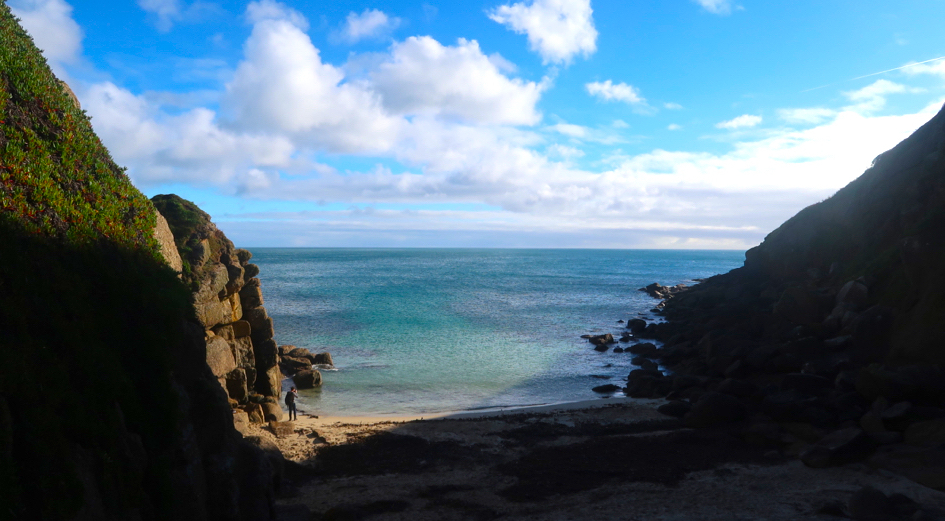 With a little bit of the day left and the risk of rain having passed, we headed home through two favourite places in our trusty journey making steed.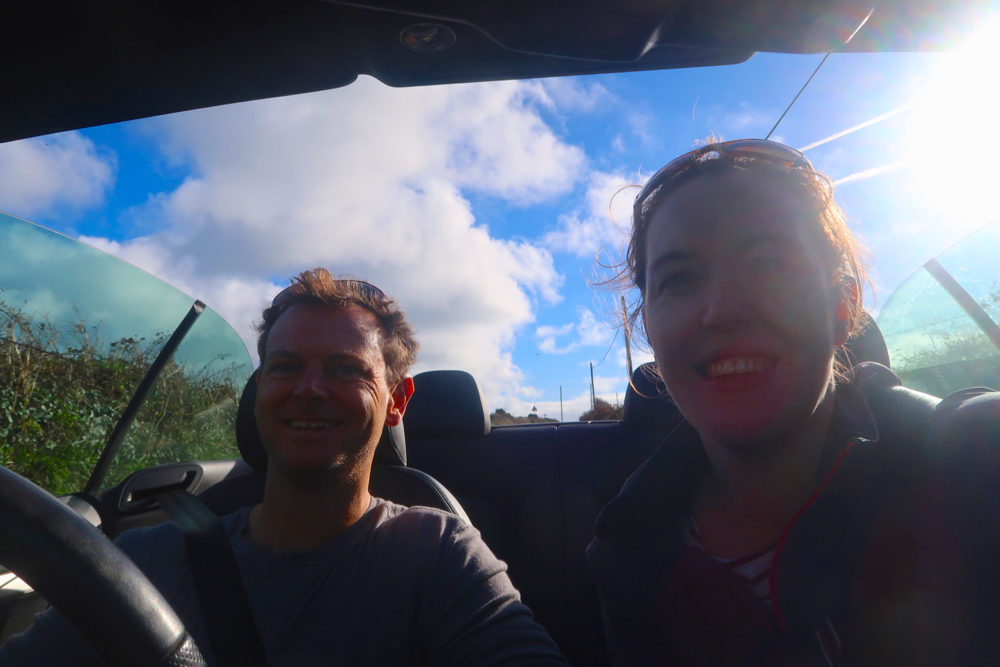 Mousehole (pro: mouzole) first for a pint of Cornish Korev in the sun with a view at the Old Coastguard. And then Marazion to ogle the best sailing venue in the UK!
A spectacular half-day walk. Impressive rock scenery and another hidden beach! What's not to love about autumn in Cornwall! Check out more ideas in my Cornwall directory.