"It's definitely a treehouse" Mr P squeaked at me last Friday! Since the opening in 2012, I have been lusting after a stay. The Chewton Glen has long been our favourite place to squirrel away near home for some quality RnR. But we have never stayed in the trees.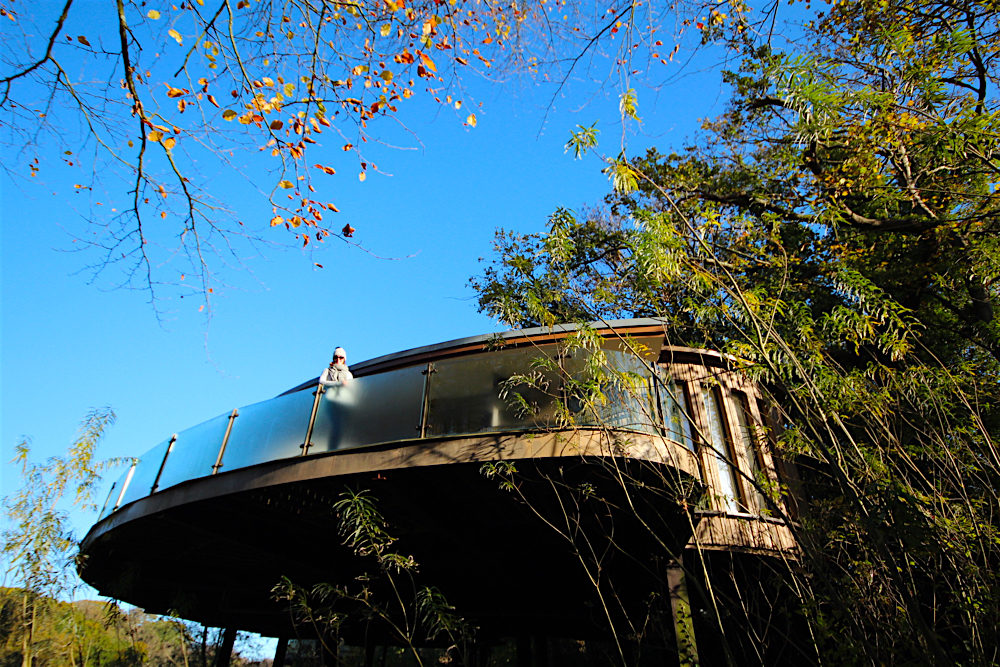 Until now!
I didn't believe we were actually going to be staying in a treehouse. Even when I saw the confirmation. They are like gold dust – just one small part of their allure. But as our luggage vanished onto the back of a treehouse buggy (aptly registered TH2) and the lovely treehouse concierge appeared and escorted us to another (I'm going to guess it was TH1), I decided it was time to get with the programme!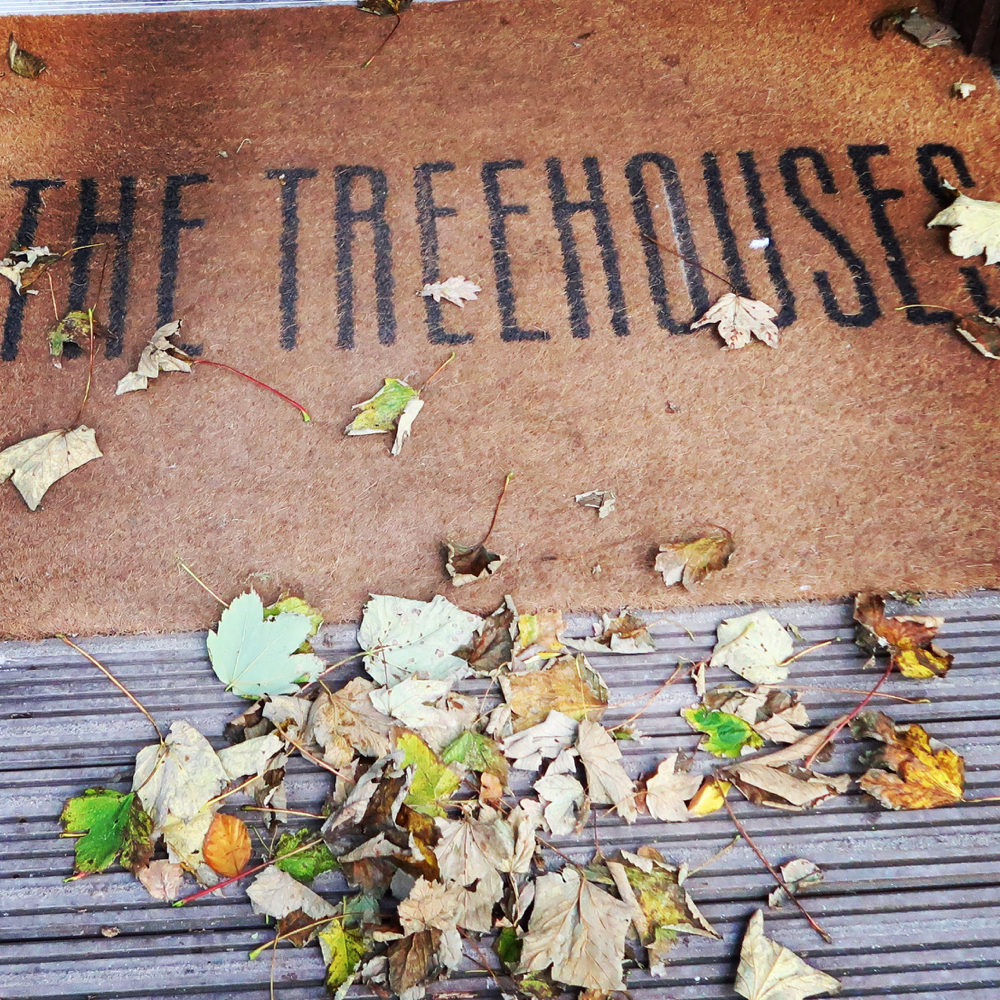 Let's imagine a place where there is true luxury but it is totally unique? Even better, you won't need to see another person. There's a 5* hotel round the corner to cater to all whims and even the 5* food can arrive through a trap door. Staggeringly stunning views are there for you to enjoy from your own private abode. Hidden in the forest. In a tree.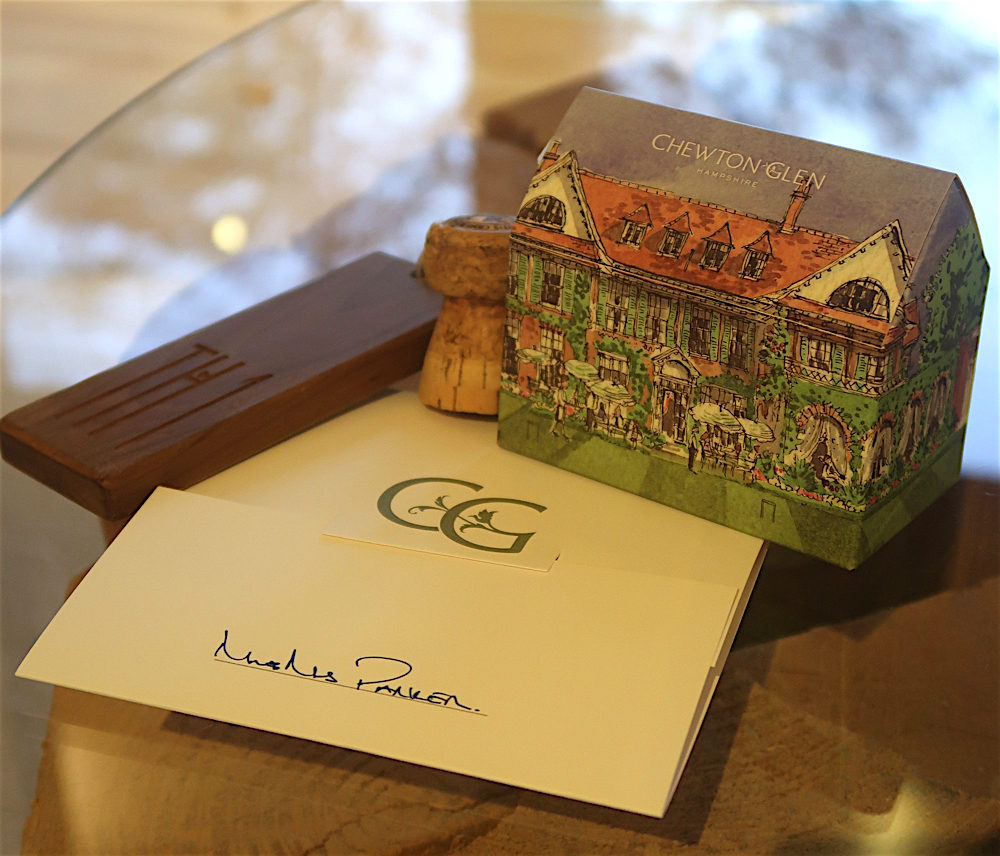 Hello Chewton Glen treehouses! We are still counting our blessings! Let's start at the beginning. The Chewton Glen is one of Britain's hotel greats, deep in the New Forest. The quintessential British country retreat. Staff out-number guests here, you are in safe and experienced hands.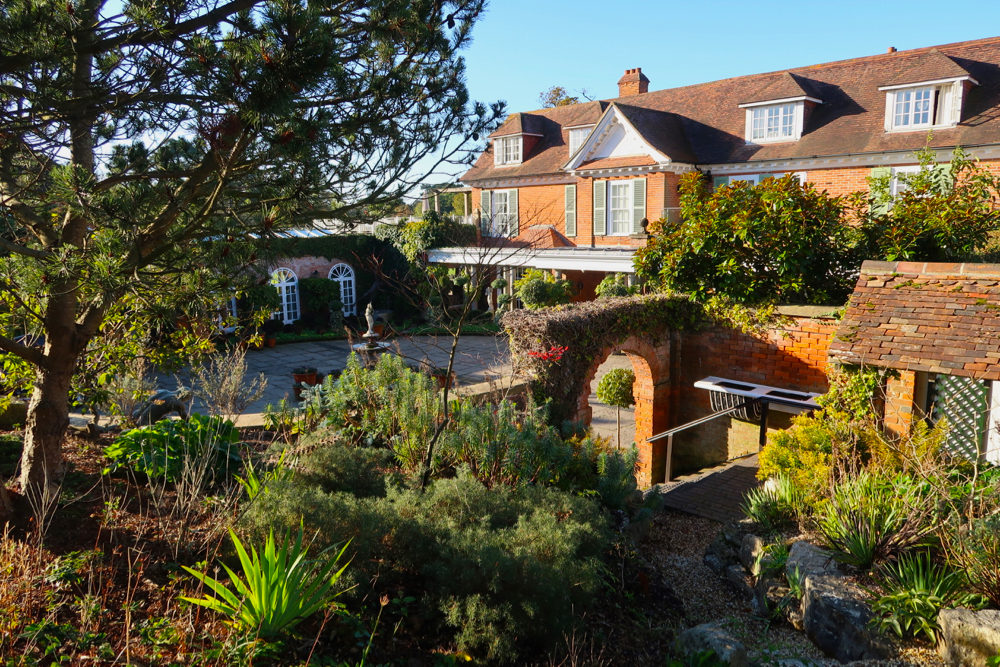 The treehouses are hidden even deeper, floating like sleeping spaceships above the forest floor. They capture every child's dream of being able to live in a treehouse at the end of the garden. But they are the adult version with luxury, seclusion and peace to escape the daily grind.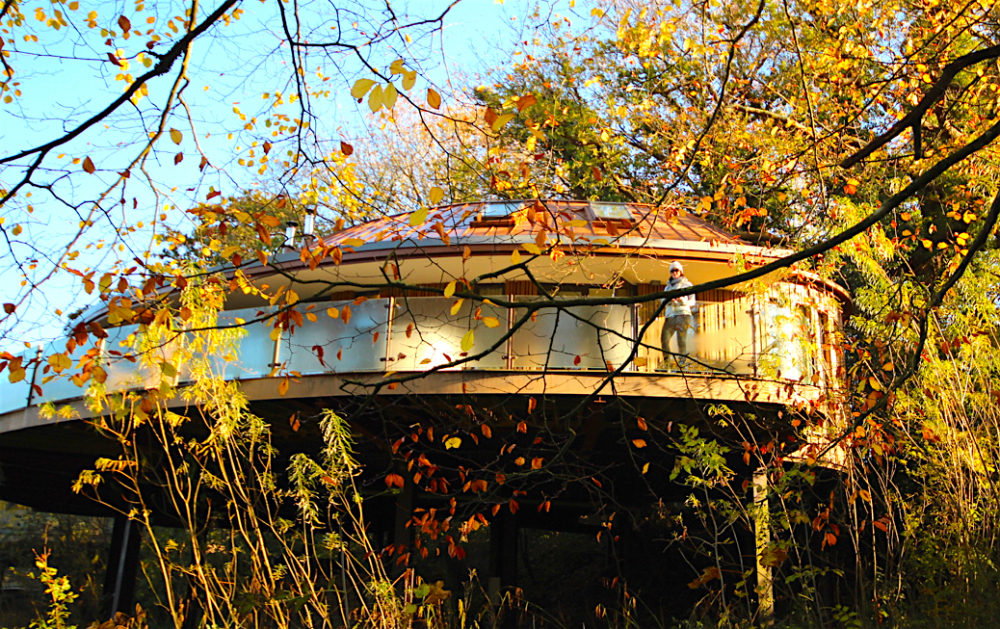 When you walk into your treehouse you are hit by daylight, and actually a sense of coming home. With a bit of wow thrown in for good measure. The outside wall of the treehouse is almost completely glass so there's such airiness. The lounge wall is a bi-fold door, slide it back for the most incredible view of the forest. Staying in autumn we were treated to a splendid leaf show!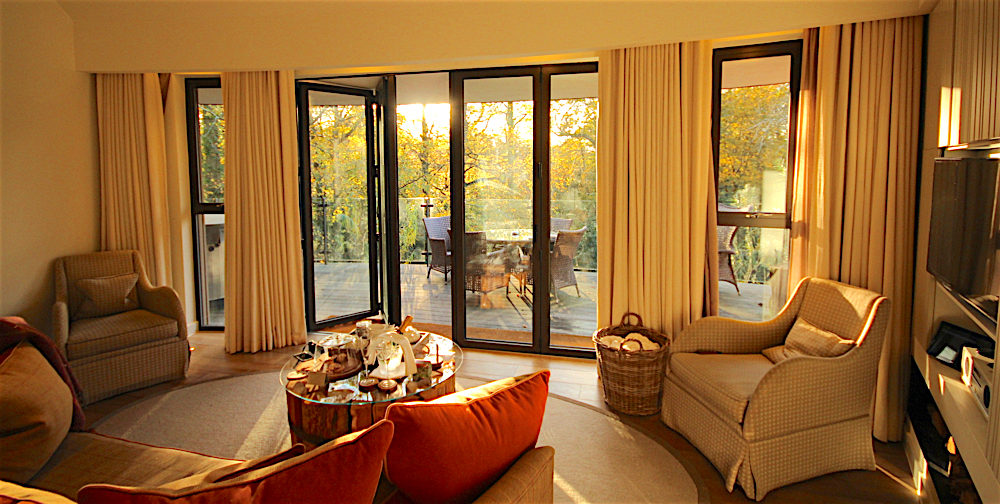 The living space is homely, but like one would expect from a grand design. Whether it is all the curves, the high ceilings, or the canny mix of pastel and autumnal colours, it works. And as for feeling like you have come home? I can easily imagine myself coming across the little bridge, opening the door, slinging my bag on the side table, grabbing a glass of wine from the fridge and sinking into the semi-circular sofa (I need one of these at home) and gazing at the forest.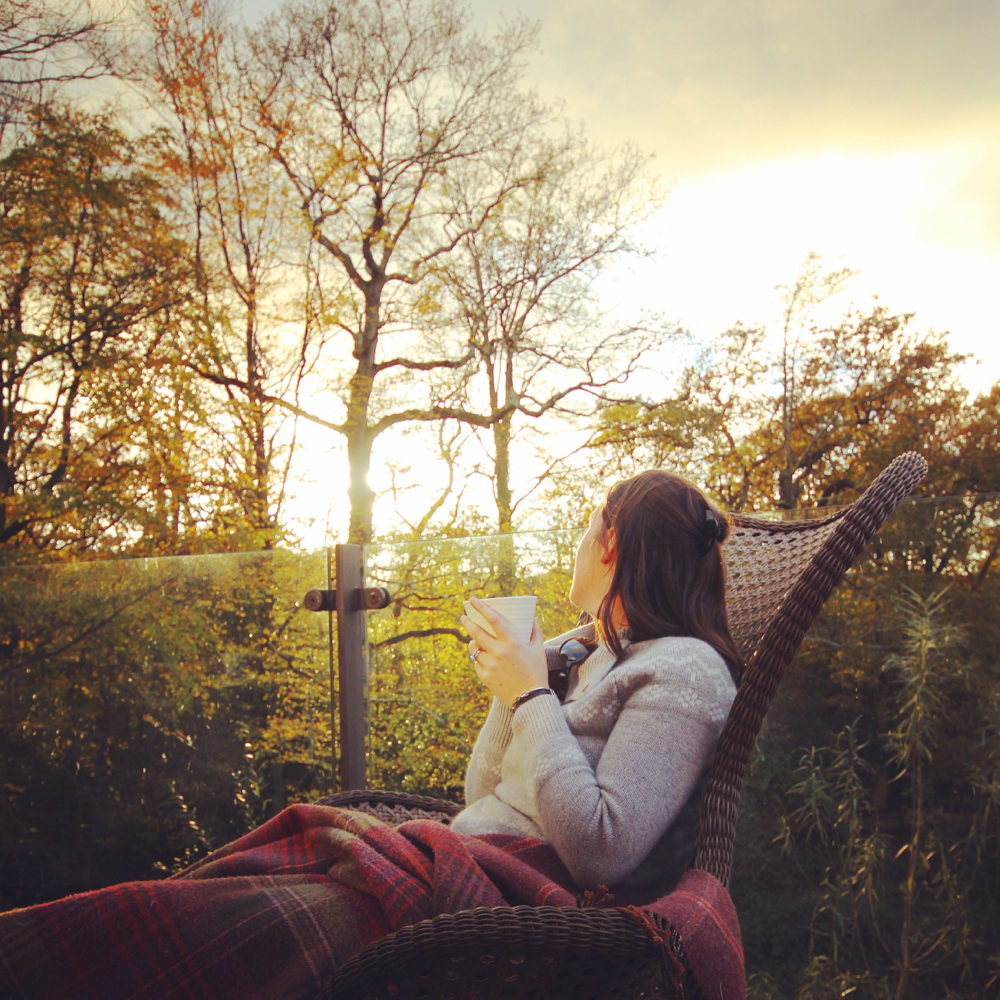 For me the highlight of the treehouse was the wrap around terrace that is always in the sun. And the fact that it is not at all overlooked. It is worth taking a little walk into the undergrowth and staring up at the treehouses for a while. They really have the wow-factor, but are sensitive to the environment they are in too.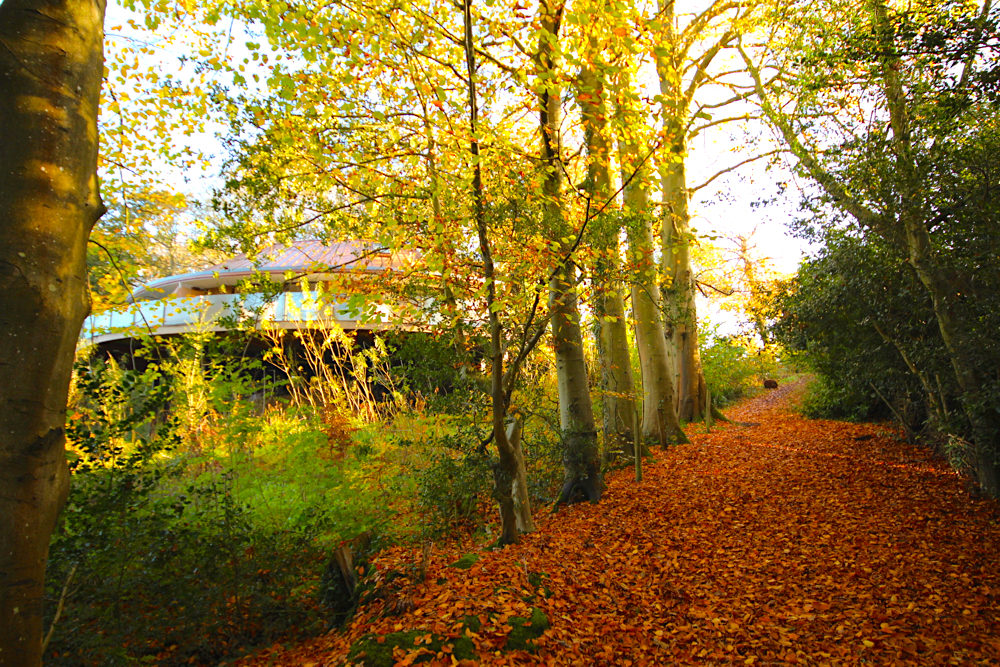 We were so incredibly lucky to be there on a crisp, sunny, blue sky weekend and able to make the most of the enormous outdoor living space. Grab a cup of tea or coffee, pull on some thick socks and take the time to enjoy the view, curled up under a blanket on one of the loungers.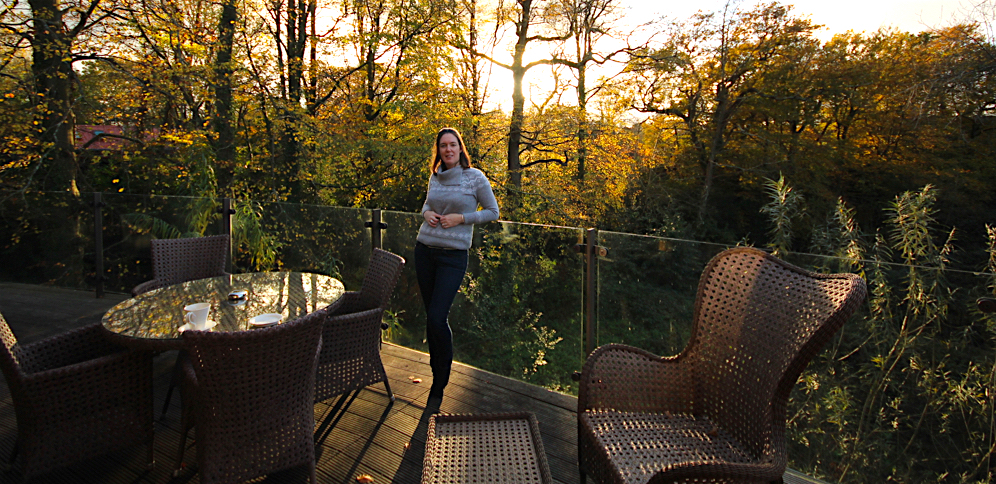 You won't see another person, just birds of prey. It's magical. The piéce de resistance is of course the hot tub. Ready warmed and waiting for you. I question whether there could be a nicer way to start a mini-break than sat in 38 degree bubbles, supping on champagne bubbles (waiting for us on ice), whilst watching the sun set?
Having headed straight outside, there's an awful lot of treehouse still to see. They thoughtfully put together and expansive. Everything that the Chewton Glen and Cliveden House team knows about grande dame hotels has been poured into perfection here! Once you are accustomed to just how much space there is, you'll start to notice the little things and the outstanding quality of everything that make this so luxurious. You could call it a suite, but that would be to undersell! We were in a loft treehouse and I've lived in apartments that are smaller!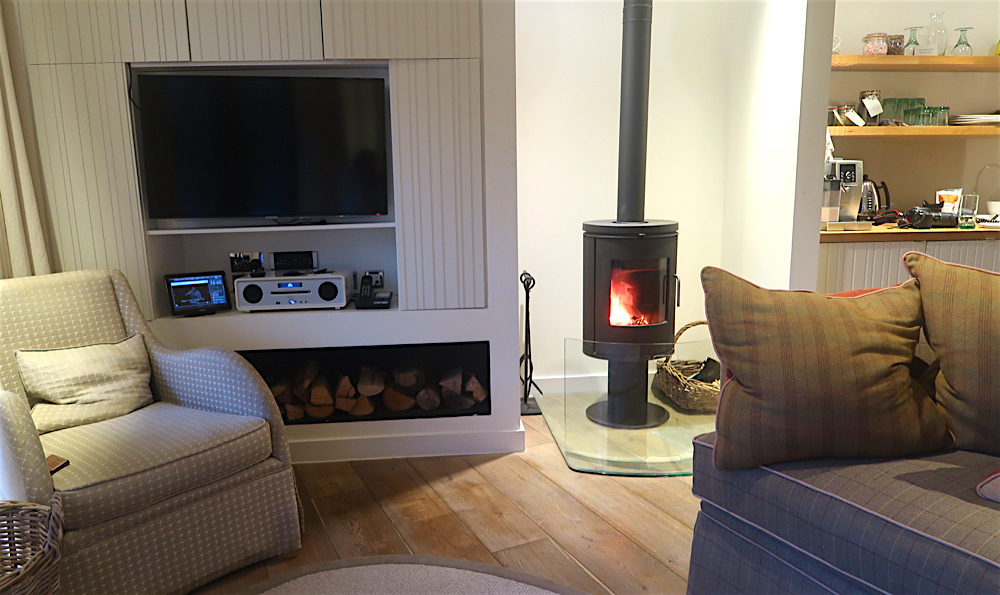 The lounge area is that perfect mix of chic and rustic, with cosy yet modern furniture. Because the treehouses aren't part of the main hotel there is also a handy little kitchenette. All the tea, coffee and juices you could need. Even a fridge, microwave and dishwasher. As well as plenty of sweet and savoury treats. The wood-burning stove is essential in the lounge. As you might imagine, the main doors out to the terrace spend a fair bit of time open, so it's the perfect way to warm the room up without wasting electricity. And yourself after the hot tub as you grab a towel from the basket near the door!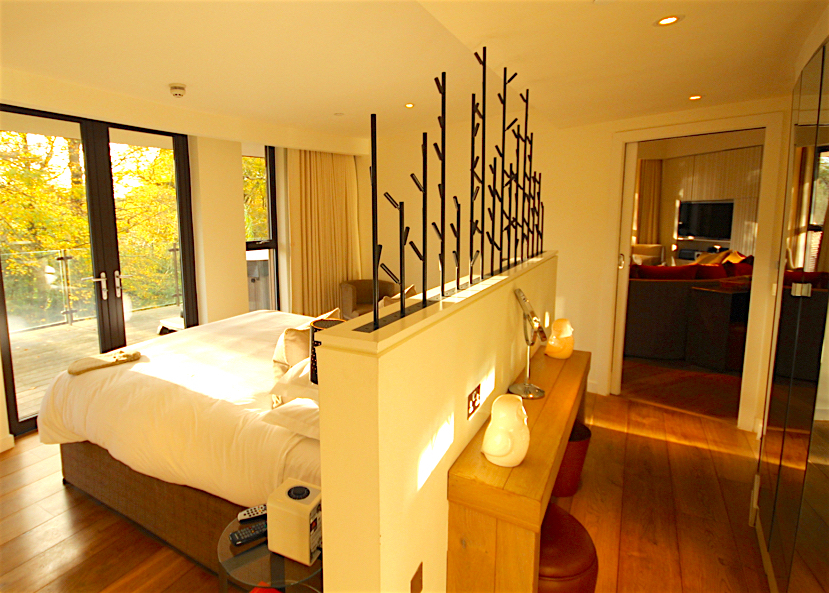 The bedroom is clean and crisp and has excellent underfloor heating. And very pretty bed-side lights. There's enough wardrobes to move in and they are mirrored which makes the room feel even bigger. The bed faces out onto the canopy – definitely somewhere to sink into and sleep with the curtains open. Then throw open the doors in the morning and enjoy tea in bed with a view.
The bathroom is equally elegant. Again, warm and modern, but entirely practical with oodles of space. The free-standing bath is by the window and perfectly deep. Mr P described the taps and shower attachments as part of his dream bathroom. (Dreaming big I laugh, then realise they are probably really expensive and he's clocked them for our house!) There's also an enormous shower tucked away in the corner.
The treehouse has a second toilet and upstairs there are two more beds in a cute low level room. Ideal for children but enough space for adults. The stairs up to the loft are also a bookcase which is my mind is a genius use of space (and one I will incorporate into our renovations at home)!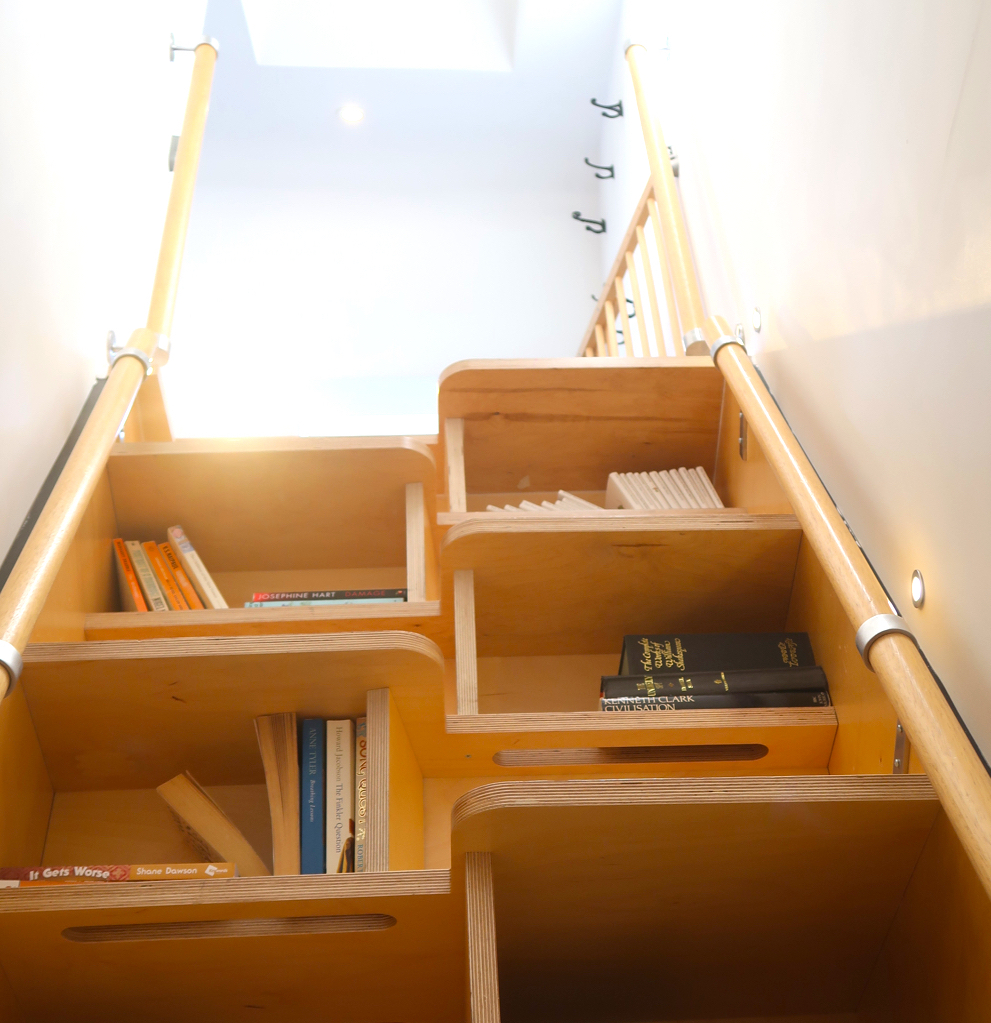 Having whiled away the afternoon and early evening in the hot tub, then curled up in front of the fire, we took ourselves over to the main house for supper. One can of course 'dine in' or be collected by golf buggy, but we chose took a short stroll. I insist on a drink in the oak-panelled bar in front of a roaring fire. There is a great juxtaposition between the spaceship treehouses and the English country house atmosphere and surroundings. The bar staff are friendly and masters of their trade, and there are some unique options. The seasonal champagne cocktail is a must, currently with a mulled fig – a little like mulled wine, only far better!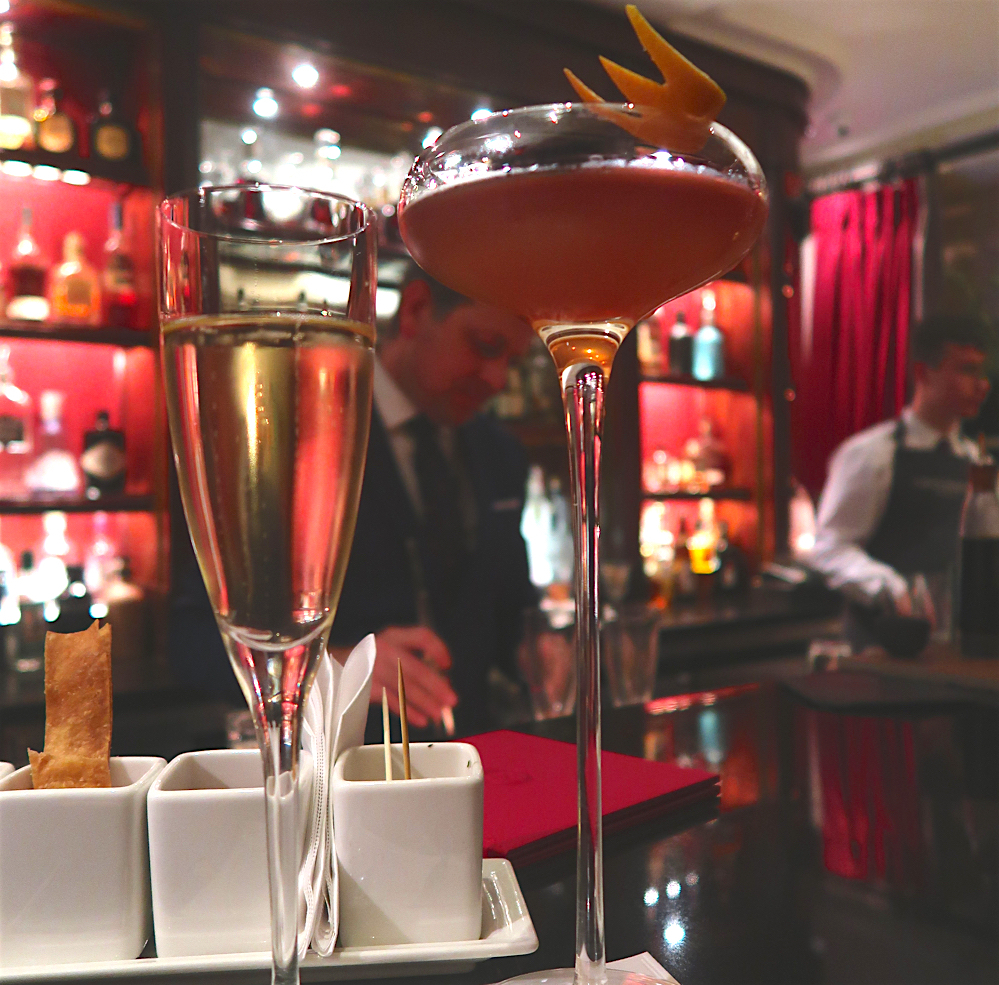 I have long-loved the restaurant. It's a smart venue but the layout allows ample space between tables so that you can have a relaxed and private meal. Service is always faultless and I was rather impressed that without saying so, they remembered I was lactose free. Another sumptuous meal – exquisite cooking, always. Crab salad for me followed by baked cauliflower and goats cheese. Mr P enjoyed duck followed by venison. Ambling back to our treehouse we were perfectly relaxed and slept like logs (no pun intended).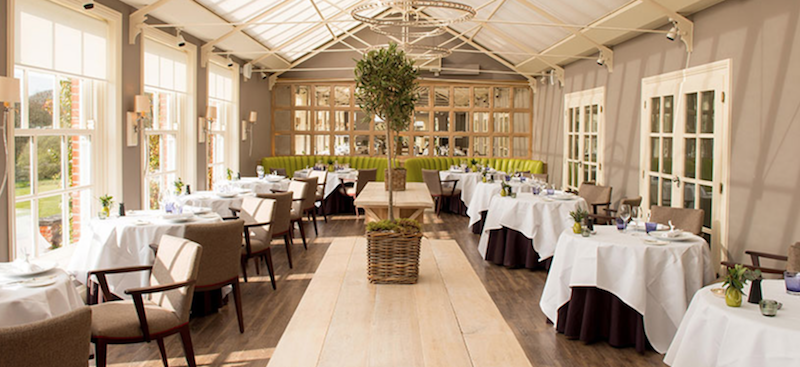 The plan was to wake for sunrise, and (let's be honest) the delivery of the 'breakfast hamper'. But despite the curtains being open and light blazing in, we didn't stir until 8am. This is good though, clearly we needed it. And it shows just how quietly the hamper pixies delivered to our trap door. And let me tell you it's like Christmas opening that hamper!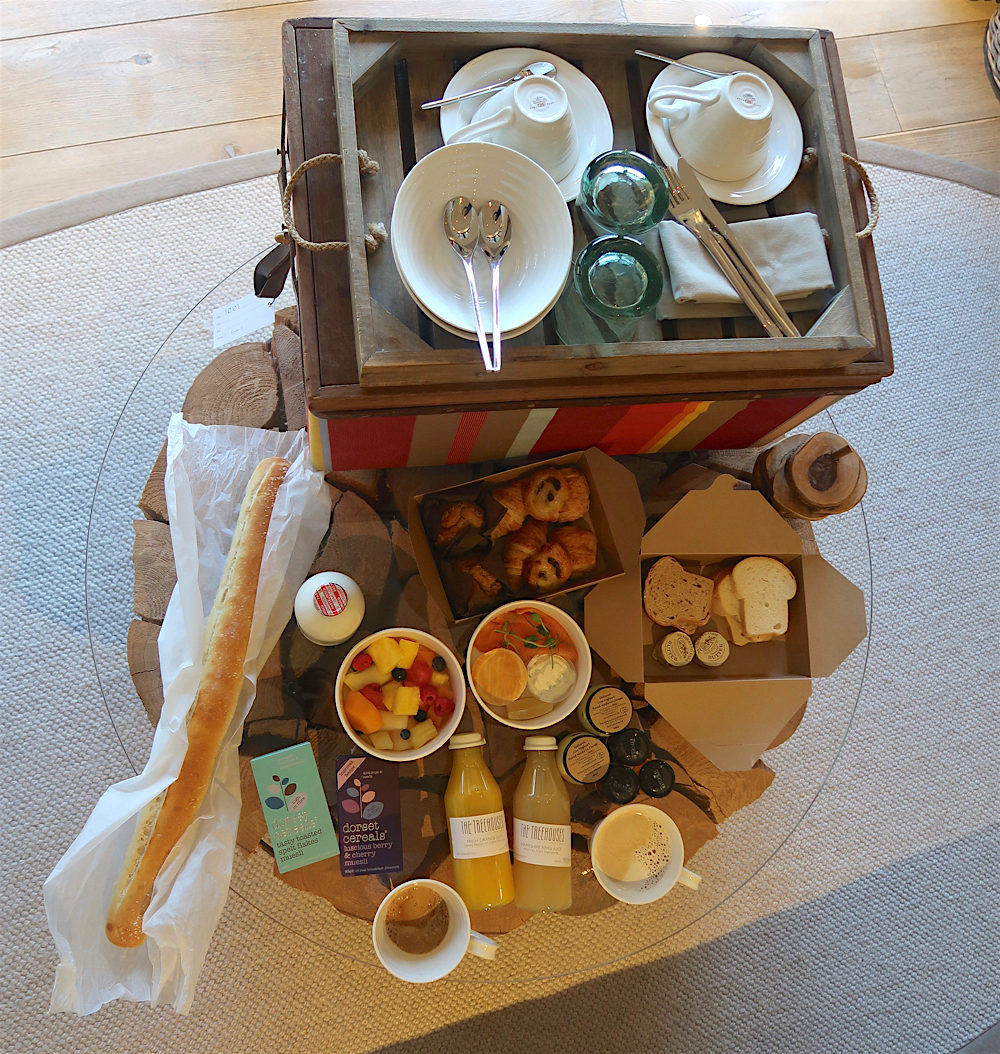 It's enormous and comes filled with tasty treats. Fruit salad, smoked salmon, a French stick, pastries and cakes, yoghurts, cereals, fresh milk, fresh juices… Apparently we could also have breakfast in the main house. Excellent as I know it is, there was really no space!! This hamper sets the bar for continental breakfasting. Mr P was despatched to the kitchenette to magic up some hot drinks and we tucked in. I rarely order room service, unless I am away with work. But not wanting to leave the comfort and light of our treehouse we enjoyed this unique brand of room service, in our PJs, surrounded by trees. Lush.
I suspect many people don't leave their treehouses, I can see why! The balance of luxury, space, comfort and privacy is quite unique! But I encourage all guests to enjoy the grounds as they are stunning. There's also a beach not far away. Grab some Hunter wellies at reception. Take a stroll round the kitchen garden and past the main house.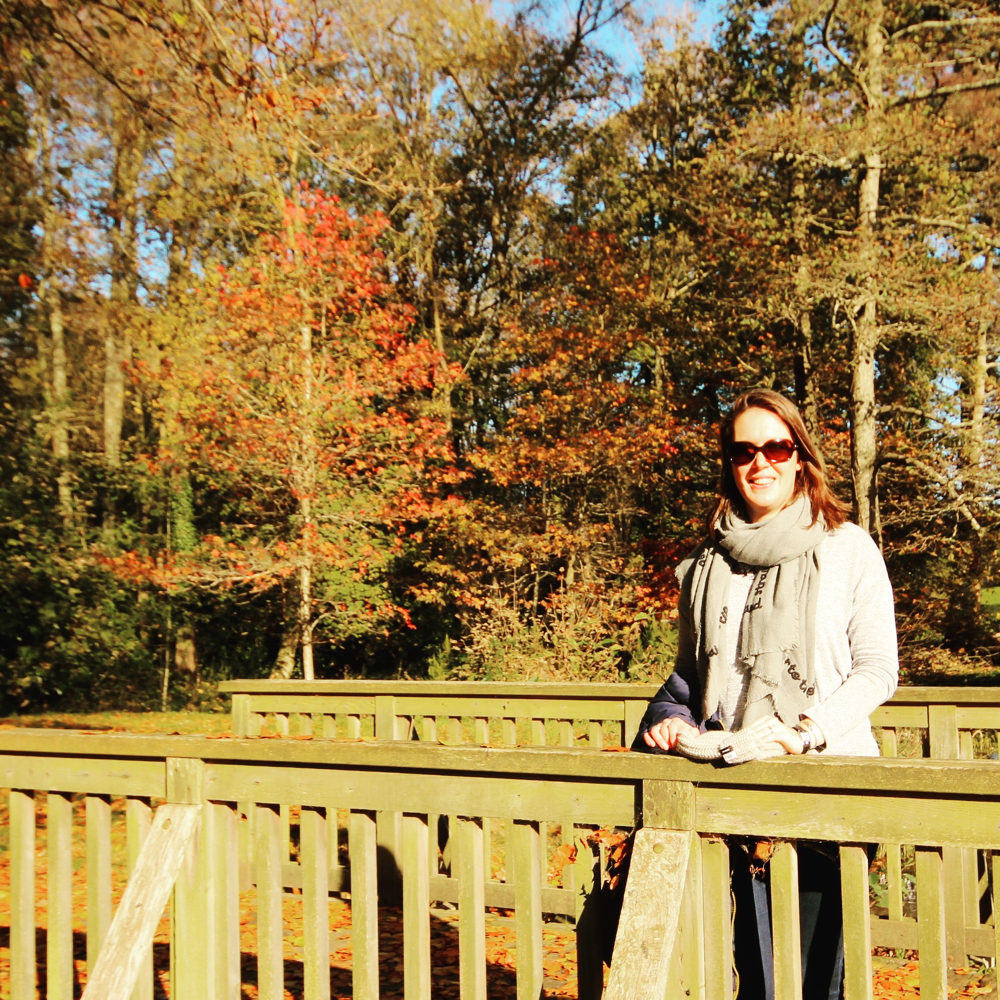 The grounds are extensive. There are of course manicured lawns but better still are the wilder areas with footpaths crossing them, down to a little stream. Find the side-gate and head down Chewton Bunny valley to the seaside. If you are lucky you'll see a bunny, in amongst the autumn leaves!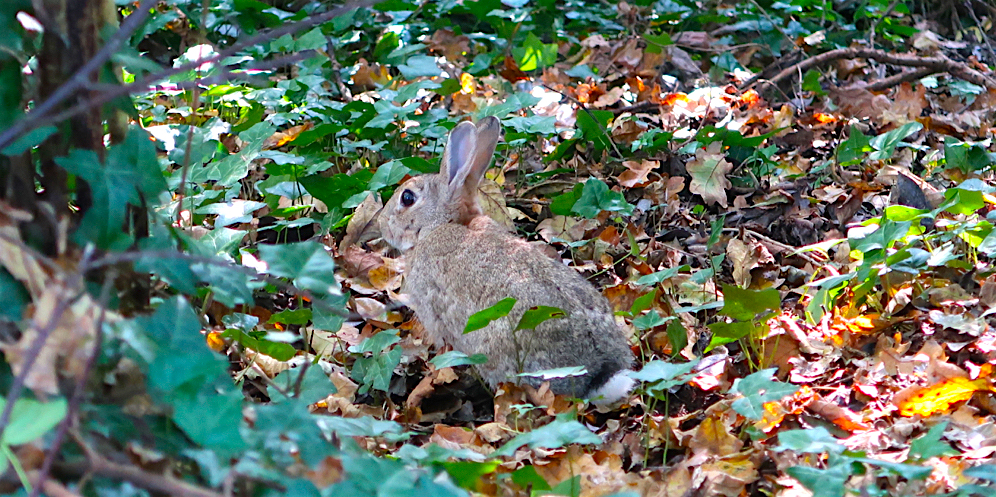 On the beach with the sunshine and its glare off the sea, it felt warm like summer. It was positively scorching! Certainly no need for fleece and woolly hat once we were there.
Check-out isn't until midday, so thankfully there was still plenty of time to bask in the sun on our terrace. We didn't make it to the spa this visit – it was just too lovely outside! But it frequently tops the UK-spa lists and really is a stunning place to spend a few hours.
Much as the treehouses keep you away from other people, the staff you will come across are simply the best in the business. We saw so many familiar faces, retention is high and the staff love their jobs. That says more about the hotel than any fluffy towel or welcome gift ever could.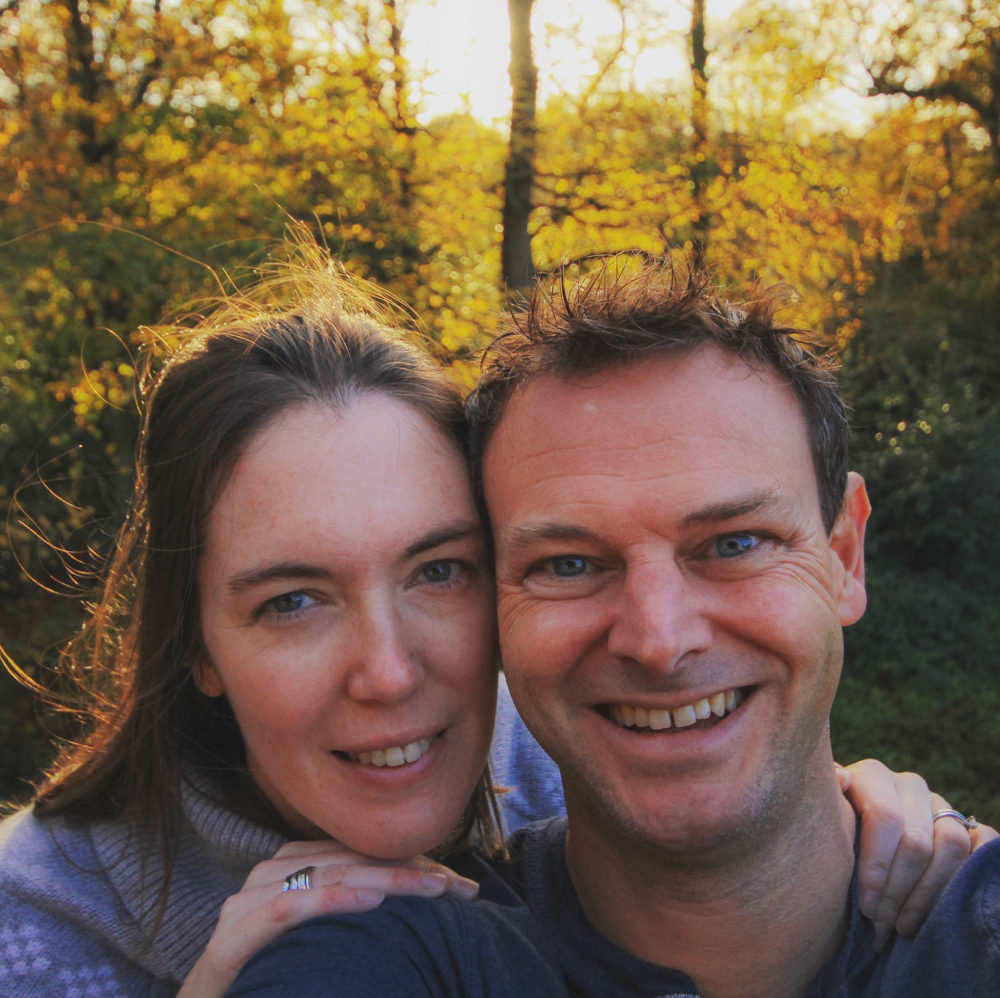 Not wanting to leave we took advantage of the warm weather and the more informal Kitchen restaurant for lunch. Thrillingly we were able to sit outside, in warm sunshine, in November. Almost too good to be true! A great spot for an aperitif and a divine truffle burger and chips! This informal addition to the hotel in the spring was inspired.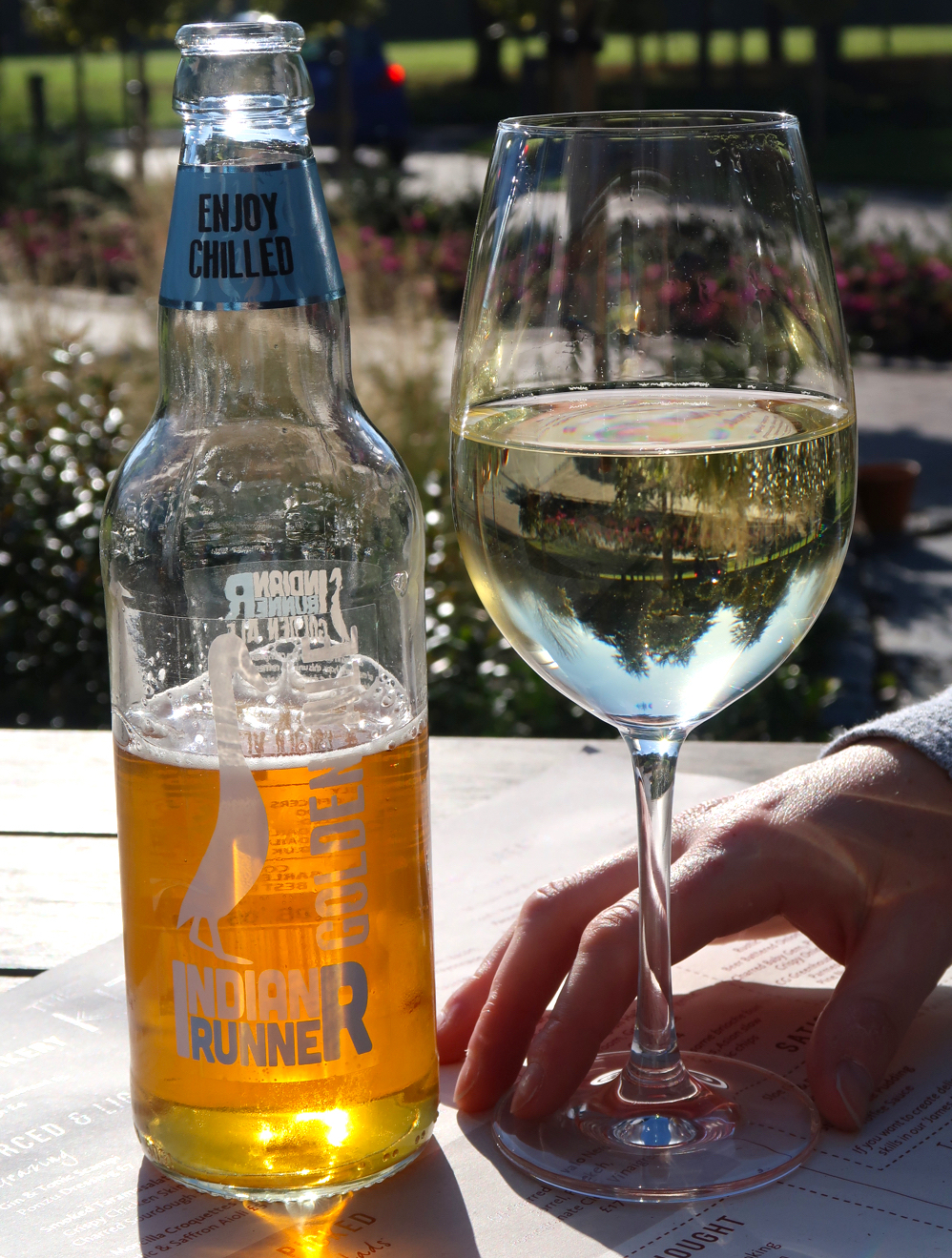 Such a pinch-me aren't we spoilt minibreak. Not only a bucketlist place, but we have countless home-décor ideas too! Whenever we go away it has to be better than home, it's increasingly difficult but was absolutely achieved here!
As a wise lady says, effortless elegance is what really matters. And the treehouses epitomise this.

We booked on a media rate. Views are my own, The Treehouses are perfect in every way.