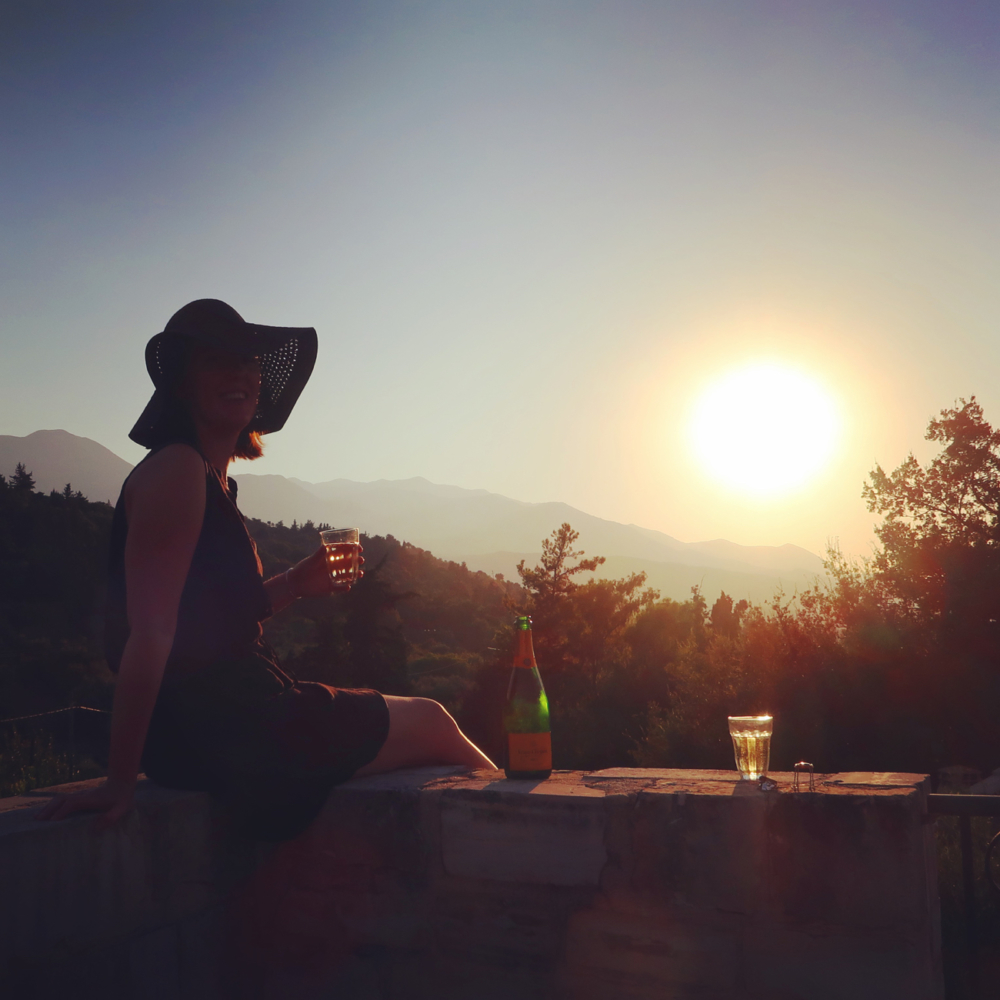 We almost didn't go to Greece this summer. We had toyed with the idea a while ago. But it was too hard to choose the island, expensive flights, a plethora of accommodation choices… It was in the too difficult category. Then a friend mentioned he had booked an enormous villa and they had plenty of space. Could we join them?
Yes we could!
Even better, business class flights to Crete were cheaper than economy. I would almost call it a cheap flight! Although I wasn't thrilled with the lounge or the food, another BA fail!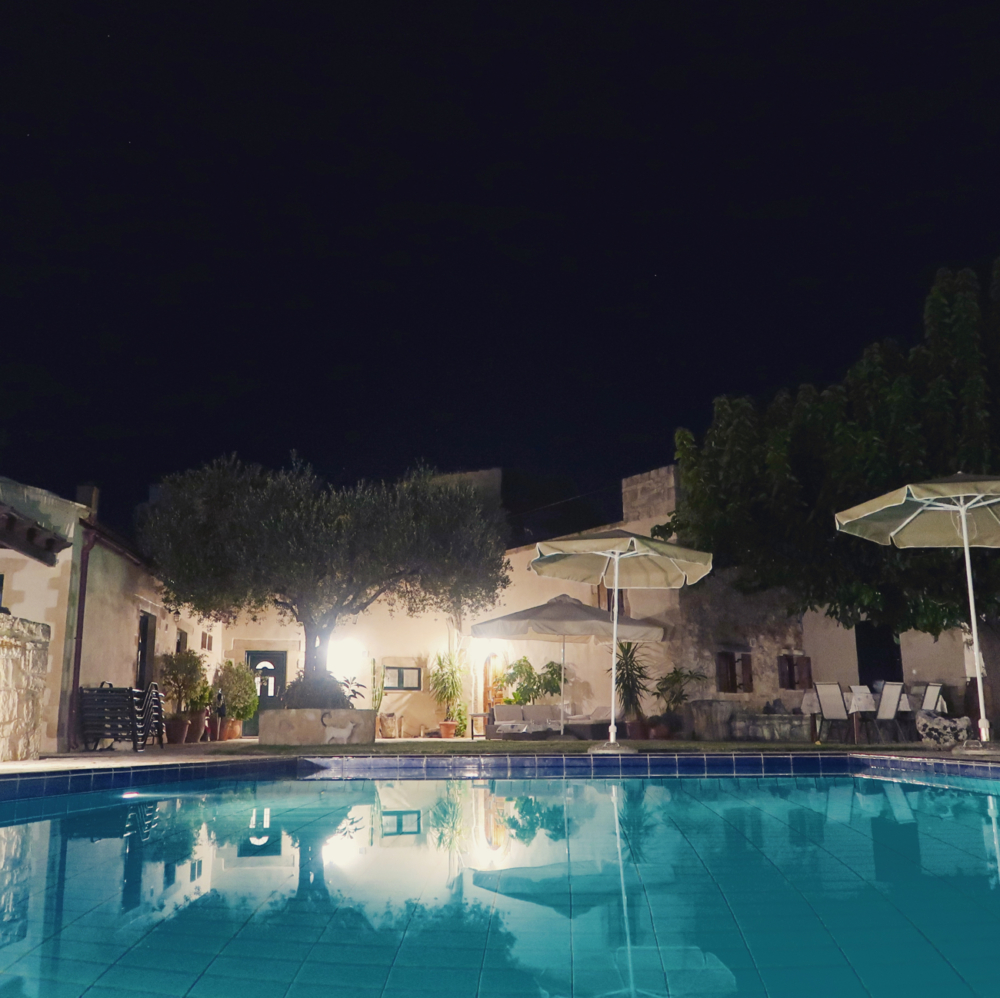 I have used Airbnb once to get a crash pad in London for a weekend and it was easy. The villa we had was also Airbnb. It was excellent! With Airbnb the beauty is that you get exactly what you see in the pictures. Hotel photos are always professional, wide angle and enhanced… Sometimes a little misleading? Airbnb photos are taken by the owners. The end result means the accommodation is almost better than expected! This villa is particularly great for a few couples/families as there were 3 separate buildings around the pool. Comfortable and practical, just one of the apartments had a weaker air conditioning unit than it needed.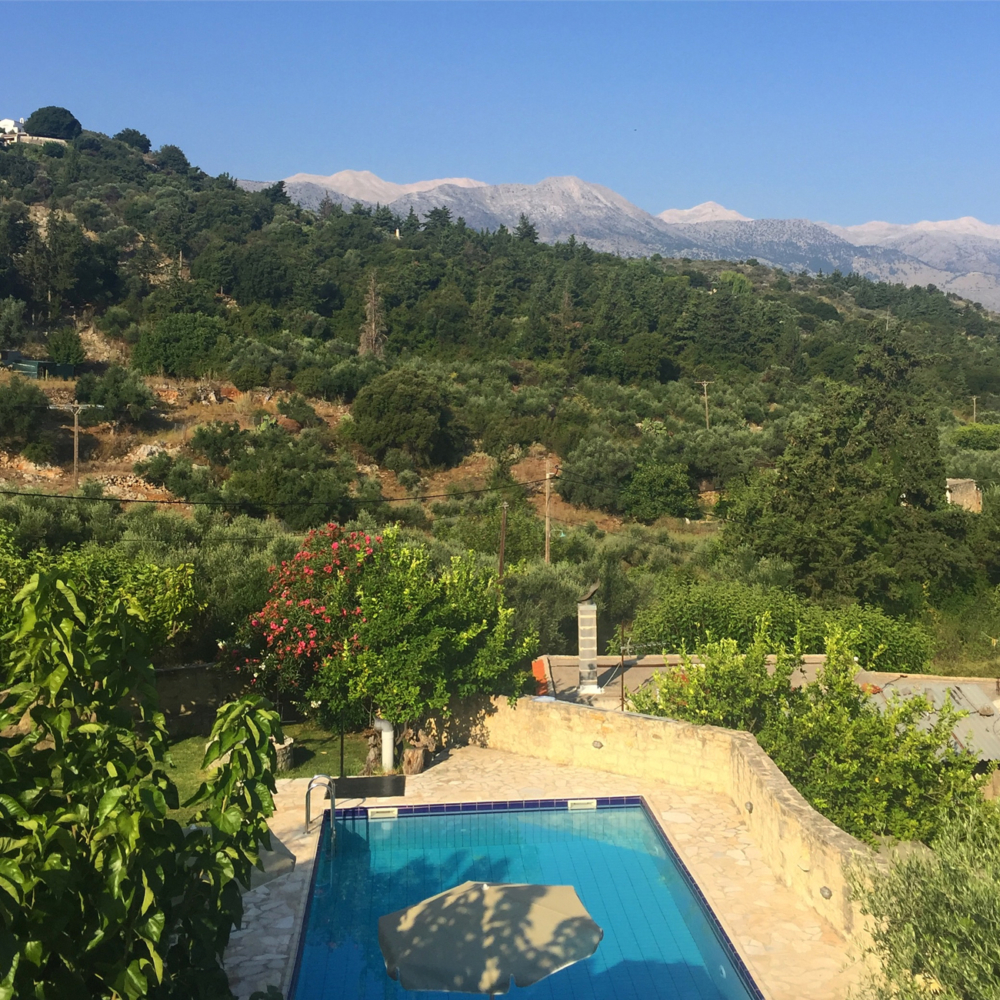 A real benefit though, is absolute privacy. The north coast of Crete between Heraklion and Chania is littered with hotels and resorts. So much busier than the sleepy Peloponnese I have been to before. It was ever so pleasant to drive past it all and up into the foothills of the white mountains and our private enclave. No one spoke much English in the area. In fact I had to show a local pictures of the villa on Airbnb to realised the person I was trying to speak to was the owner! There were more goats than people. We could hear the calming sound of goat bells ringing as they grazed nearby! And the views and our own pool were perfect. Rural Greece at its best. So often Mr P and I will stay in a hotel abroad as it seems like it would be easier. But I really think we've been missing a trick. A good villa gives the luxury of peace and privacy that we value.
And because we had our own space and the only other people there were our friends…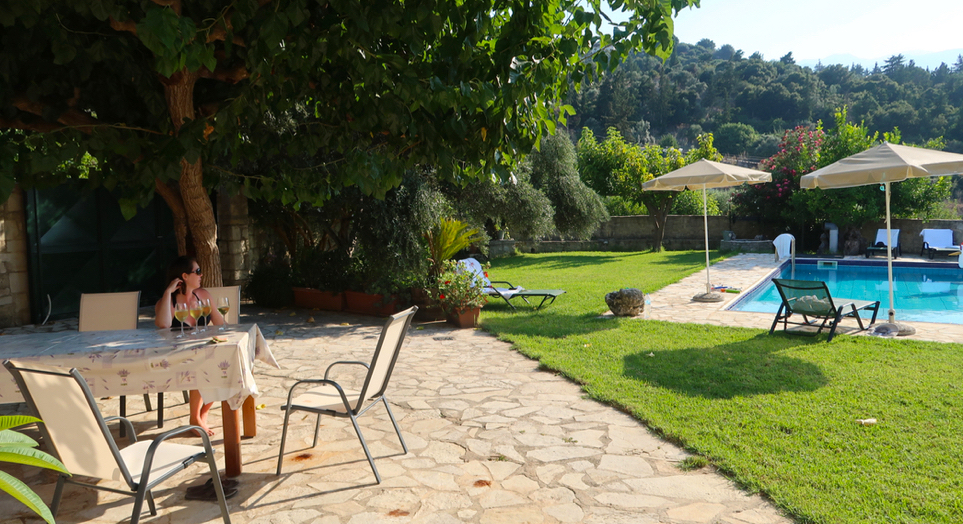 We didn't have to get up for breakfast, and there was no need to get up early to bag a good sun lounger.
We didn't have to talk quietly, no one was listening. Apart from the goats, and the souls from the little roadside shrines that are so common in Greece!
No one laughed that I had brought with me a unicorn. Because I blog. And we all know that every blogger needs a unicorn! Well they did laugh, until they realised Ursula was pretty cool!
We could play our own music at the pool and there were none of those rules about diving or not using at night. Importantly, squealing noisily when unicorn racing or water fighting was not met with tutting or raised eyebrows. Apart from when water landed in the wine!
Even with the unicorn racing racket, there was always space for quiet time or the odd conference call!
We could take a glass glass in the pool. That said, we did have to buy our own wine glasses from the local vineyard. The villa only had Raki glasses!
There was no need to order more drinks, we just got them from the fridge!
We didn't have to find a fancy roof bar with a sunset view. Because we had our very own! As well as an indoor and outdoor kitchen!
As a result the short trip was incredibly relaxing! We didn't rush anywhere. Time went slowly and blissfully. Some days we got to 4pm and someone would say, do you think we should just go somewhere! Just to 'go out'. Or we would glance in the fridge and there'd be no wine (emergency trip to vineyard) or no water (trip to the village).
It is however impossible not to go exploring in such a beautiful place. Here's a few suggestions!
Seek out pink sand
Mr P was dragged out of bed before 7am in this search. And it didn't disappoint. Elafonisi is beautiful and having the time to take a bit of a walk on the tiny little nature reserve island is a real treat. The island was happily beautiful and almost deserted. And the drive through the mountains to the south – quite spectacular! Balos Beach I think may also have pink sand, but one was enough! Read my full guide here.
Eat local
By this I mean really local. Not the tourist restaurants of Georgiopoli, with pictures of the food! We were near the little village of Maza and the only place to eat is Costas. Locals and tourists dine together. There is no menu. Rest assured you need no menu. Mythos and Retsina to start, followed by tasty mezze that just kept coming. Such great value and quality. Hearty greek food at its best! We also stopped at Elos on the way back from Elafonisi, a small village with big views and great local restaurants for lunch! We were the only tourists in Paradosiako and our salad, souvlaki and giros were second to none. The mini-marts in the nearby villages did us well for all other food. Such good tomatoes!
Drink local
There seems to be quite a wine scene in Crete. And one such winery – Dourakis – was just down the road from us. How very lucky! Maybe we wouldn't drink it at home, but chilled and by the pool we rather enjoyed our Greek wine! There's all manner of 'interesting' stuff in the supermarkets, but we paid a little bit more and enjoyed the local fayre!
Amble around Chania
It was really too hot to be sight-seeing on our way back from Elafonisi… But I can't just drive past somewhere that is apparently pretty. It is actually a cute little Venetian port with bags of character. But it was teeming with tourists! I wanted to be out on a boat making the most of some breeze to cool me down!
Beach like a local at Marathi
A chance discovery the last time our friends had been in Crete was Marathi. It's not far from Chania but is better known by the Greeks than tourists. And in the early evening it it quiet enough to enjoy some beach time and then dinner with a gorgeous view across to the mountains and the moon rise.
Take a dawn stroll at Kournas Lake
Not content with dragging Mr P out of bed by 7am once. I actually did it twice! Clearly the best time to visit Kournas. It was just us and some geese. So much more beautiful when there's no one around. It was a little like being in the Lake District – a gorgeous clear water lake surrounded by rocky mountains. As the sun rose the colour of the water turned azure.
Stroll along the beach at Georgiopoli
Yes it's busy with tourists, with rows of sun loungers. But the view out to sea is beautiful. And the sea breeze is quite essential on a very hot day. We parked near the Chapel of St Nicholas and strolled east, walking in the surf. The further we went the quieter it got, and actually there were very few people in the water! We also had our pick of places to have a beach beer. Choosing eventually a local vendor rather than one of the hotel bars. Apparently all the tourists order the 'big' beer…
So Crete was a roaring success. We were ever so sad to come home. Our Airbnb was excellent and staying in a remote spot away from the tourist track was a pleasure! It's a beautiful island to visit, especially away from the crowds! Happily it is easy to leave the crowds behind and to self-cater in a remote spot! It's also a pleasure to go on holiday with friends. Normally it is just me and Mr P. But it was lovely to spend time away on holiday with friends too.