For our trip to Crete I did very little research. We only booked the flights 10 days before we flew, joining friends in a villa in the hills above Chania. Our plans were to relax: spun out from work and moving house. The little trip to Tallinn in April was feeling a long time ago!
But any travel blogger will tell you that FOMO exists and so I had a little look at Crete on Pinterest. Of course the beautiful white and pink sands of Elafonisi caught my eye. We had been to Elanfonissos when we were in the Peloponnese, so the name stood out! Just a small road trip I told Mr P… And there's only a handful of pink beaches in the world! So I wasn't going to miss the one 80km from me!
He was delighted to see the pre-7am sunrise from our roof terrace before we set off… Clearly not convinced about a 2 hour road trip to see a beach. That was apparently pink… But the traffic was very quiet, just a few goats to navigate around!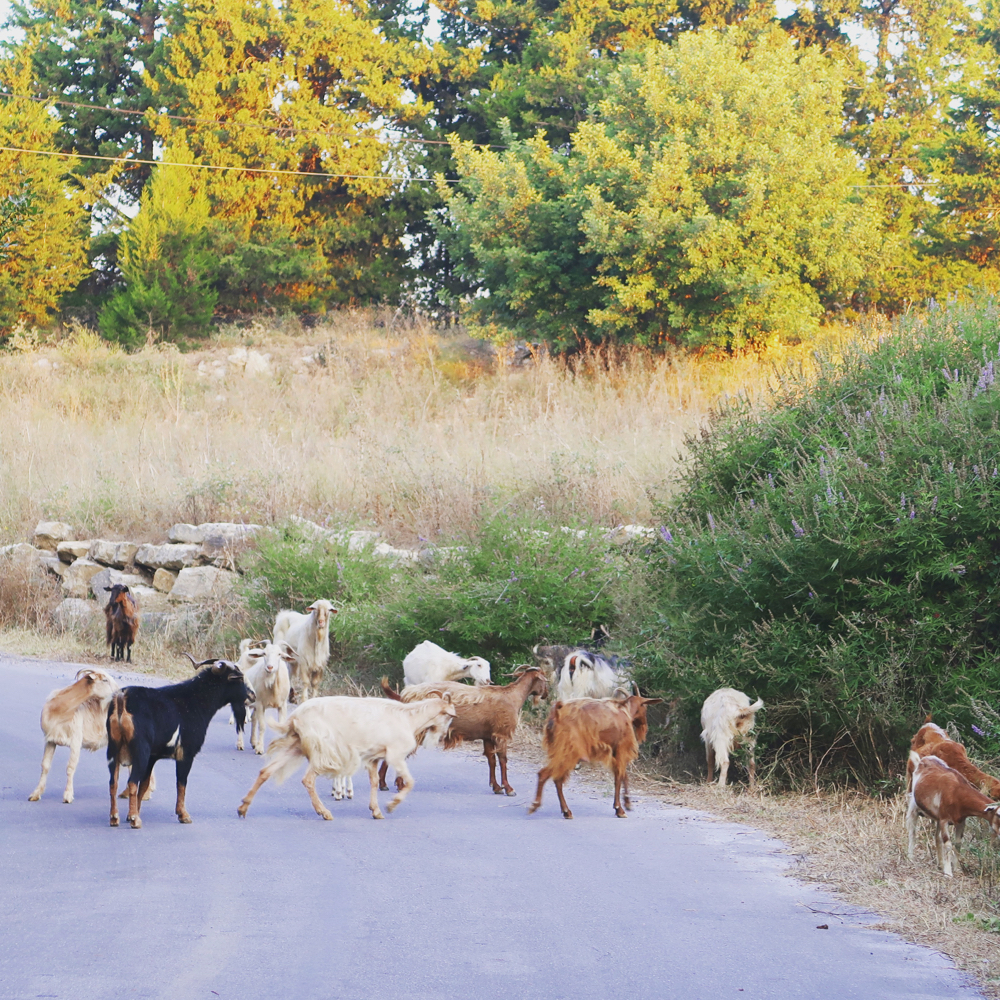 We arrived by 9am having enjoyed the scenic drive through the mountains. The car park was empty: early alarm totally worth it! Hello empty beach, just us and a few other people seeking peace and quiet. And pink sand.
The beach that you arrive onto is vast and dotted with food stations and loungers… It's set around a lagoon with splendidly warm and azure water, perfect for wading… And at 9am. But not pink and with a high risk of busyness…
After a little paddle we went exploring… Onto the island and nature reserve, accessible at all states of tide.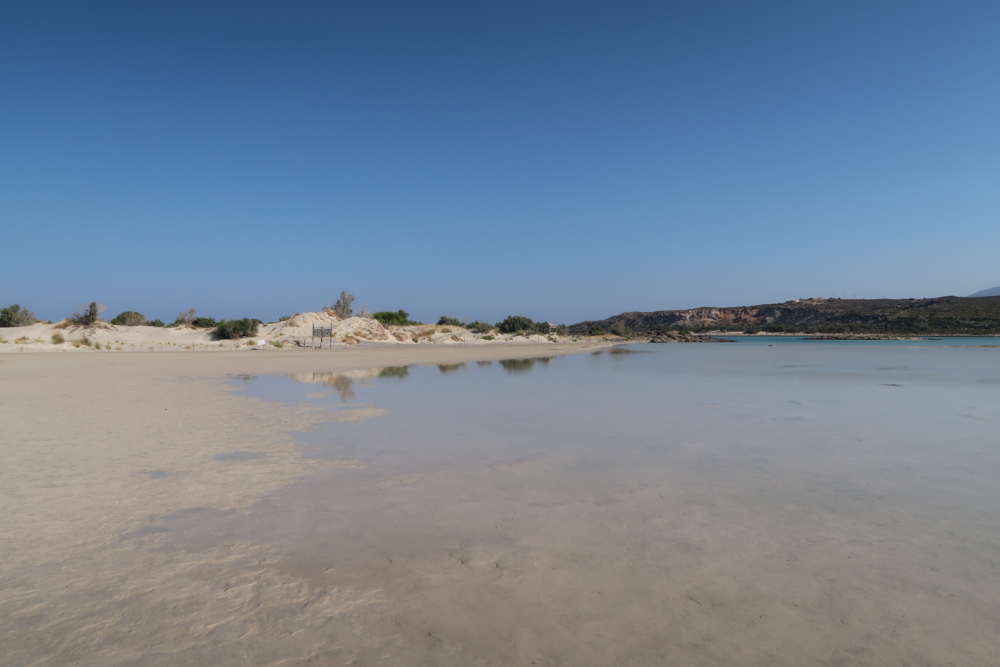 Then suddenly we saw what we had come for. A deserted white sand beach through the dunes.
The pièce de resistance though, is the pink hued sand that collects along the water line. I was cynical and thought all the Instagram pictures must have been filtered to produce the pink. But no. It really is pink. Even pinker through polarised sunglasses.
Pretty excited to have found a beach to match my shorts and sunburn… I wanted to know what caused it. The beach, not the sunburn. Which, was from malfunctioning P20! After all my degree was in Geography and Oceanography, and pink sand hadn't been covered. Here's the science bit, according to the Chania Post. "Pink sand is a result of tiny red organisms that grow on the dead coral reefs and pieces of shells which fall to the ocean floor and is washed onto shore. It is also made of natural formulation of calcium carbonate from very small marine invertebrates that mixed to corals and shells and other marine things which has Foraminifera, microscopic amoeba that has a red or bright pink body shell. All of these are what causes the sand to have a pink hue."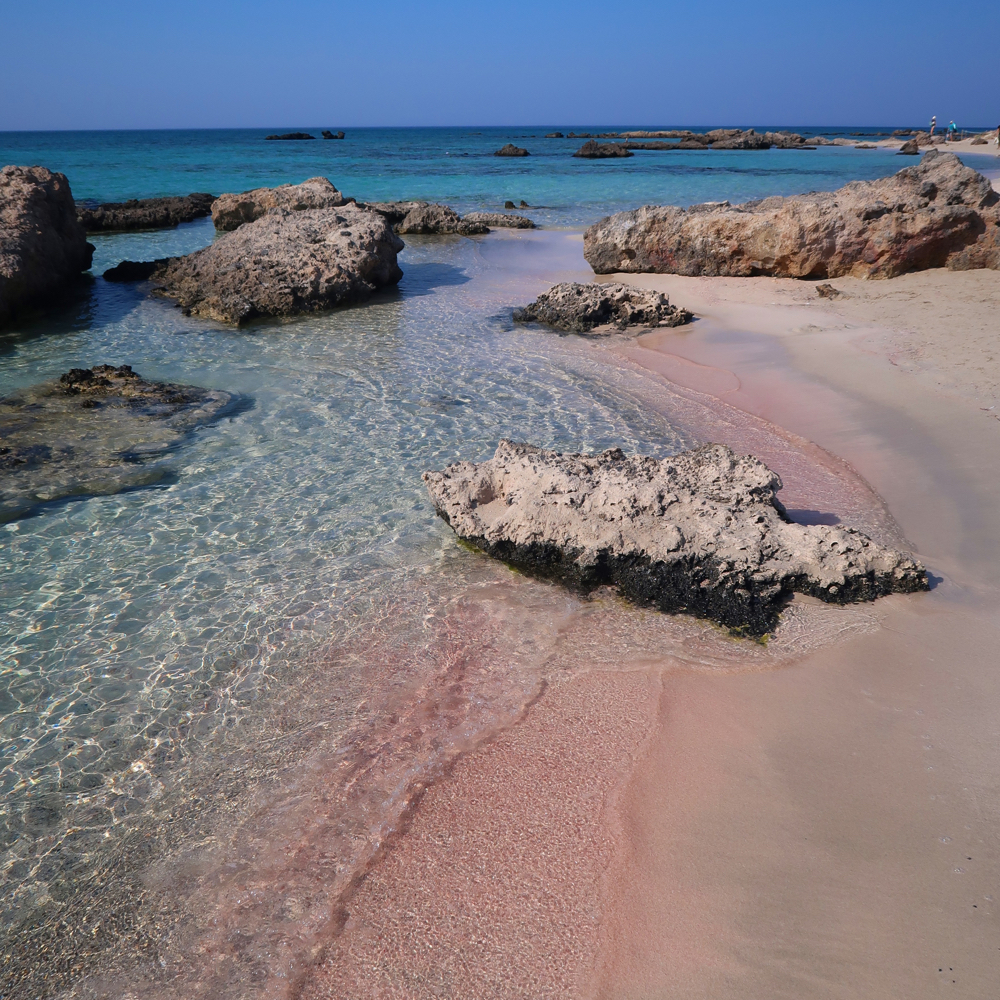 It really is stunning. We felt like we had arrived in the Caribbean: the beaches around the island were as deserted as some we've found in Antigua and Jamaica. One doesn't have to go far from the car park to feel like they've arrived on a desert island! And the view back across the sea to the mountains in rather spectacular too.
All islands have 360 degrees of coast so we decided to do a full lap. It was even emptier on the west side of the island. Windier and cooler too due to the prevailing wind. Hallelujah! We strolled across the dunes to a far rockier scene, I assume granite as the island of Crete is formed from tectonic activity. And volcanic stones too?
We didn't see a soul on this side of the island and the views are stunning. Such great colour combinations with the white sand, dark rocks and azure waters.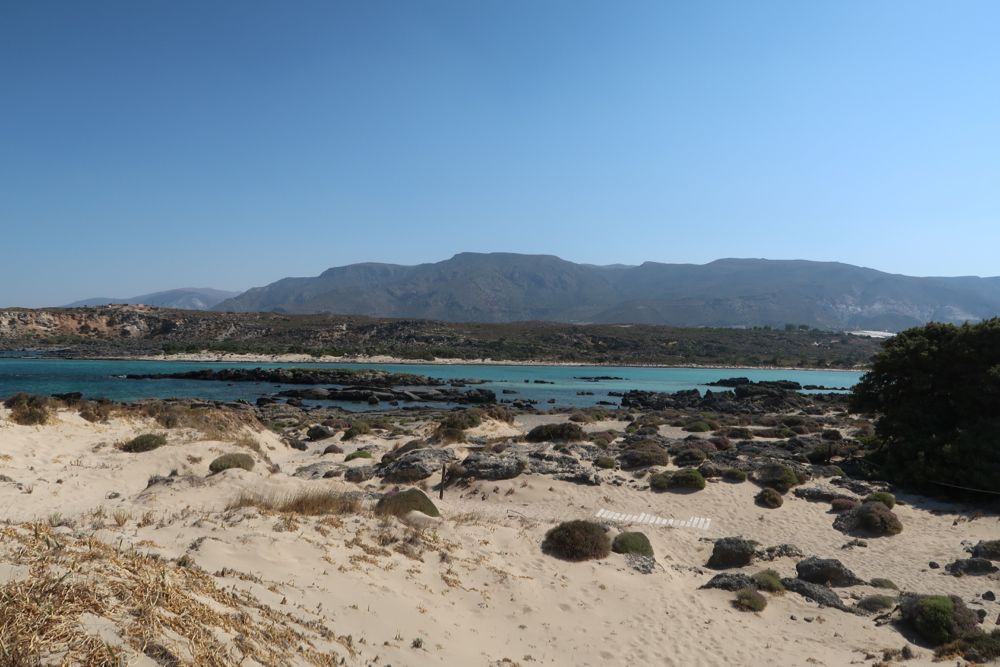 I read somewhere that about 2,500 people come to the beach daily. You'd better believe it. When we arrived back at the lagoon it was heaving with people. A few too may selfie sticks for me. We definitely made the right choice by rising early and strolling to the far end of the island. I'd guess only 20/2500 get much further than the main beach, thank goodness!
The drive home was spectacular. Once we had fought our way past the many (many) cars still arriving we enjoyed the scenery. Narrow roads with switchbacks mean great views. The scenery really reminded me of trips into the Atlas Mountains of Morocco and our visit to the Dead Sea. Looking at the map, a very similar latitude so no real surprise. Also plenty of roadside stalls selling olive oil, honey and raki – obviously we stopped!
A stunning day out. It really is quite something to visit somewhere so unique and peaceful. That early alarm clock and a smidgen of research always pays dividends!