Sometimes the scheduling gods at work smile kindly… A project in Los Angeles, are you keen… I didn't have to think twice! California in the spring – yes please!  And yes, the beaches in SoCal are just about as American as it gets!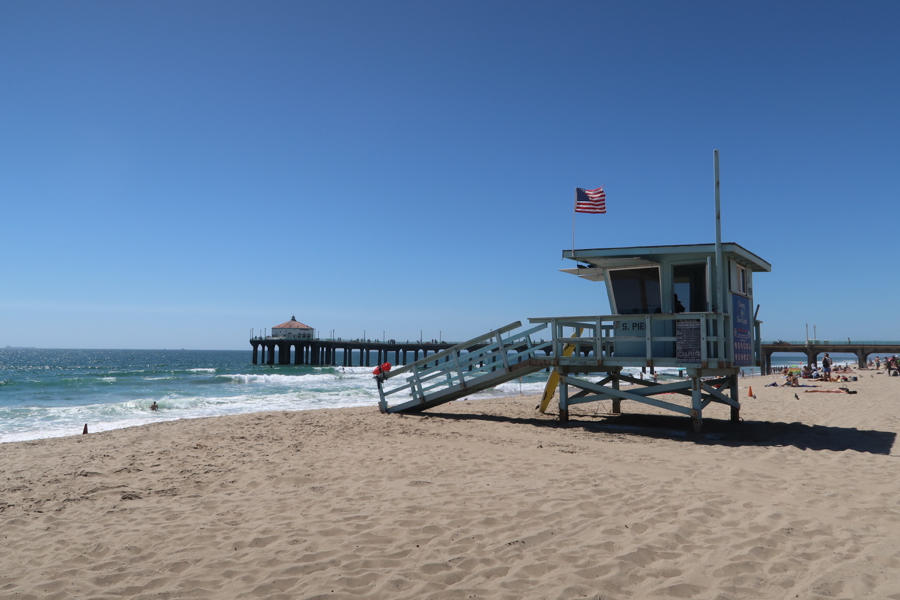 Whilst Los Angeles is not somewhere I would choose to visit on my own account, a business trip seemed a good chance to see it (and a nice 20k boost to the airmile stash).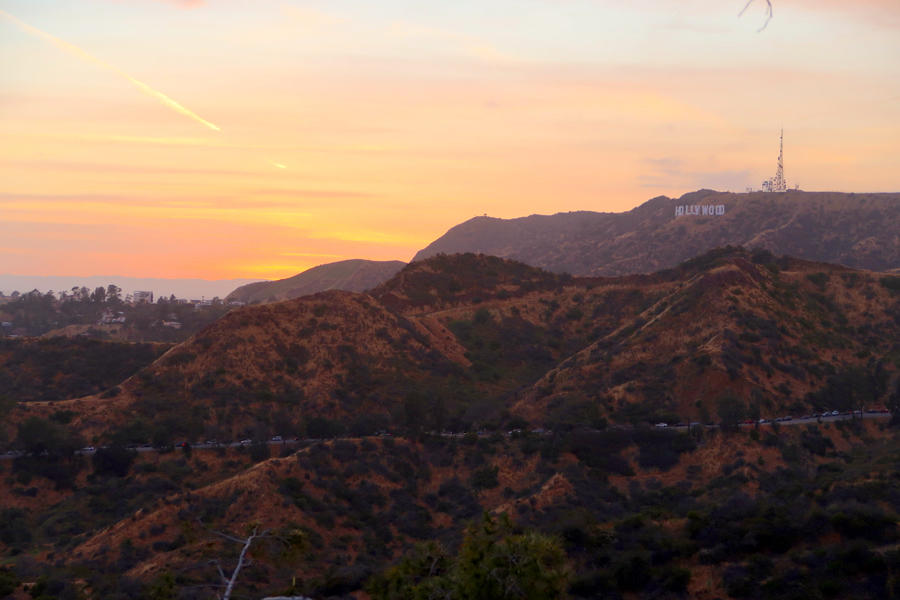 With an 8 hour time difference, I decided to have an 11 hour working day cooped up in BA business on the Saturday, to give me Sunday at leisure. So I did LA, as best I could, in 12 hours… The city has an enormous sprawl, a lot to see in 12 hours!
I would recommend using the hop on hop off buses. The Starline option was only about $50 for a day ticket. I was initially looking at formal tours, but didn't book – these are pricey you are stuck in a bus for much of the day and not able to ad lib with the route. My HOHO bus was cheaper, had an open top and many route options!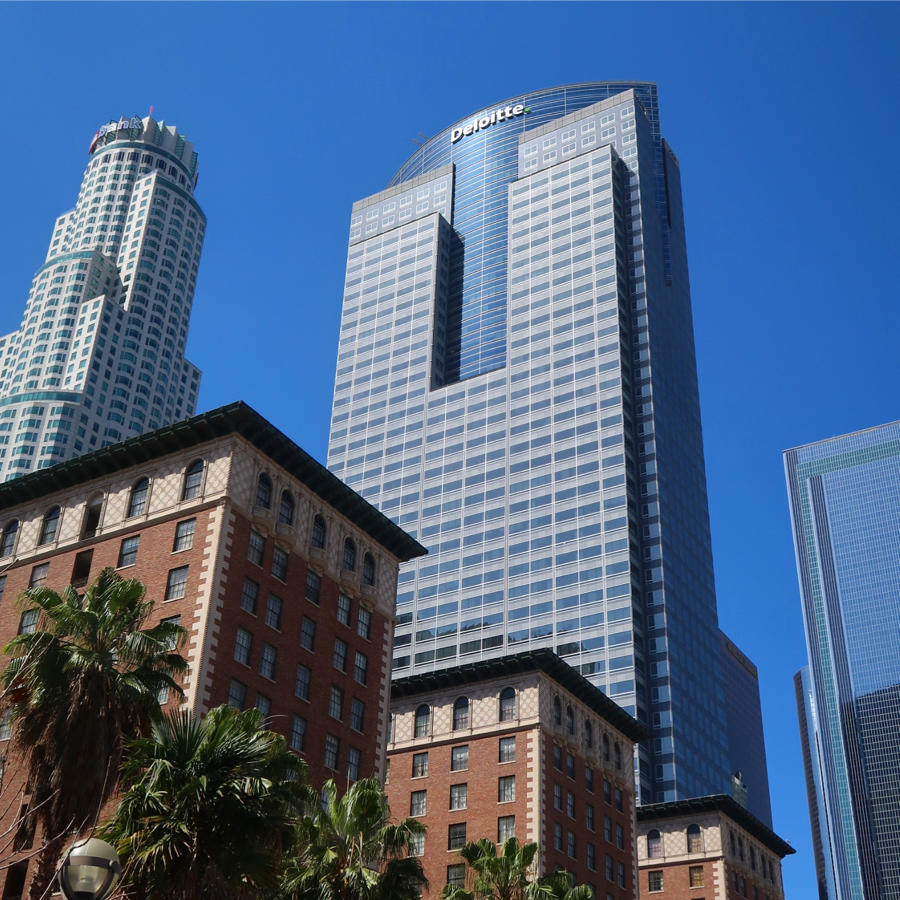 Happily there was a stop outside my hotel in Downtown, the Millennium Biltmore. Which even more handily, for the rest of the week, was just metres from the office. My booking request of 'near work' was taken a tad too literally. The first part of the bus trip was through Downtown past a lot of theatres. Not particularly interesting, although everyone else took pictures of everything ?
It's dropping off point was its purpose – it took me to Hollywood, and when in Rome…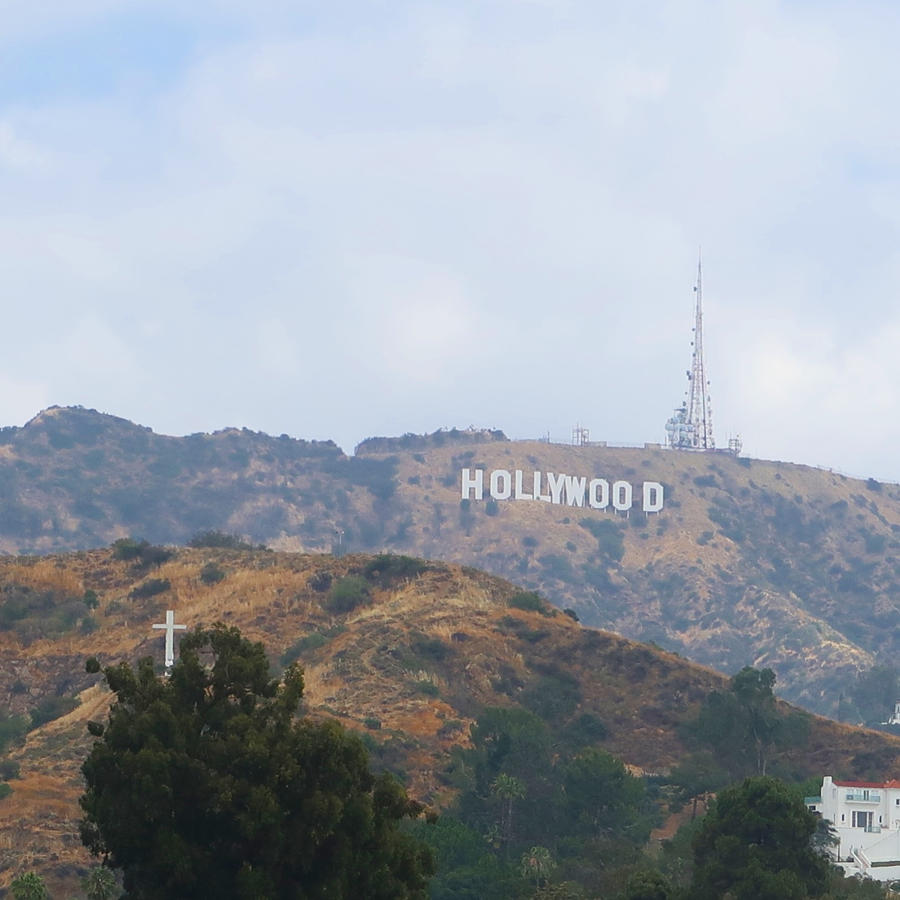 My film choices are based on what is free with Prime so I am pretty clueless about celebs, but I still had a mooch. There's a nice view of the Hollywood sign from a little cluster of shops next to the Dolby Theatre. You'll find a good collection of famous hand and foot prints outside the Chinese Theatre. Everyone who has ever been a film star appears to have a star on the pavement, hundreds of them. I stuck my nose in a gift shop to look for Christmas decorations – I couldn't cope with the tat levels, so left!
Onwards – the next bus took me towards the beach, far more to my taste! We drove around Beverley Hills and Rodeo Drive – much smarter! Did you know each road in Beverley Hills is named after a tree and only that tree is planted on that road? Everywhere else across the city it is all about super-tall palm trees and purple flowering jacaranda trees. A redeeming feature of the city!
Once the bus got to Santa Monica I was done with it, time to walk on the sand and board walk! It was bright sunshine yet very hazy, but I could still see how the city is surrounded by mountains. A hiking trip would be excellent! The beach is enormous and goes on forever, people were out lounging, cycling, roller-blading. Whilst it felt very touristy this is clearly the place locals spend their Sundays and I can't say I blame them!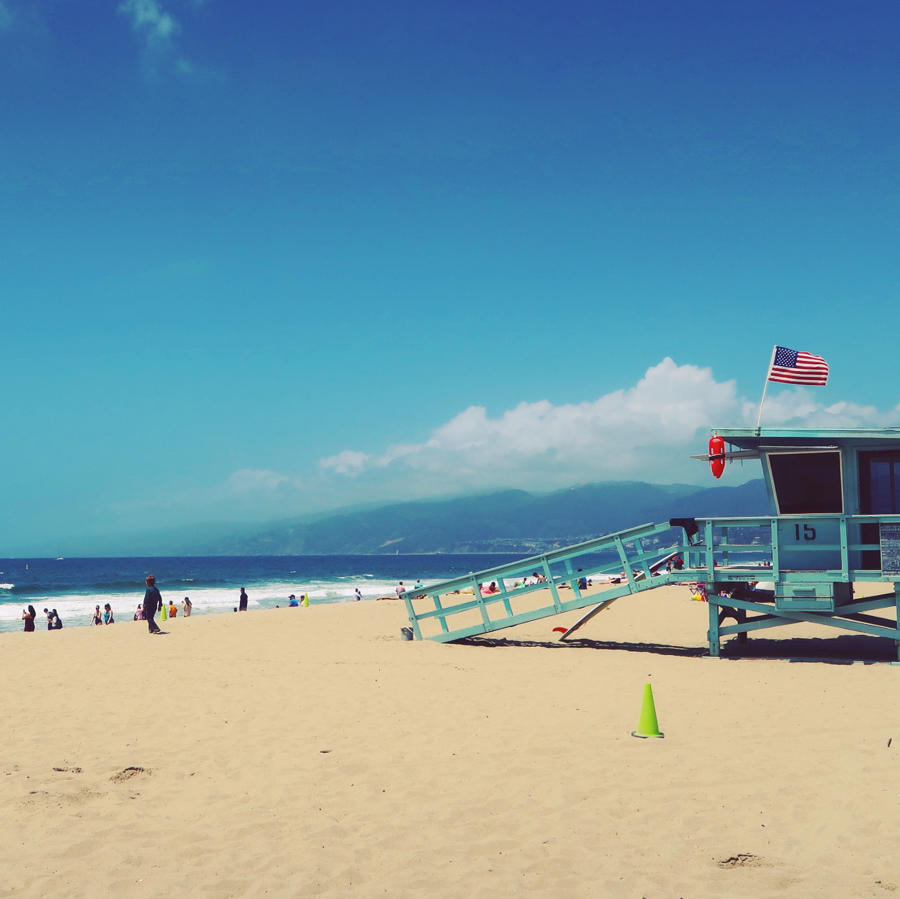 I strolled down towards Venice and it was quintessentially American, especially with all the lifeguard boxes. And full of very cool people. I upped my speed through Venice itself as it was trashy, making a beeline for the canals.  Which were quiet and sleepy. A residential neighbourhood with paths and bridges to stroll along. Like Venice only different, with gorgeous little cottages and gardens! A good place to relax after the hecticness of the beach.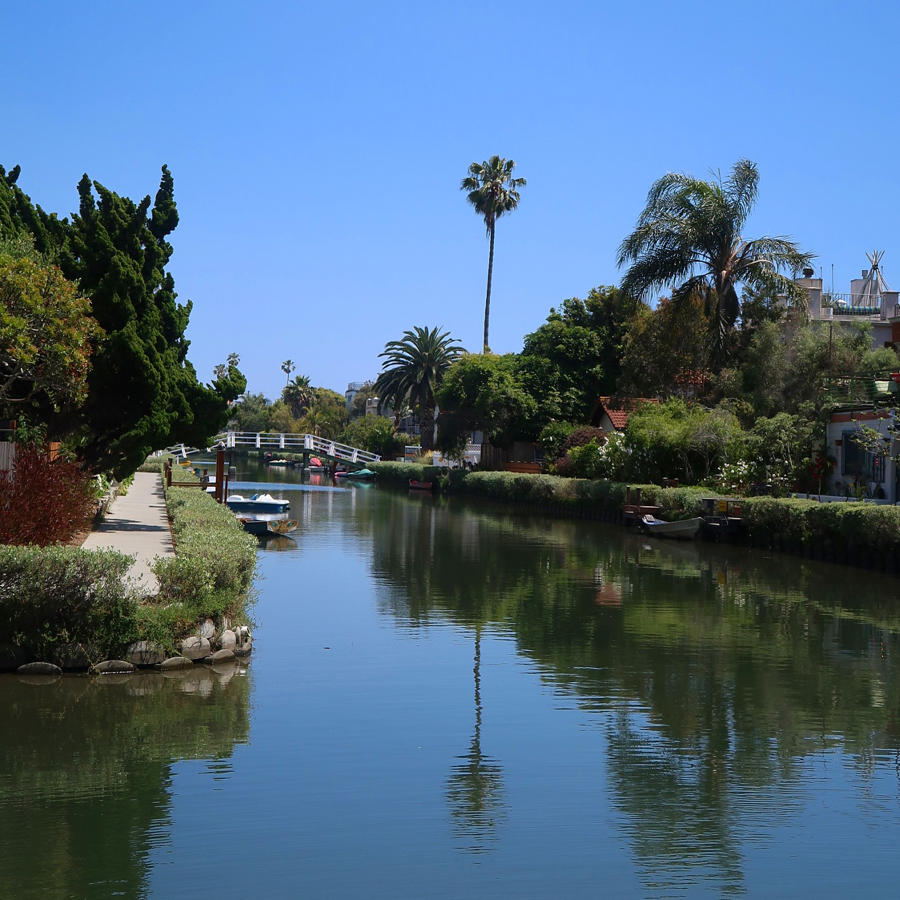 Happily we were a focussed team plus working on the plane outbound and some early (jetlag and dayjob forced) starts and late finishes meant we made some time for corporate evening exploring later in the week! We took an Uber to the Griffith Observatory one evening and watched the sky go pink over the Hollywood sign. We also went cross eyed over the city sprawl! Just enormous – and flat as a pancake!
Staying in Downtown isn't the hipest bit of the city however with all the offices there is good choice of food and drink! For lunches I would recommend Mendocino Farms, Pitchoun Bakery and Blue Cow. Come evening, book an early supper in the sun at Perch followed by drinks at 71above. All very corporate but excellent views, and the Moscow Mules are ?!
I was flying home late on the Friday evening and knew I would be exhausted, so having put in the hours already I took the afternoon off! We also have an office in Manhattan Beach which is where I spent the morning. And, clue's in the name, it was then just a 5min Uber ride to the beach. Now this was my kind of place – a pretty little village in the city with boutiques and delicatessens and an excellent and clean beach for a paddle, read and walk!
Thankfully it was American Airlines business class on the way home and with the super-friendly crew, the big comfy bed, the queit mini-cabin and the affects of the sea air I slept like a baby most of the way home!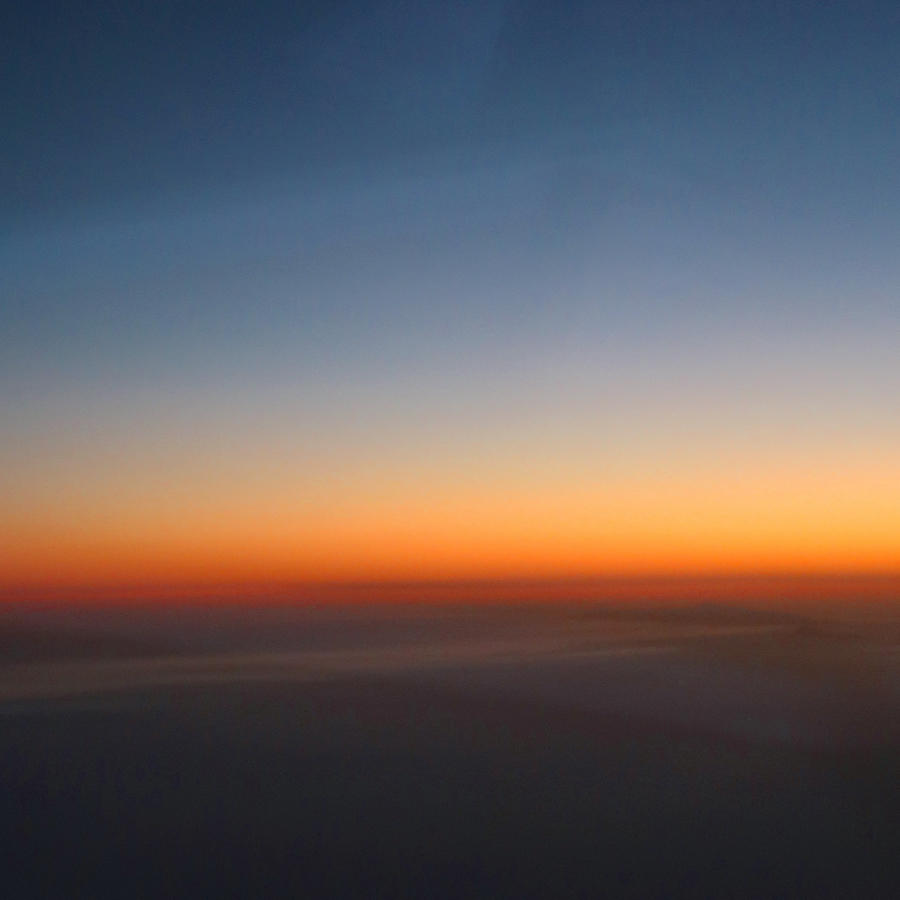 Would I go back? No, not to Los Angeles, but absolutely yes to California. The SoCal vibe I like a lot. The coast, hills and vineyards on a trip out of San Fran or San Diego is going back on my bucketlist! A little bit of business travel research isn't so bad!