We arrived at our Lisbon palacio at 12.01. I know this because I glanced at my watch. The sun was 'past the yard arm' and I gladly accepted a welcome glass of bubbles. It was pouring with rain outside, this was the bottled sunshine for the day.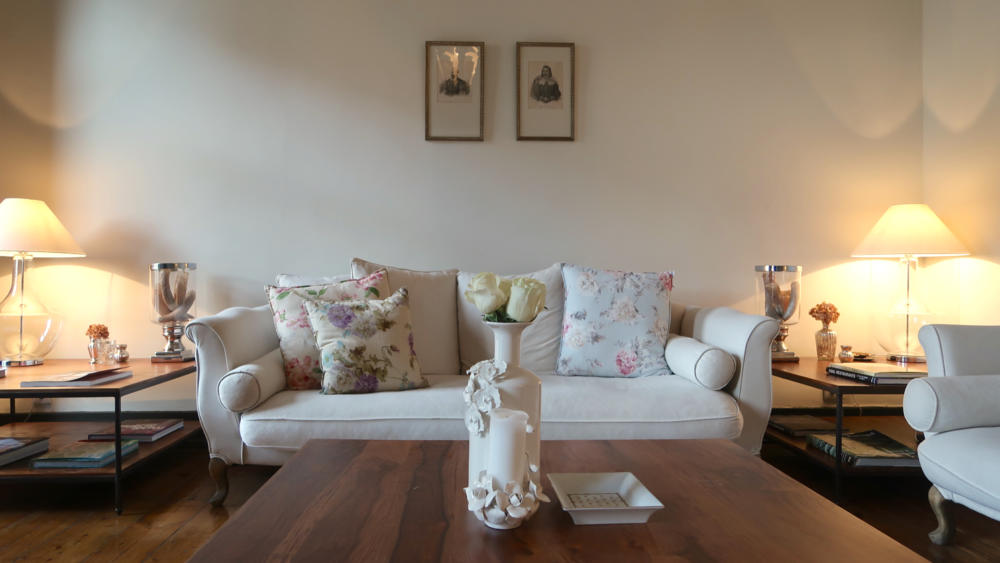 Our room at Palacio Ramalhete wasn't ready but with three gorgeous lounges to relax in this wasn't a problem. Furnished with big white sofas, fresh flowers and dotted with Taschen and teNeues coffee table books, it was the place to spend a rainy day!
It stopped pouring with rain for a while, changing to just heavy rain – thank goodness for my diligent carrying of umbrellas!  We strayed out for a mooch and lunch (over 30,000 steps each day on this trip…) but with soggy feet were back mid afternoon. I took a nap while my coat and shoes dried! We headed back out later as the sun appeared and we had a wine tasting evening booked.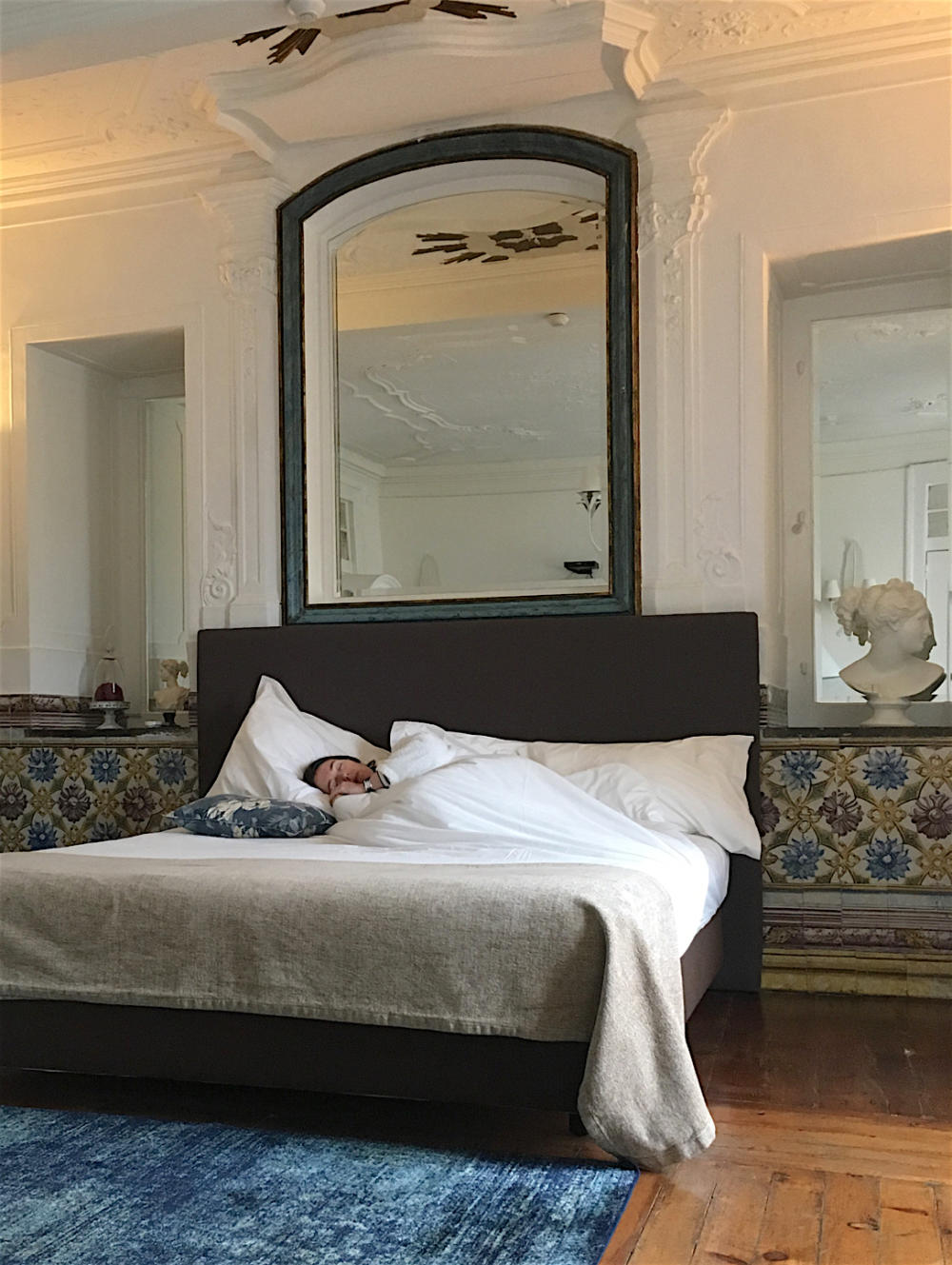 Our room used to be the palace chapel and it was gorgeous.  I picked it for the stunning Portuguese tiling.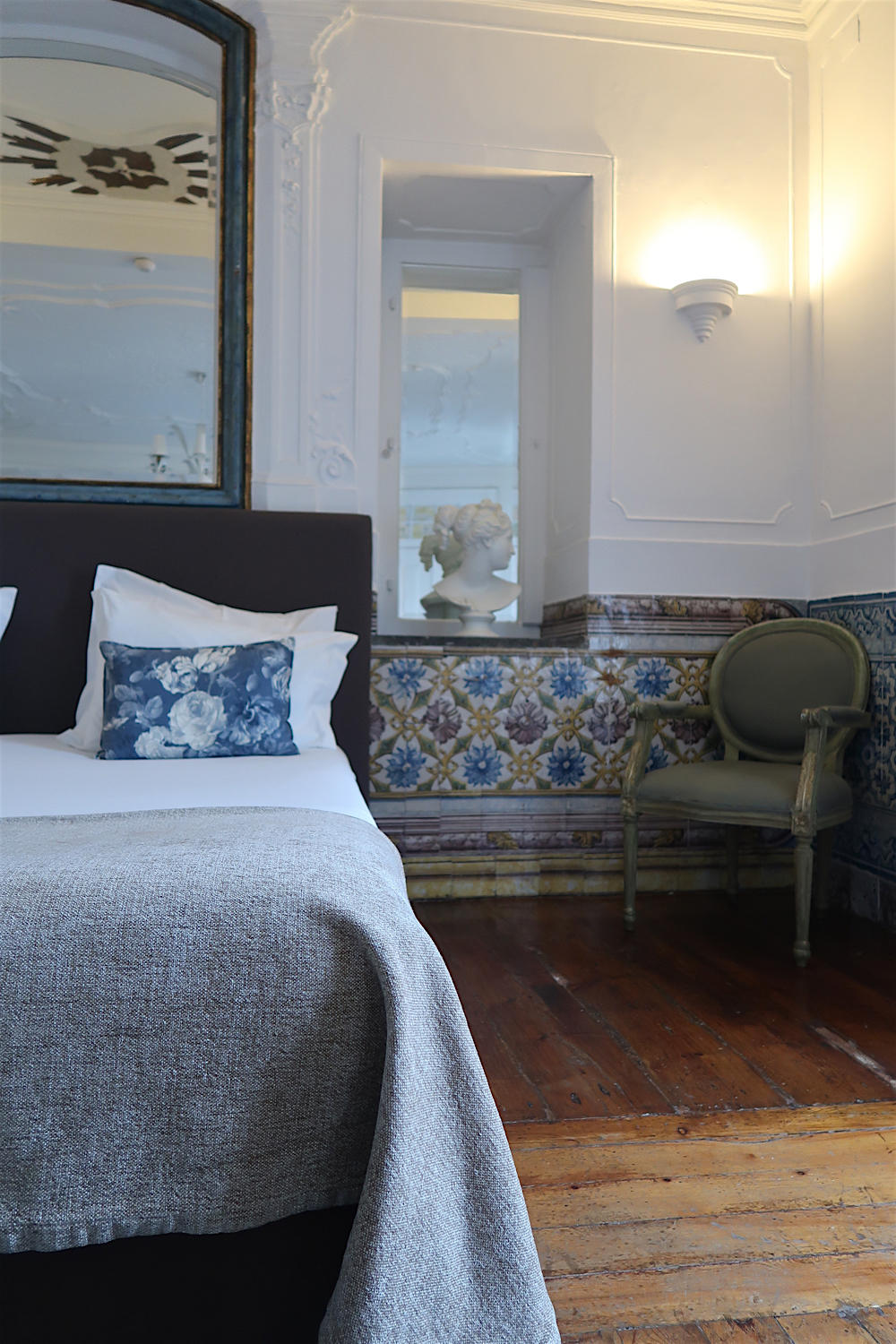 The room has incredibly high ceilings and an intricate carving above the bed of a dove is retained as a unique feature.  The decor is simple and calming – white linen, white sofa, wooden floors, blue and grey features.
We loved the bathroom.  There wasn't a bath, but it had stunning decor and plenty of space. And an old fashioned artistic print in the shower which added yet more character.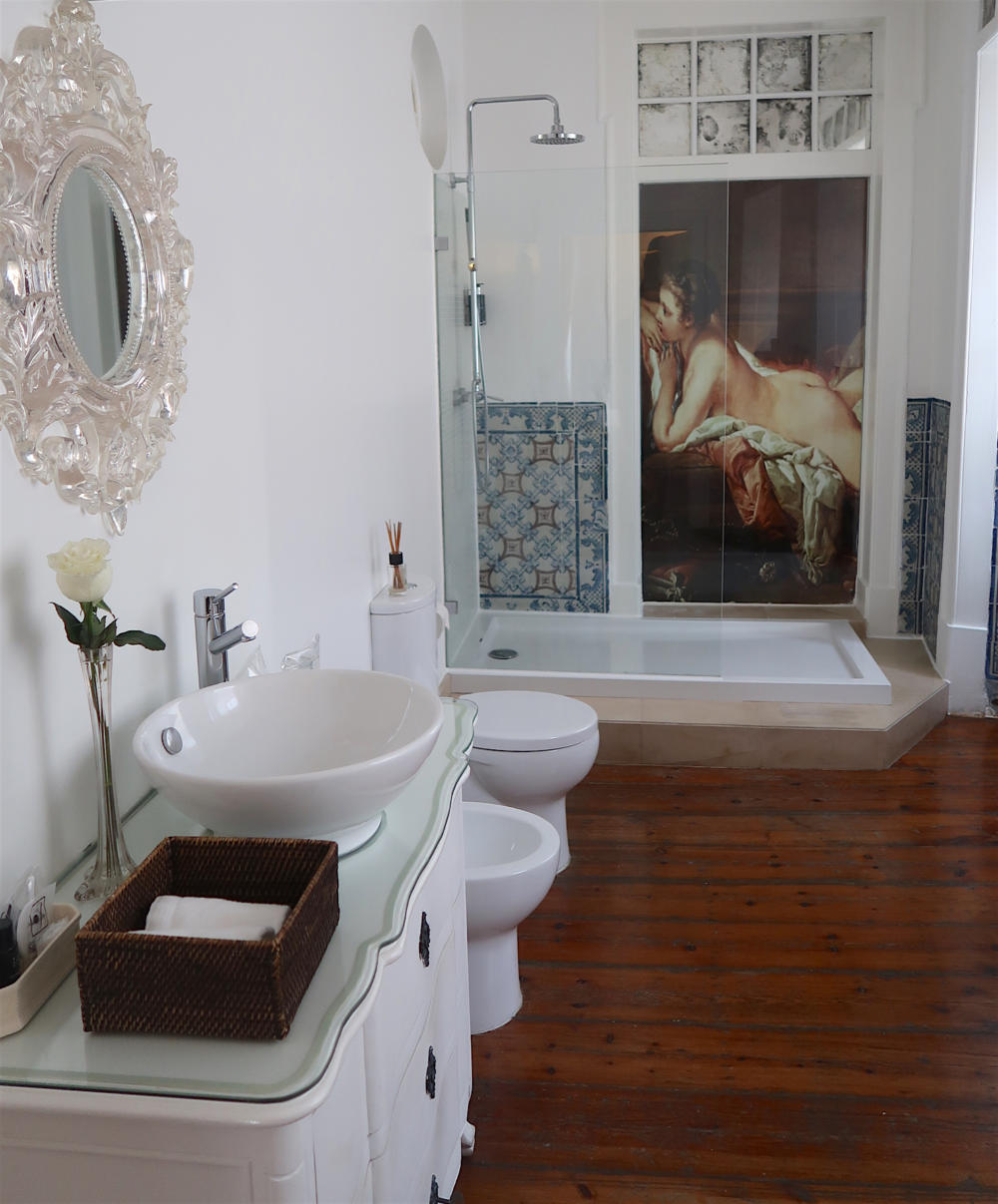 Throughout the hotel there is so much space, excellent for a city hotel. A really airy and 'country in the city' feel. The hotel is located on a quiet street a little out of town. We tended to go most places on foot and used Uber on occasion – easy and cheap.
Breakfast was tasty, generous and fresh plates were brought for each guest rather than just a buffet. We left at 5am to fly home and they were ready to send us away with a care package!
Hidden away is a pool, I gave it a cursory glance but sadly we weren't there for long enough. It is surrounded by a pretty little courtyard garden that would be perfect for summer evening drinks, or tea and a book. A genius bit of architecture to fit this in!
We were so extremely glad to stumble across the Palacio Ramalhete in our 'hidden gem' research. We had been so close to redeeming IHG or SPG points, but in a city with such history, being able to stay in a rare bit of it that wasn't destroyed in the 1755 earthquake was a treat.
You can read my tips for the perfect visit to Cascais and Lisbon here. And for inspiration about where to stay in Cascais, I highly recommend the boutique Villa Cascais.