I adore a place that is unique and luxurious.  But the real charm is when it doesn't realise how great it is.  47 Jobner Bagh was delightedly all of these, and perfect.  I would love to have stayed longer, but we were splitting our time in Jaipur between here and the Oberoi Rajvillas.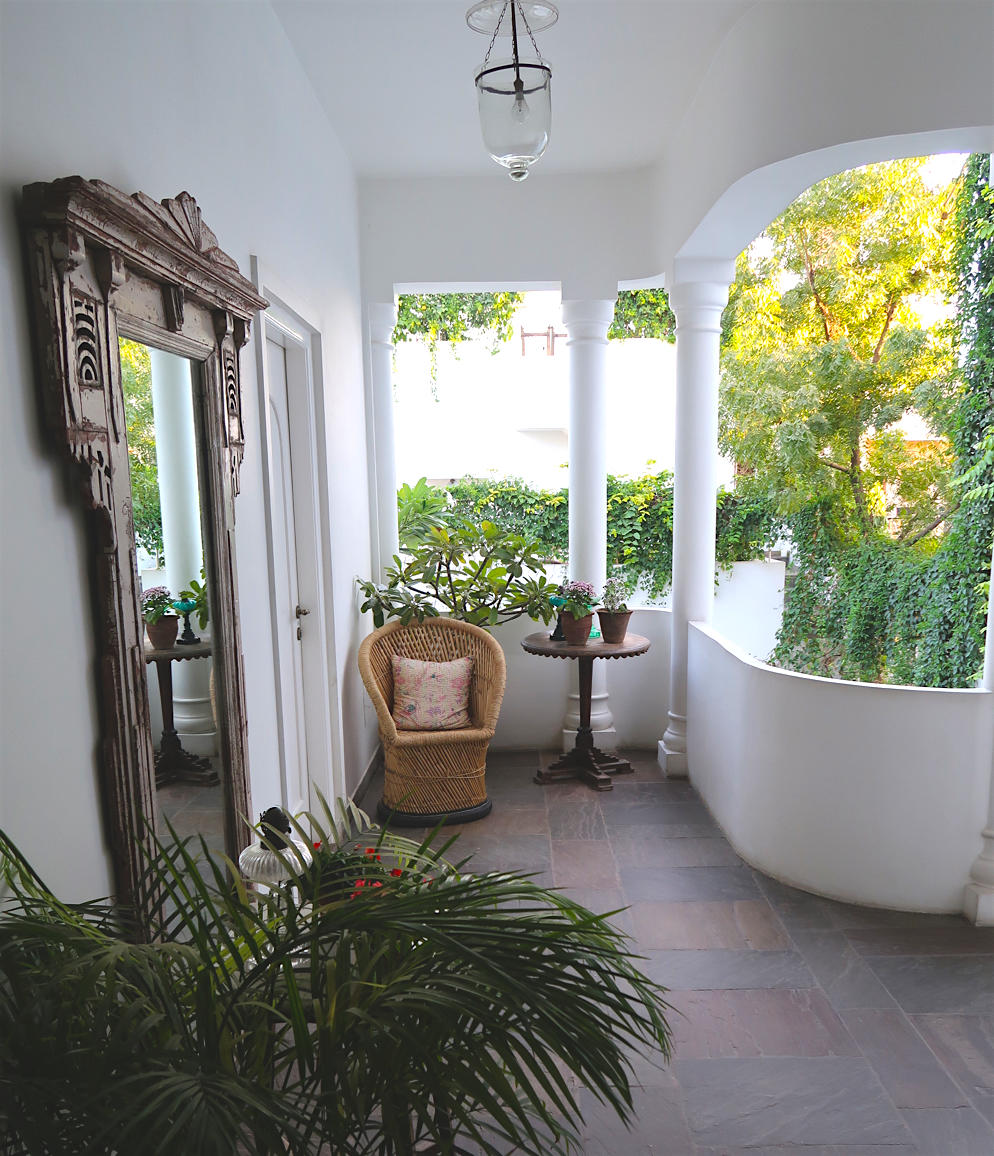 Our tour company suggested Jobner Bagh to me, and I knew I had seen it somewhere before.  In Conde Nast in fact, as one of the best hotels for under £150. We confirmed the booking swiftly!  What was particularly marvellous was that after dinner when we were chatting with the owner he had no idea just what a rave review he had received.  I also don't think I can describe our stay better than Conde Nast who noted that "staying at 47 Jobner Bagh is like moving in with an old pal and meeting their interesting, creative friends." It really is charming.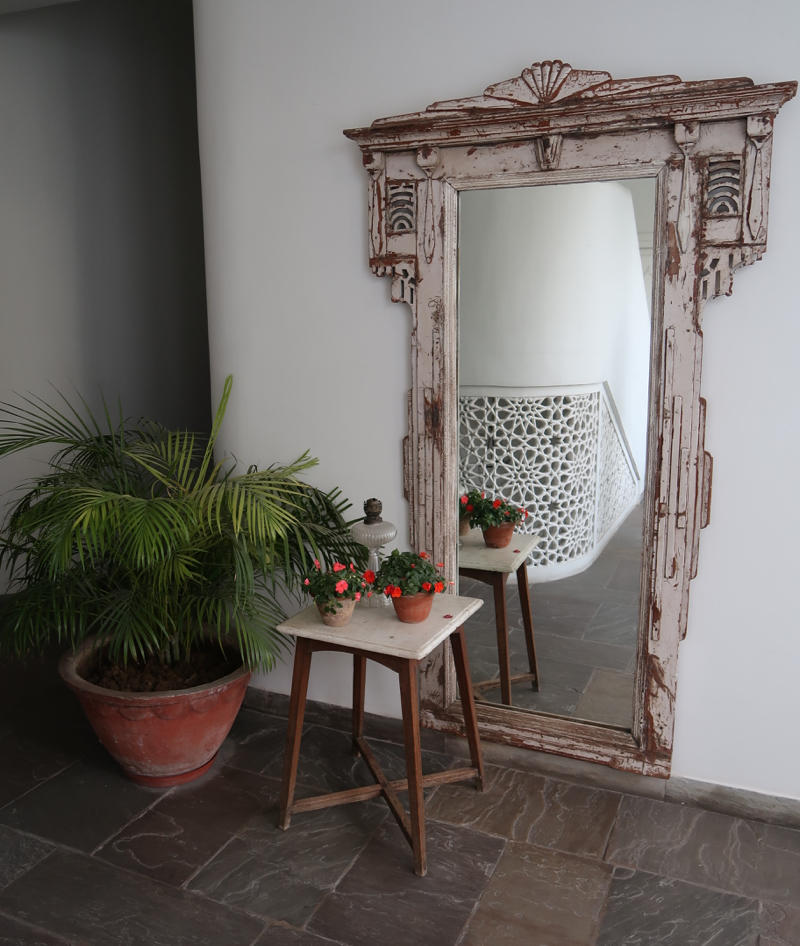 Jobner Bagh
The hotel is an old merchants house.  It is hidden down a side street on the outskirts of the pink city of Jaipur.  Walking in through the wrought iron gates you enter a rarefied atmosphere.  It is full of beautiful flowers and shrubbery, with lots of different areas to sit and relax and the most welcoming host family and their staff. At night the little Jasmin scented garden is lit up with candles and becomes even more romantic.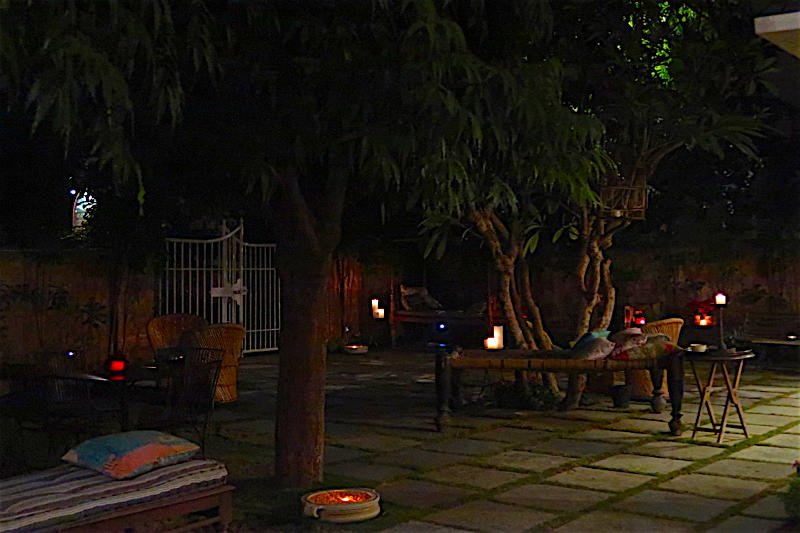 The house is fantastic to explore – it is fully of nooks and crannies and stunning architecture and furniture.  It has an art deco vibe to it.  The white washed walls and rustic furniture were a particular favourite.  A real mix of colonial architecture and modern style – very chic indeed.  There is also a little boutique with all manner of craft, textile and jewellery that has clearly been carefully chosen.
Be sure you climb right to the top floor to the roof terrace.  Up here the views are outstanding across the city.  There was a kite festival soon after our visit and we could see hundreds of kites being practice-flown.  The terrace is dotted with little tables and chairs as well as a number of comfortable sofas.  The perfect place to relax after a busy day in the city, either reading a book or just taking in all the sounds of India around you.
Our room
Each room at Jobner Bagh is unique.  A few have balconies.  Our room was on the ground floor and completely calming.  We had a stunning dark wood bed, chaise long and wardrobe that all dripped with old colonial style.  Our bathroom was in comparison quite modern, with grey tiles and a very stylish look to it indeed.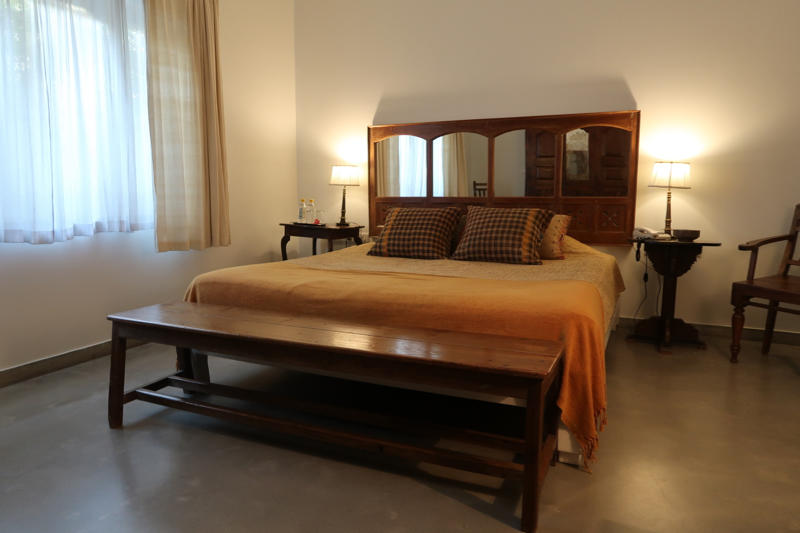 The rooms are very simple and as with the garden, there is such attention to detail that a very laid back luxe environment has been created.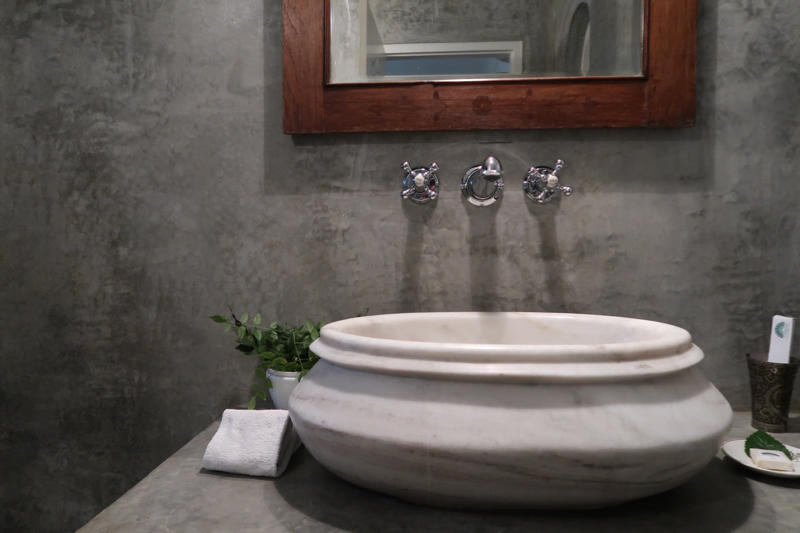 Dinner and breakfast
Before we arrived I had wondered what we would be doing for dinner.  On arrival thankfully the owner checked we would be joining them for supper.  And what a treat that was.  Mr P picked a bottle of wine when we arrived and that was chilled and waiting for us at dinner time.  We ate on the terrace and had one of the best thali's possible.  The owners wife and one of their staff – Big John – are responsible for the cooking.  And what a feast they cooked up.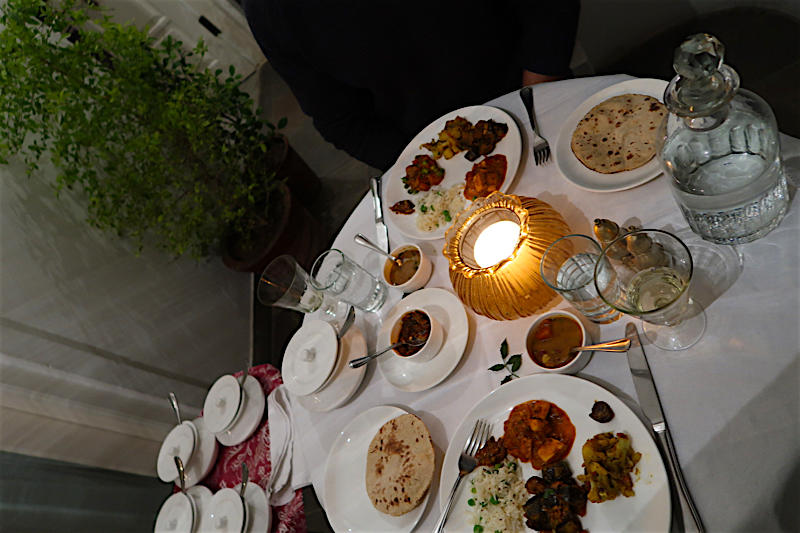 It is one of those excellent meals where there is no need to choose.  And taste after taste keeps arriving freshly cooked.  We had about 5 different curry dishes as well as rice and bread.  It was so good there was almost no need for them to wash the crockery up as we had completely cleaned it ourselves.  We were offered more food, but were too full!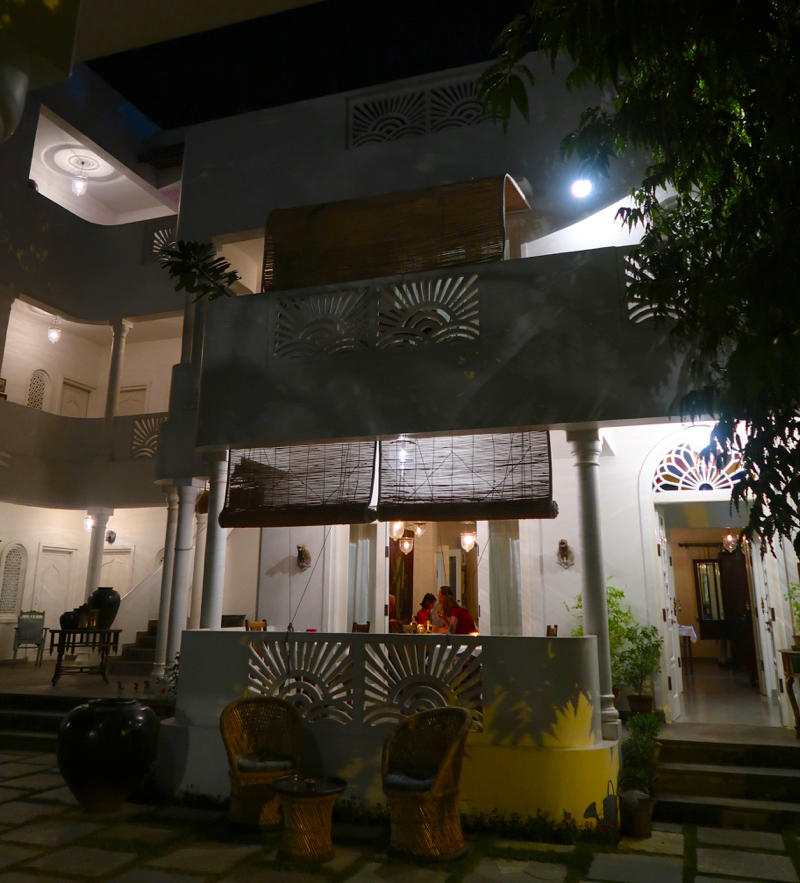 Breakfast was another gorgeous meal – fruit, omelette, coffee and juices.  We really enjoyed sitting outside for our meals here.  Delhi and Agra had been somewhat smoggy but the climate in Jaipur is very different.  Blue skies and clean air came as standard.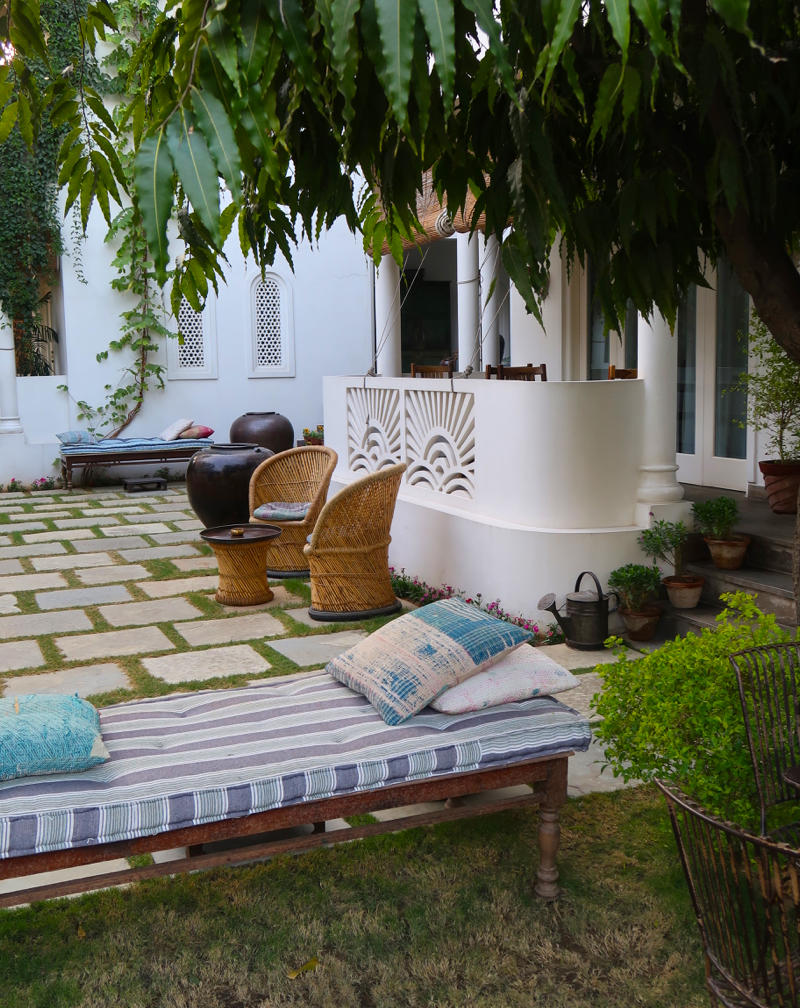 In closing
Our one night at Jobner Bagh was a real treat.  So much so it made Boutique Travel Blog's top 8 hotels of the year!  It also reminded me to keep seeking out the hidden gems I favour so much.  In India these small boutique hotels and guests houses are known as a homestay.  That's a perfect way to describe somewhere like this.  It was like a home away from home and a dip into a more local way of life than any hotel could offer.