From the moment we arrived at The Oberoi Rajvillas to the time we dragged ourselves on to Goa (#firstworldproblems) we were spell-bound. I am well aware one gets what is paid for, but sometimes a place and its staff are so special that it is unforgettable and pleasurable in a way that money can't buy.  A perfect blend of laid back luxe alongside an exotic destination.
Our Oberoi Rajvilla
We were upgraded on arrival to luxury tent.  It would be unfair to describe it as a room or a tent as that under-sells it.  Rather it is a villa, a private one.  With walls and a canvas roof and a garden surrounding it.  Each luxury tent is located alone, separated from other near-ish by tents with mud walls and plenty of planting. We never saw another person in this part of the hotel, very well put together.
The 'tent' was one main room, divided up by wood panelling and thick cream curtains.  On one side was the enormous and soft bed and seating area.  In the middle the desk area.  And then hidden behind the curtains the enormous bathroom.  There was a free-standing bath centrepiece and separate toilet and shower cubicles.  Massive wardrobes for both of us as well as twin sinks.  The own-brand toiletries were of course sumptuous and there was plenty of water for tooth-cleaning.
The rooms are completely peaceful.  We were only about a 10 minute drive away from the city of Jaipur but it was entirely peaceful.  Turn down makes the tent look ethereal.  All the curtains and drapes are undone and the room is very relaxing.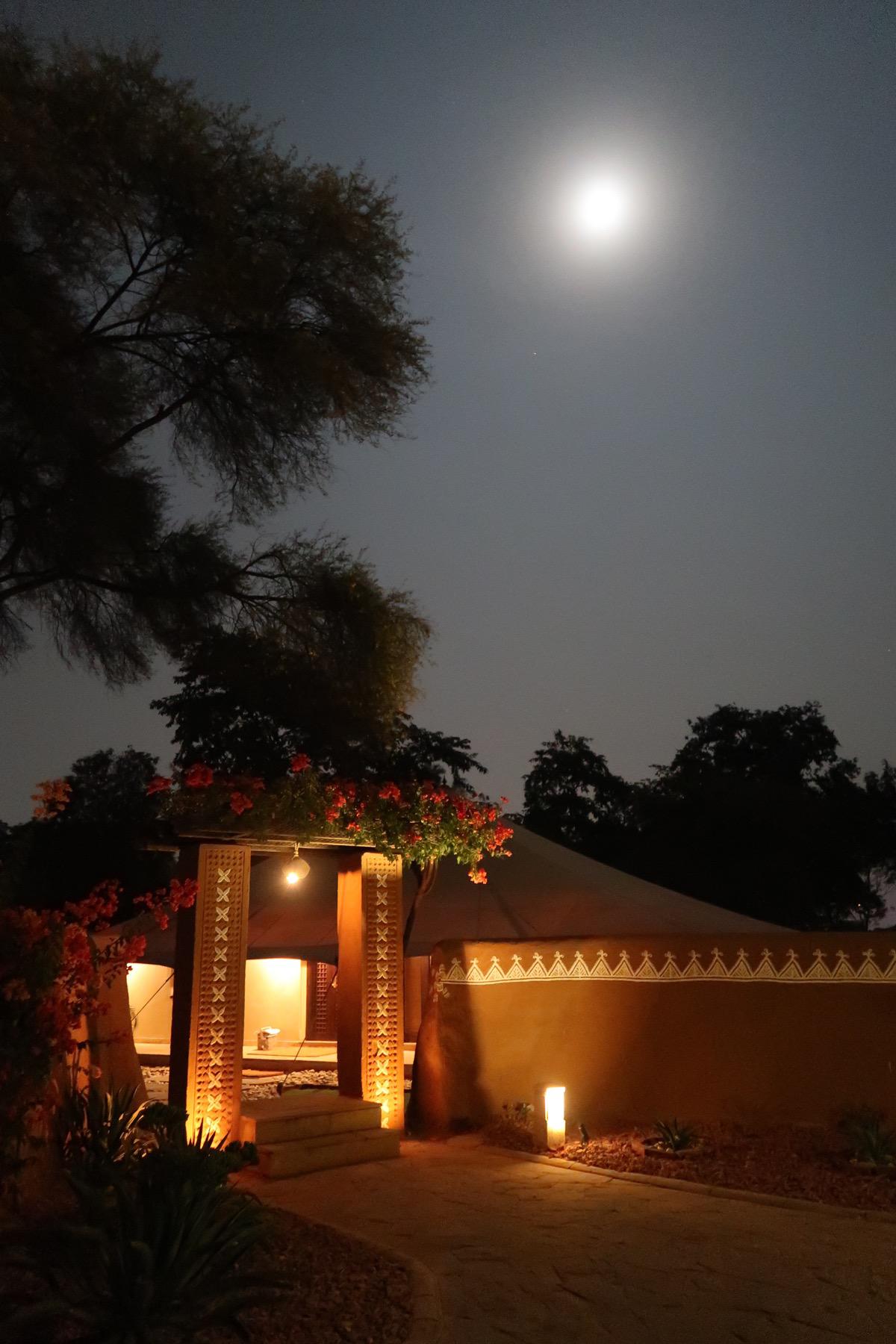 Dawn was quite noisy – the peacocks do like to make their presence felt.  But that's half the fun – as you can peer our of the curtains and spot them in the garden. Be sure to keep the doors shut!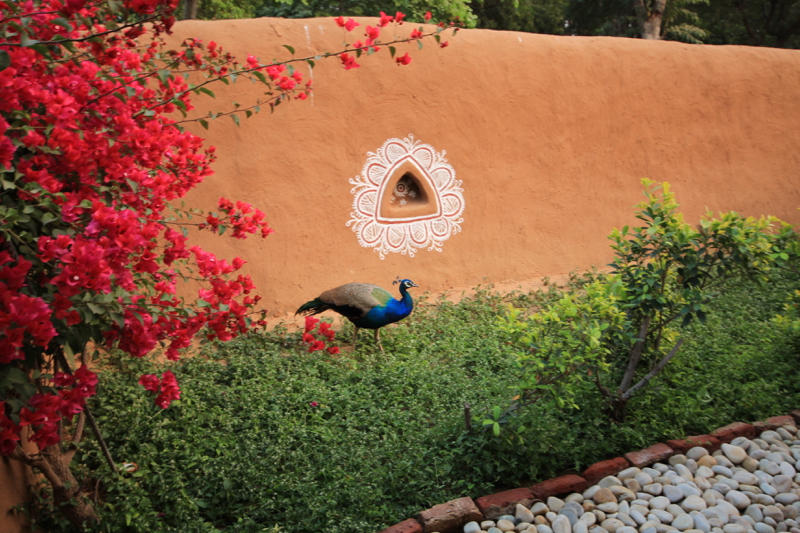 In the private garden are loungers and a table and chairs in the shade of the canopy and there's always a sunny spot in the garden that extends all the way round the tent.
There are also private villas and standard rooms (nothing is standard) come in terracotta low rise cottages, which I think house two rooms each.
The grounds
The Oberoi is a resort hotel.  Not the type full of people, sun-loungers and sun-burnt people.  But as opposed to the palace hotels dotted across Jaipur. The resort sprawls over 30 or so acres of greenery and there is also a little Hindu temple surrounded by water gardens. There is a real feeling of space and tranquility. It might not be a palace but I have to say supper in a palace was wno he for me. The Oberoi is grand but also relaxed.
The grounds really are impeccable and the theme of the moon and peacocks is clear to see at night and day.  The planting is verdant and colourful with bougainvillea trailing across the pretty architecture.
The service
As we strolled the grounds we would come across the many many staff.  The politeness was astounding.  Everyone stops to greet us with our names (yes, every time) and also a bow and uttering of namaste as well.  On one occasion a lady was hoovering the grass, at least that is what it looked like, and she hurriedly stopped to greet us.  I love stopping to greet people and everyone seemed so happy and it was a pleasure to meet them all. Peacocks roam free in the grounds (peacocks can fly so how is it they don't escape?). In fact they were the only ones that didn't know our names!
The Oberoi knows who their guests are.  I guess it is pretty easy with social media to find out who you have arriving. I know other places we've stayed at do this and I like it.  We bumped into the general manager a number of times. He came dashing over to introduce himself on the first occasion and showed real interest in us and our enjoyment of the property.  Literally from the moment we arrived at the gates the first time, everyone knew us and greeted us warmly.  Service is what endears me to somewhere and it was faultless.
The pool
We had this to ourselves for the most part – as there is such a lot of touristing to do.  I insisted to our guide that we have an afternoon off at the hotel.  We missed the block-printing museum as a result. But we made the most of our hotel and there was a sun-lounger with my name on.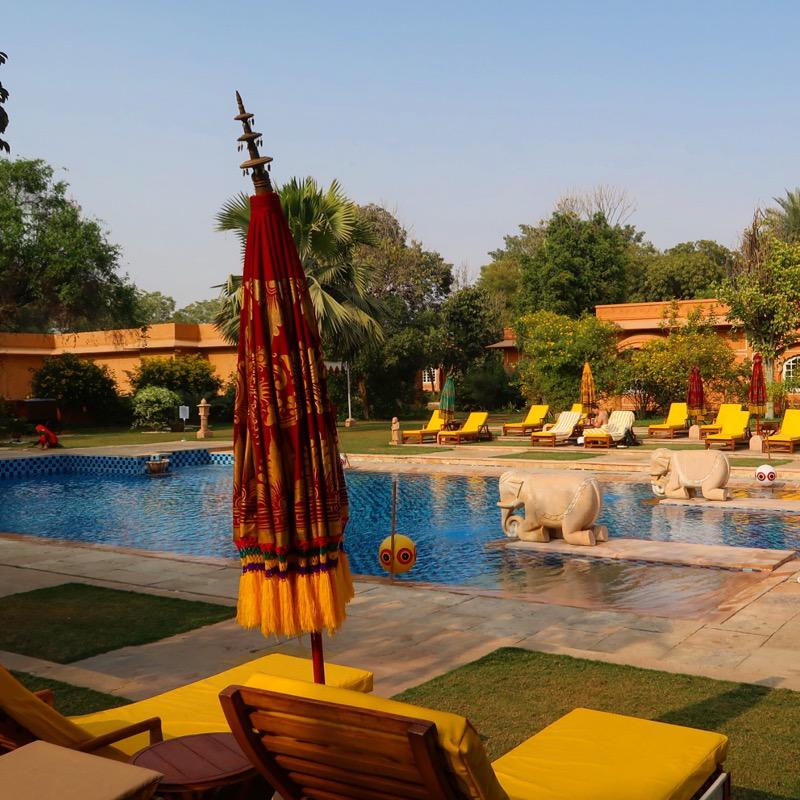 It took a while to pick our loungers such was the choice. But once settled we enjoyed the peace and quiet, with the occasional interruption from a peacock wandering past.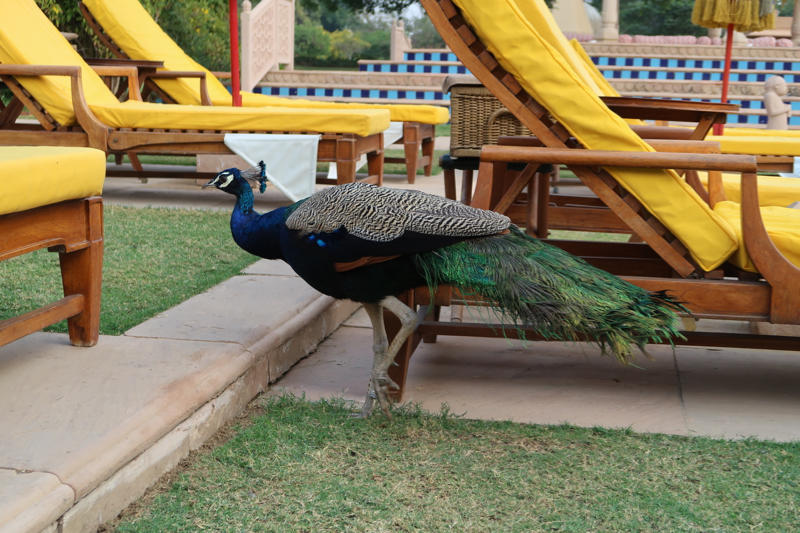 The pool itself is very pretty – with elephant statues at each corner and bright blue tiles against the yellow and orange pool seating and the terracotta buildings.
The spa is nearby however we didn't get a chance to use it.  Mr P did attend a morning yoga class – which ended up as a private session. Apparently it was excellent.  My extra hour of sleep was also excellent.
Food and drink
I am always nervous about the cost of food and drink at a high-end hotel but the Oberoi had their pricing just right – the same as dinner out at home.  On our first evening we had a feast of curry in the canopied outdoor restaurant whilst entertained by music and dancing.  We were sat under a splendid tent and the waiting staff were superbly attentive.  Something that we ordered wasn't available but the chef cooked up something better and the waiter put together a perfect meal for us after we picked our main courses. We had a real feast!
Breakfast is a feast, in a grand interior dining room with wicker chairs – a very colonial setting.  There is a massive buffet spread of sweet, sticky and healthy things.  There's also à la carte which was very speedy and tasty.  I liked the mix of Indian and western breakfasts on offer.  Service is ever-attentive – Mr P went to pour some juice and was quickly sent back to his seat with his juice following on a tray.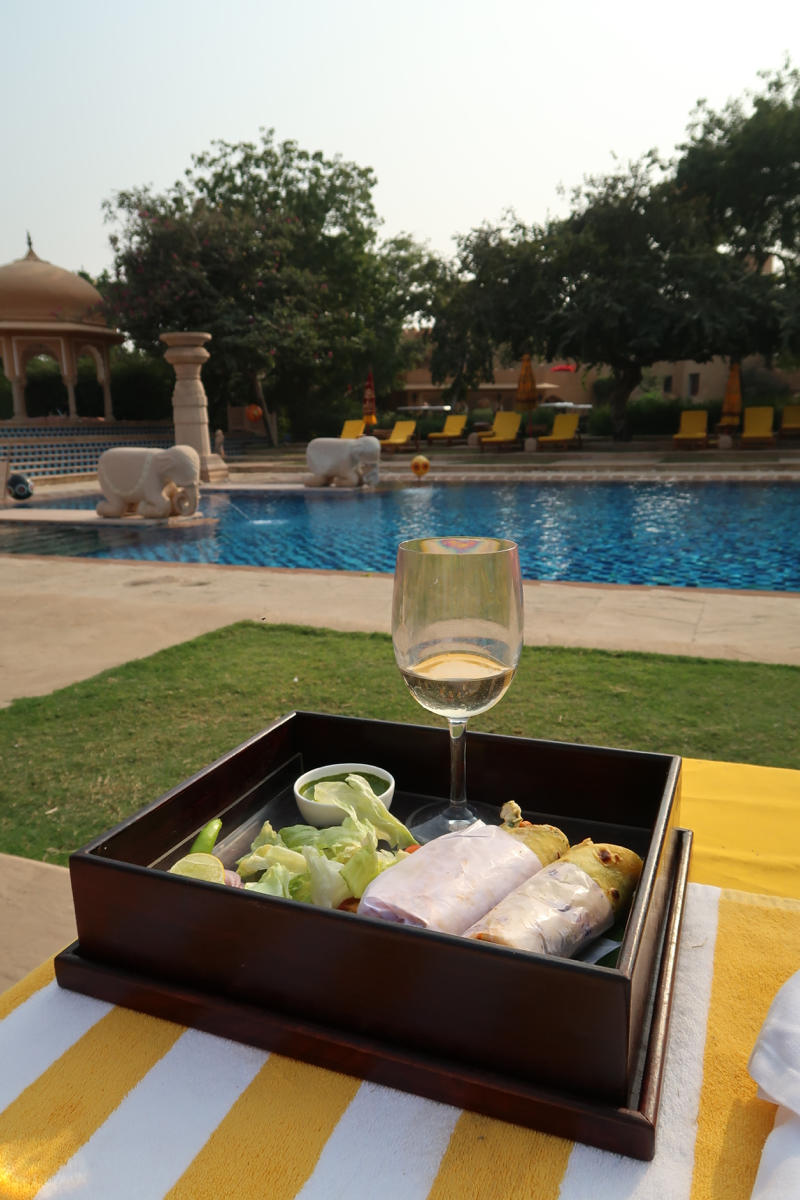 We also had a light lunch by the pool.  Simple snacks but well put together.  Our paratha wraps were tasty and delivered in wooden boxes.  Clever.  It kept them warm and flies were kept off en route.  We also then had a solid base to put down on the sun lounger (and balance a wine glass on).
An Indian wedding
The morning after the wedding party there were countless apologies by the staff – they thought the wedding had been too noisy. It was the first wedding the hotel had held and they were worried about other guests.  We instead were gushing about it to the staff. As we'd been eating dinner, the bride and groom had arrived amidst much banging of drums. When we'd walked back to our tent later, we'd admired the stunning temple dressed with more lights, candles and petals than one would think possible.  So big are the grounds that we heard nothing from our tent.  I felt lucky to have glimpsed the spectacle of an Indian wedding party.
Locale
Exploring Jaipur is a real treat – it is completely necessary to leave the hotel. There is so much to see. We awarded ourselves just one afternoon of pool time.  Exploring the Pink City and the Amber Palace was a treat.
Take a look at my guide for two days in Jaipur here.
Final thoughts
Mr P thankfully has a rule that we don't stay just one night at somewhere special when we are out of the UK.  One night here would not have been enough time to really relax and enjoy the surroundings.  I had always assumed somewhere like the Oberoi would be ostentatious and I am so happy that it wasn't and that we fitted in perfectly.  The Oberoi Rajvillas were an incredibly special 2 days of our Indian adventure.
And hey – nobody thought I would go camping this year did they? But I did.  My kind of camping though – uber-glamping!