We spent 3 days in Goa and chose to stay at the Alila Diwa hotel near Majorda beach.  It's located in South Goa – the quiet and sleepy bit of Goa.  There are larger hotels in the area, but this stood out as somewhere a bit more personal and unique. About a 20 minute drive from the airport it was easy to get to along quiet roads.  The location is deep in the paddy fields and is as green as you can imagine, but it is still only 10 minutes walk to the beach.  It's a sprawling site but doesn't feel like a resort.  As a member of Design Hotels it is of course incredibly well put together and very peaceful indeed.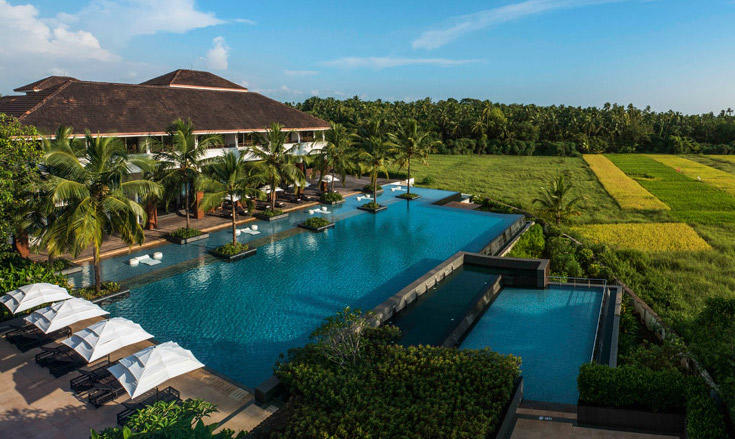 I have never been in a hot country around Christmastime and it was a pleasure.  On our final night it was the occasion of the turning on of the Christmas lights at the Banyan Tree.  A stunning display and a beautiful tree.  There was mulled wine, carol singing, Father Christmas and a local charity selling gifts made by young adults with special needs.  This sort of event tells me all I need to know about a hotel's management – that they're excellent.  Here they work with the community and the full team were having fun – the whole evening was warm, fun and jovial.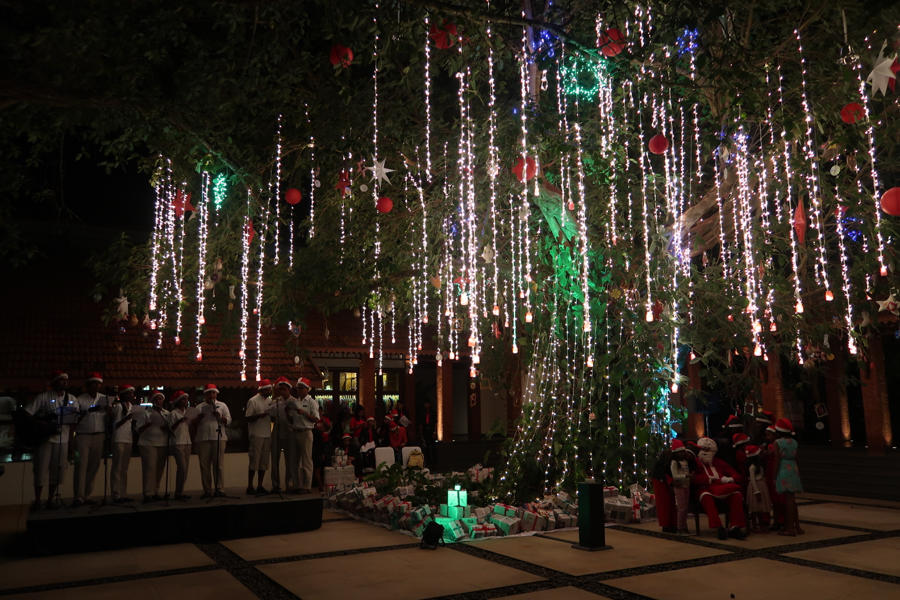 The Diwa Club
We were initially dropped off at the main entrance in error and service was a bit slow. As soon as one of the team from The Club whisked us away things improved.  We took a stroll through the grounds (although there is a separate entrance) to get to The Club.  The Club is a little bit more expensive and was very peaceful with larger rooms and separate pool and restaurant facilities.  As with all club's, there's happy hour and afternoon tea which always prove popular.  Breakfast can be taken all day rather than between certain hours.  This meant that the restaurant was always relatively quiet and so service was attentive and fast.
Our room
A big space indeed and the decor is simple and relaxing.  Our bed was immense – it must have been a super king-size – and super comfy.  The bedroom also had a desk all the way along one wall, a chaise long and small table and large sliding doors onto a secluded balcony.  Our room was to the edge of the hotel building and so very peaceful, others have better views of the pool.
The bathroom is impressive.  A centrepiece bath is located right in the middle of the room and which was lovely and deep.  Along one wall were twin sinks and plenty of space for toiletries as well as separate toilet and shower cubicles.  The toiletries weren't branded, it was a shame they weren't the same as the ones in the spa as they were truly divine.   Storage in the bathroom was superb – two large wardrobes with baggage storage meant we could put everything away tidily.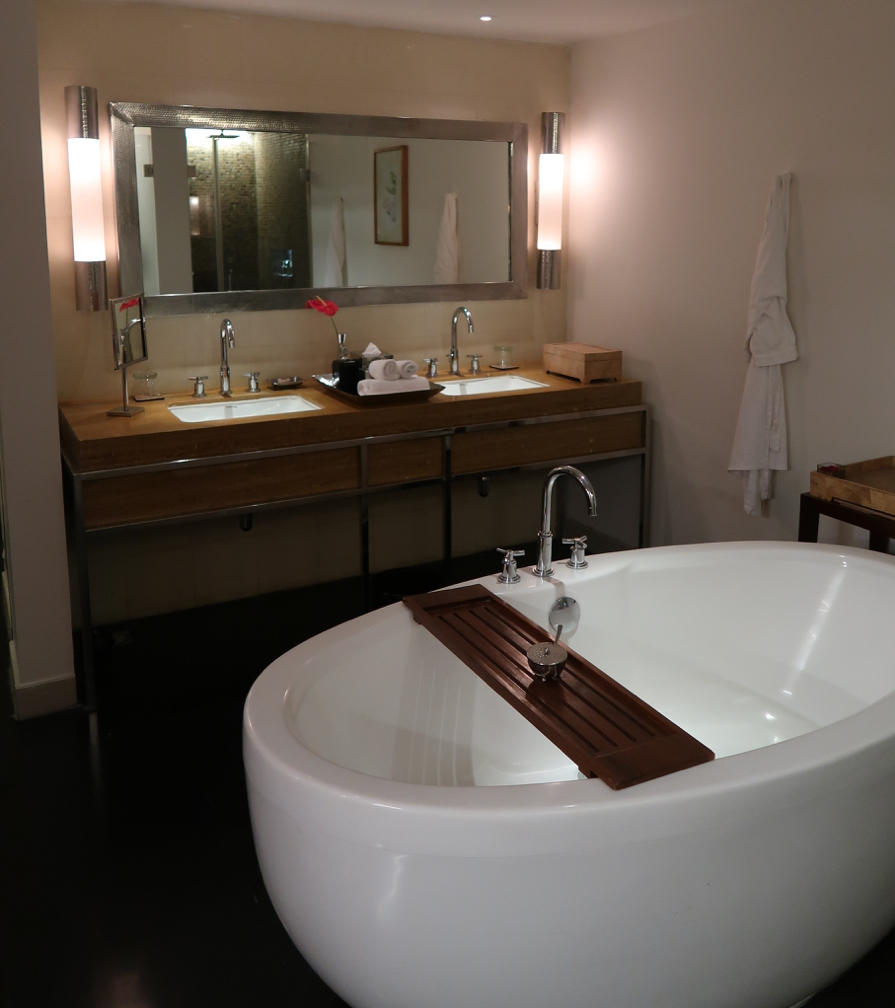 The pools
The nicest pool is the main pool.  It is stunning.  The Chedi in Muscat gave me #poolgoals issues and this is the first pool that's lived up.  A stunning infinity edge looking across the paddy fields which is also the perfect aspect for sunset.  There are also shallow and shady areas for reading and it is long enough for lengths.  2 edges have loungers that are wooden and comfortable.
The pool at The Club was more peaceful and has dappled light off the surrounding palm trees.  Unfortunately there's a rush most mornings to put towels and books down on the loungers.  But we are early risers so beat the towels at their own game.  We also used our loungers! No view from this pool, but a relaxing and quiet spot.
The spa
Quite simply the best spa treatment I've experienced.  I am very picky about spa treatments and never even book something that might be run of the mill.  The 90 minute hot stone massage won my vote.  I don't recall what Mr P picked, but it was also 90 minutes.
We used one of the double treatment rooms which was lovely.  90 minutes is an excellent amount of time for a massage, I was so relaxed and there was no rush with the hot stones in that time.  I was lovely and warm and incredibly zen like, and the Alila products were so good to my skin.  The spa room has an outdoor shower and water garden to use after the treatment is complete.  I also measure a spa by the herbal drinks before and after – here it was a divine herbal tea, with ginger, lemon and honey as well as jasmine. Basically what I would wish for even though they didn't know!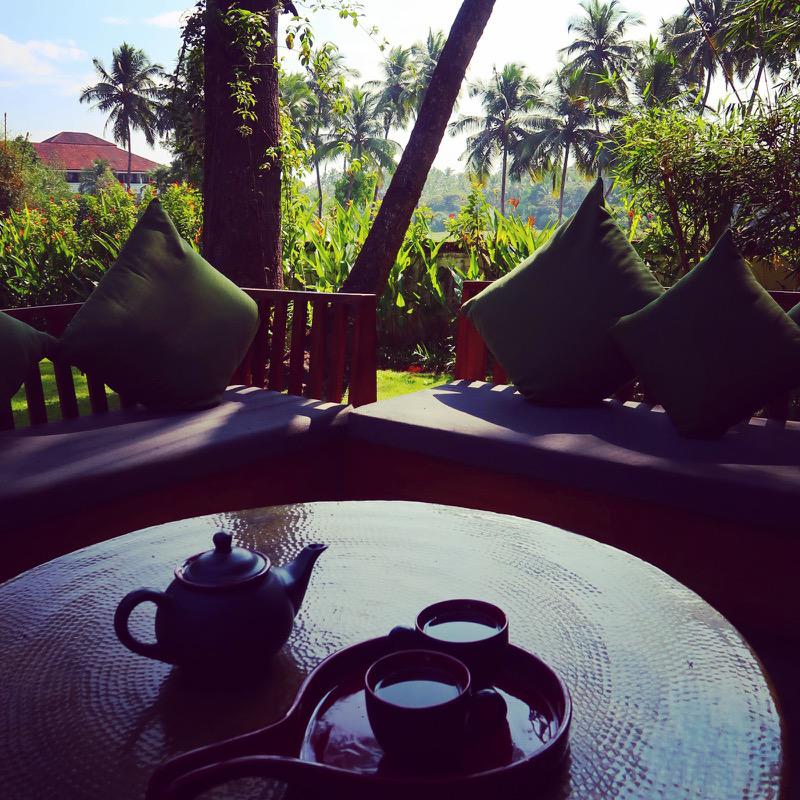 We were very tempted to return the next day, especially since the two treatments were only about £130 together in total.
Food
We only ate at the bistro in The Club which looks across the club pool, with outdoor and semi-indoor dining.  Breakfast was a feast – a little trolley of pastries, cereal and fruits to start followed by tempting a la carte.  This was the most interesting breakfast menu as it took a european classic (let's say eggs benny) and mixed it up with Indian spices and style.  Really tasty.  Soya was collected for me on day 1 from the main hotel, so I made sure to order plenty more lattes during our stay!  We had a couple of small lunches here and the food was always good and fresh.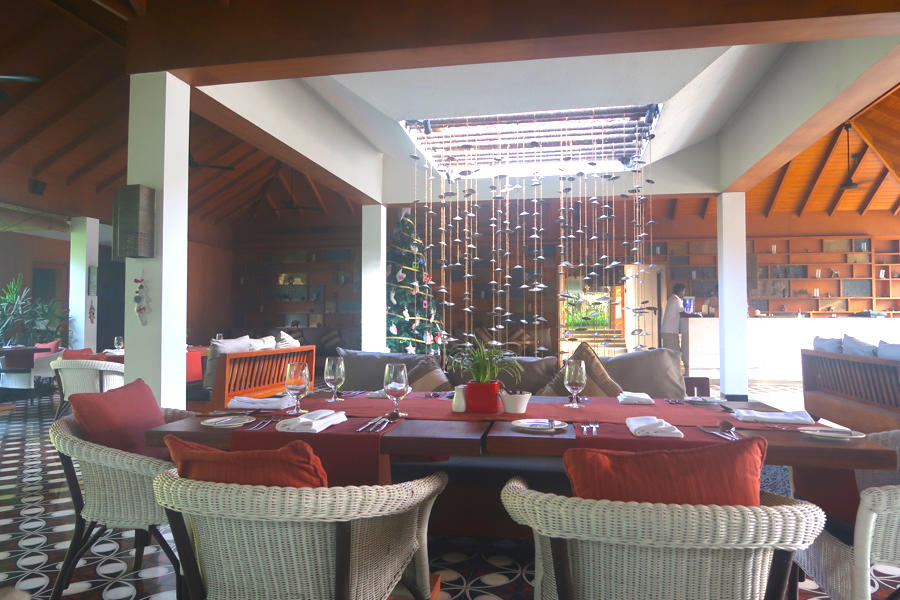 In the evening the restaurants were empty which was surprising, although a drink at sunset by the main pool was a popular choice.
Our driver had mentioned to us that there were great restaurants just outside the hotel. This was clearly where everyone went for supper.  The food in the hotel isn't expensive by normal standards.  But when for £3 one can enjoy a goan fish curry of the day just across the road, it's not a difficult choice.  In December food is accompanied by a saxophonist with a Santa hat playing Christmas tunes!  That was in FISH'ka and we also went to Zeebop along the beach (where Sam had to leave me for a while)…
We didn't get a chance to try out Martins Corner which apparently is even better than these two!
Locale
The beach is a ten minute walk along a quiet road surrounding by rice paddies, palm trees and cattle.  It is lovely and peaceful.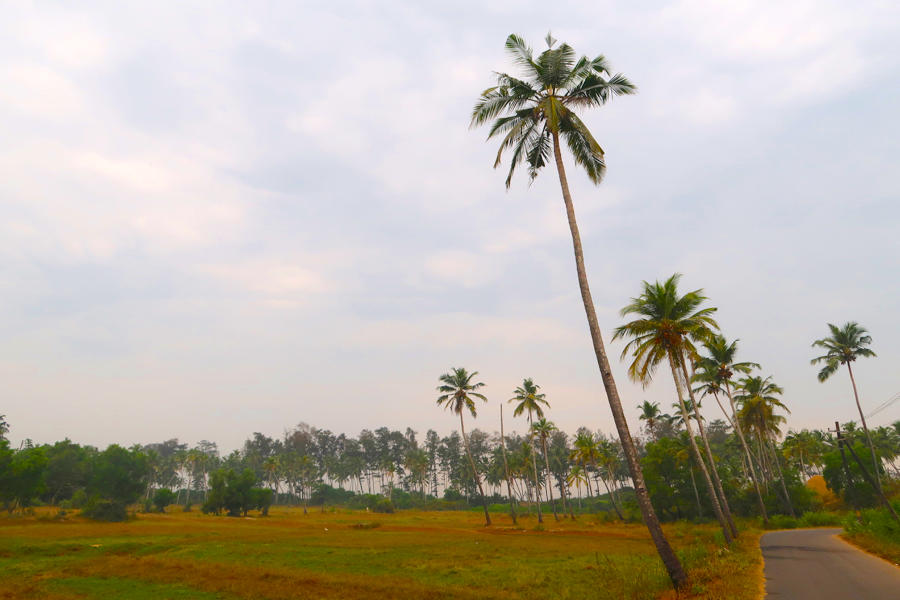 Majorda beach is a vast expanse, dotted with bars and restaurants and of course their staff trying to drag you in.  We stuck to walking in the water where we weren't bothered.  Mr P had some early morning runs along the beach and enjoyed watching the morning fish catch come in.
The hotel does have bikes for hire – we were too lazy to use them. It is a cute Portuguese-like area that would have been superb to explore had we had the energy!
Final thoughts
We had arrived direct from the Oberoi in Jaipur so the odds were stacked against the Alila.  But thankfully it beat them.  Boutique and relaxed luxury, we really enjoyed ourselves.  It wasn't at all stuffy, not overly busy and it was a great location to really relax and enjoy the sunshine!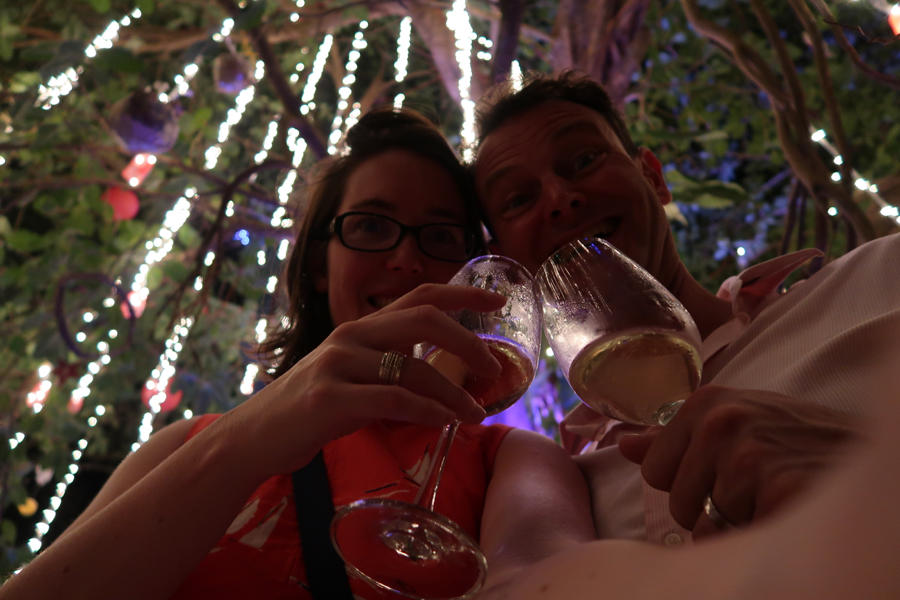 The Alila group have some interesting hotels that I'd love to explore more – a modern take on the local culture and architecture, beautifully designed and put together. They seem to appeal to a youngish crowd but not the rowdy type – our kind of people I guess.  Probably another reason we liked it so much, we felt very much at home!
If you are tempted with Goa, read more about our 3 days there, as well as our time in Mumbai which is the easiest international airport to connect through.
Cover photo credit – courtesy of the hotel