It would have been so easy to have spent all our time in India immersed in the culture of Rajasthan.  We almost did.  But I really wanted beach and pool time and when I asked our agent if we could fit this in the answer was a resounding yes. We were choosy in Delhi, Agra and Jaipur to make the most of our time there.  Thus giving us 3 days doing diddly squat in South Goa and a final day and night in Mumbai before flying home.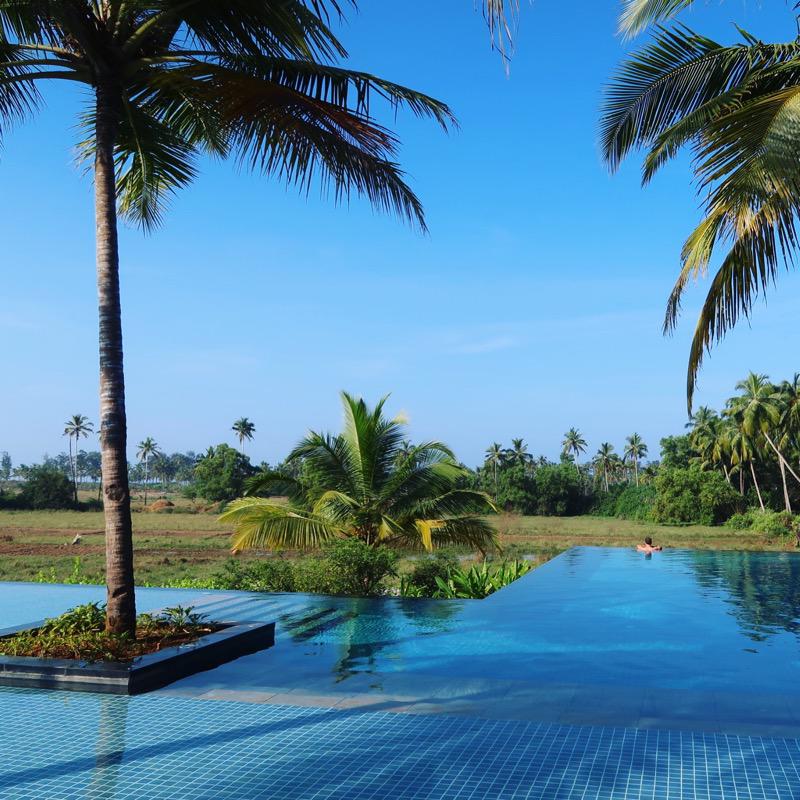 South Goa
Jaipur had been incredible, as had the 2 hotels.  Goa had a tough job to follow.  Thankfully it kept pace with expectations. Sat on the plane in Mumbai as other passengers boarded I did wonder what we'd signed up to – hippy types, uber-cool types, tonnes of makeup and big sunglasses types, even serious body-builders.  And us.  Most people disembarked the plane and headed to the boisterous North Goa.  Relieved, we headed south to the sleepier part.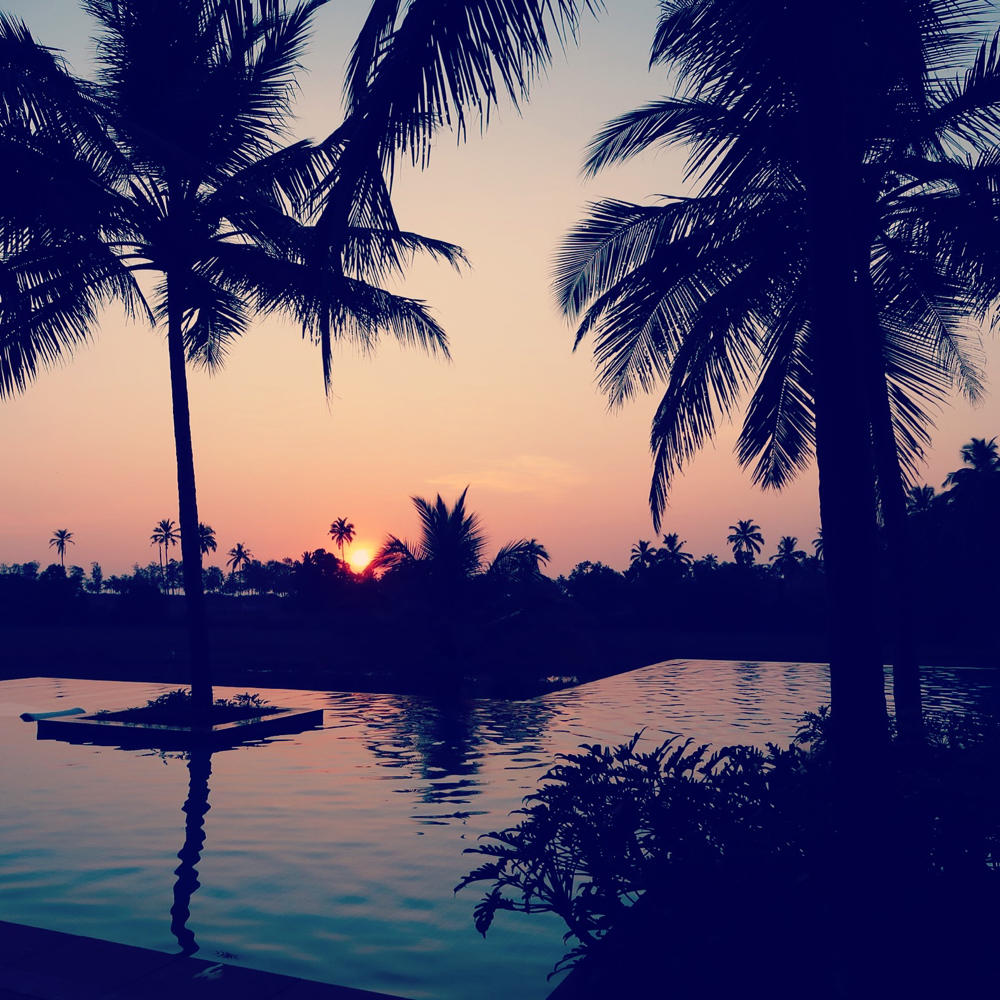 Our hotel
Our hotel – the Alila Diwa – was a real gem, review to follow soon.  It's walking distance from the sea and the Club Wing that we were staying in has excellent rooms and facilities.  The pool in the main hotel was the real stunner. The hotel is located deep in within the paddy field and palm tree scenery and the local area is dotted with cute buildings and great restaurants.  The spa was perfection – simply the best massage I've ever had.
We were cultured out by the time we arrived in Goa and so our stay here was simple. Lazy breakfasting, ample dozing or reading in the sun (shade for me), a regular swim to cool off and the occasional walk to the beach before watching the hazy red sunsets and seeking evening food.  Very relaxing indeed and it left us with a taste for visiting more chilled Indian beach districts and backwaters like Kerala.
Beach life
A vast expanse of white sand dotted with little food and drink shacks.  We found that if we walked along the edge of the water we weren't bothered by people trying to tempt us to visit their bars!  Zeebop was where we'd been recommended to eat – they served us fantastic food (red snapper prepared to order), and provided added comedy when we came to pay…
Goa has a really strong Portuguese influence and it was interesting to see it in the buildings – decorated for Christmas with many churches the region was very Portuguese/Caribbean.  A sleepy place, where you could safely take a walk or a cycle and everyone waves and smiles.
We were sad to leave – it was a rustic and calming part of our trip and December temperatures are perfect for a visit.
Mumbai
We had the option to stay longer in Goa and just connect through Mumbai airport.  But it seemed ludicrous to be in Mumbai, or Bombay, and not explore.  We stayed at the Intercontinental Marine Drive – we had a sea view room and the fine dining restaurant and roof top bar and pool were both great spots as we didn't want to stray far as we squeezed in a final bit of holiday food, drink and sunshine.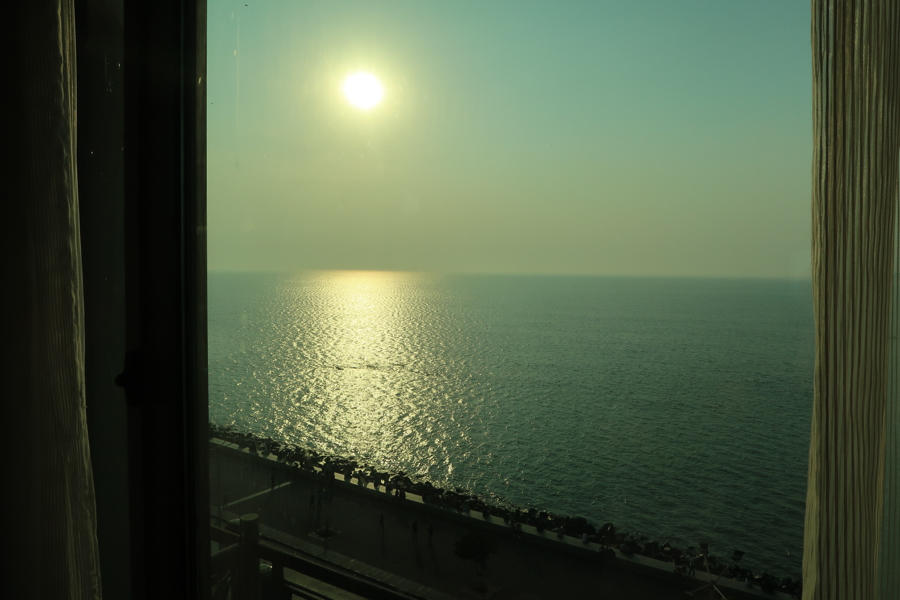 We picked up a taxi from the hotel for a bit of a tour and saw lots of the city (far more than we'd requested of course) for £2.  I really liked our quick glimpse of Mumbai. It was a good transition back to western life.  Mumbai is full of colonial architecture that it almost looked like home in places.
The Victoria Terminus…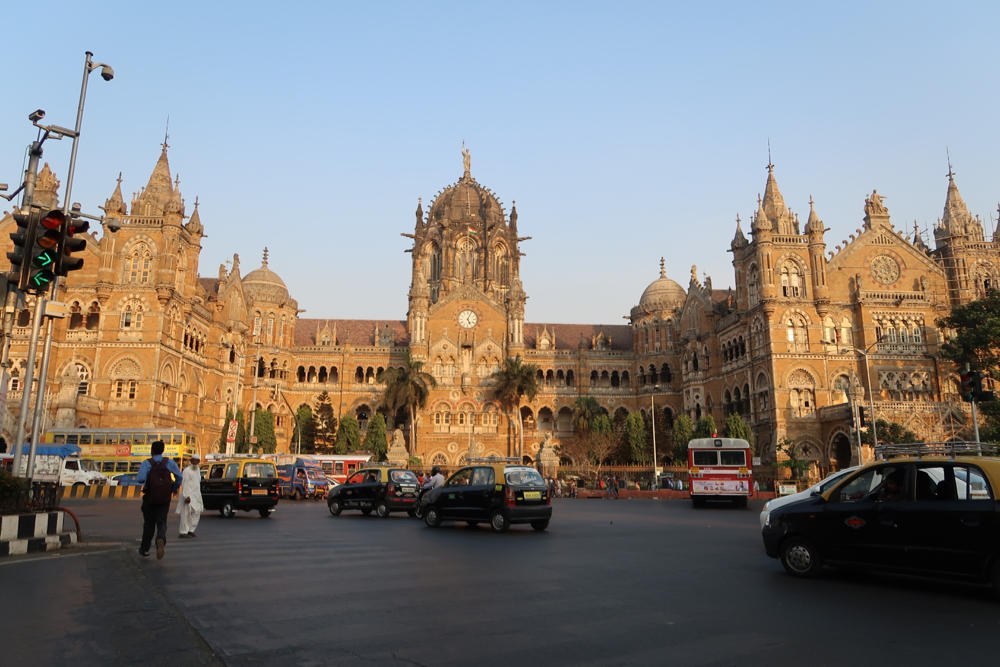 The Gateway of India…
The Rajabai Clock Tower inspired by Big Ben…
We definitely had to pinch ourselves that we were still in India…
I also got my shopping fix.  Having not had any actual cash for most of our visit, a trip to FabIndia was essential to stock up on scarves, homewares and other India presents and keepsakes.  These stores, all over India, are for tourists and the products are from local sellers.
Back at the hotel we toasted our trip at the rooftop bar and looking around we could have really been in any western maritime city.  A great transition to getting us back into UK life.  The views were pretty good as well.
Homeward bound
The airport at Mumbai has taken over from Singapore Changi as the world's best. A separate British Airways entrance and a very grand and easy First and Business Class check in area complete with security lane for just those few customers.  BA don't have their own lounge at the airport, I see that as a good thing.  The lounge is far nicer than the Concorde Lounge in fact.  Quiet, access to spas treatment on arrival (a great back massage); well designed and decorated; and good fizz and fine dining.  Our flight was smooth too – a good doze and the longest sunset ever as we flew towards it.
Happily we were sent home by the cabin crew with a bottle of fizz as they took a shine to us and wanted our holiday to last a little longer!  So did we.  The best trips are those that leave you wanting more.  Onwards… Kerala next stop? Maybe Shimla, or Jodphur, or Udaipur or or or….