We loved our time in Jaipur. It was the full package. Clean and ordered (relatively speaking), pretty, blue skies (no fog), we bumped into friends (yes – really), history and views, as well as amazing food and incredible hotels. Jaipur very much got the Parker seal of approval. We had 2 days in Jaipur and I wish it has been a week. Although who am I trying to fool – if we'd had a week's worth of time we'd have visited Udaipur and Jodhpur as well, obviously….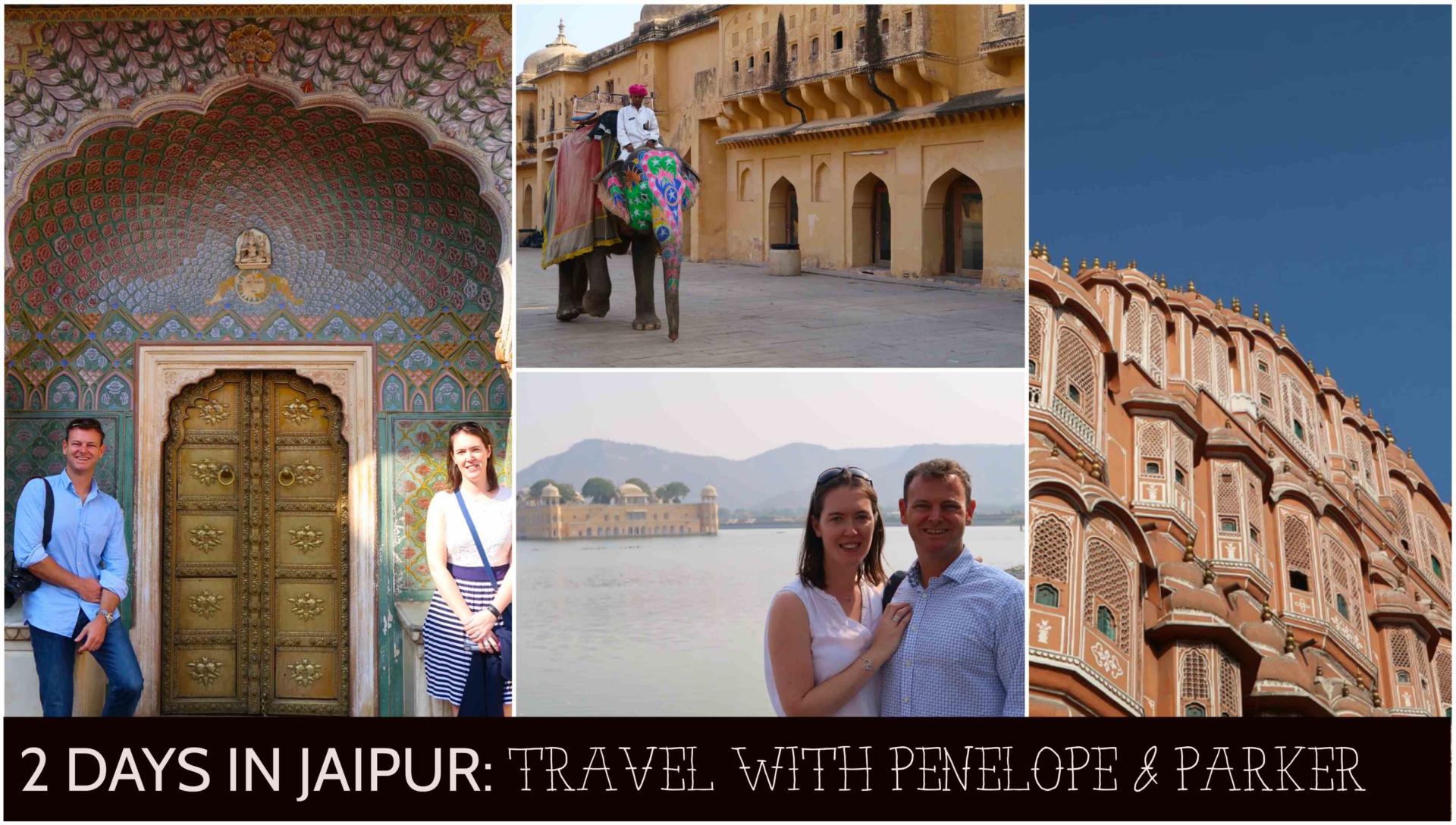 ---
Where we stayed
We adored both places we stayed and they were so different to each other. First we had a night at the Conde Nast blessed boutique home-stay 47 Jobner Bagh. Relaxing, friendly, great home-cooking and the perfect night to follow our stay in Agra! We had to tear ourselves away from here…
But thankfully we were off to the Oberoi Rajvillas. Yes – there are a couple of Taj palace hotels in town, but they aren't really 'us'. The Oberoi was totally us, in spade loads. We were staying in a beautiful tented villa in the most private, relaxing and beautiful setting. It had us at hello – leaving was pretty torturous!!
---
Where we ate
Aside from hotel dining, we strayed out to enjoy the local environs on a couple of occasions.
The Grand Peacock
Lunch at the Grand Peacock in town was a raucous affair. We met our friends here, who just happened to be in the same country and same town on the same day, what are the chances?! Good fun was definitely had and the thali was rather good too, as was the kingfisher. And there was loo roll. There were locals eating here too, not just tourists, bonus.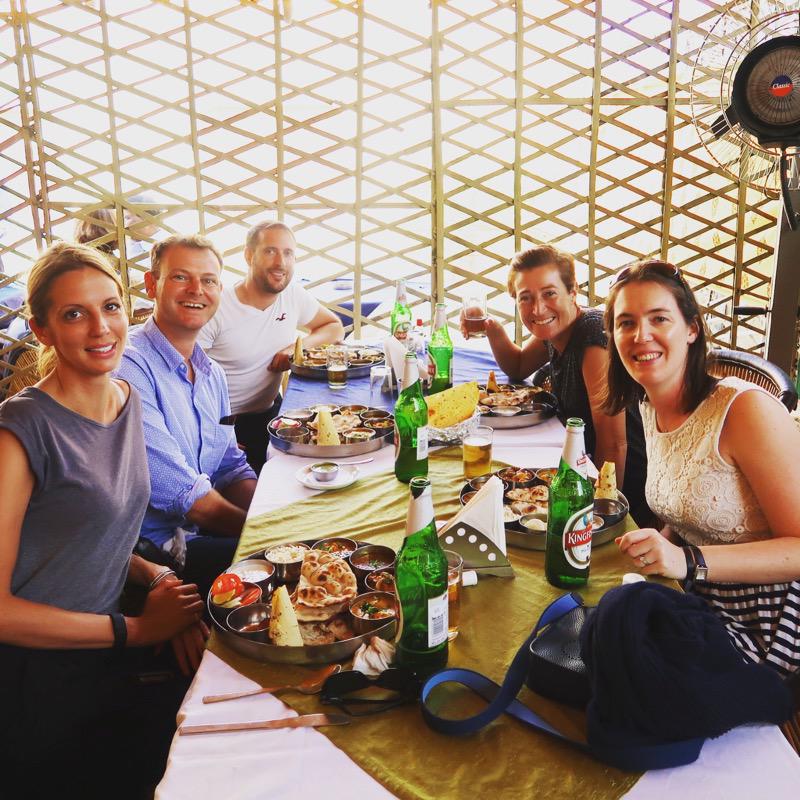 Suvarna Mahal
The pièce de resistance was however supper at Suvarna Mahal at the Rambagh Palace. This is a very upmarket and ostentatious Taj hotel that was magnificent to explore, but just for an evening. Donning our finery for we headed over to commence with cocktails in the famous Polo Bar. The Polo Bar was apparently where the Maharaja would go after a polo match to relax and it is decked out with polo playing paraphernalia as well as a cartoon that Tatler magazine has drawn of the king and his team in a world cup winning year.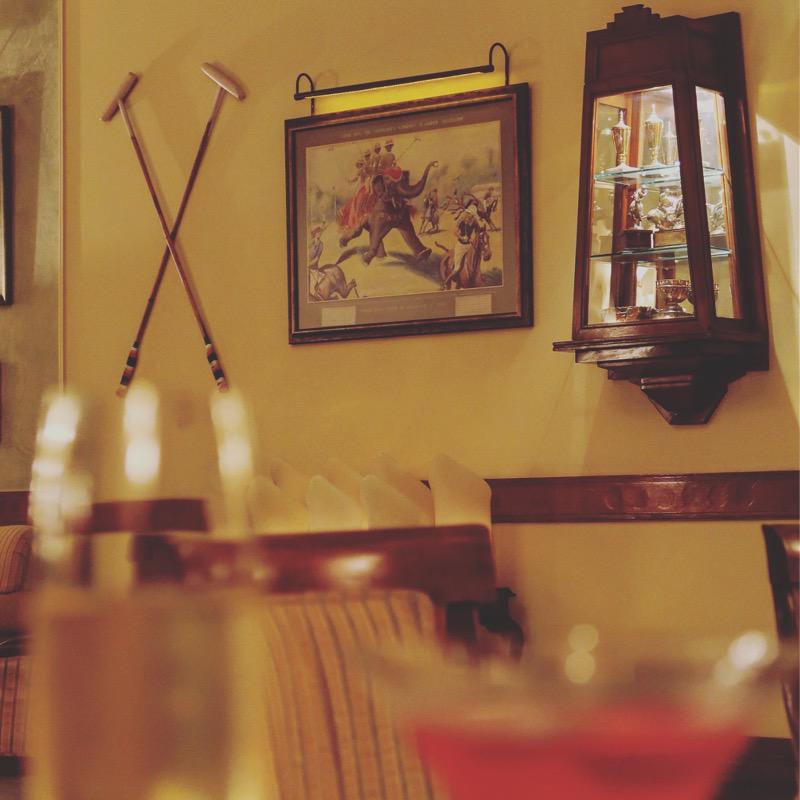 Onto no ordinary supper. This was supper in a glorious ball room with priceless frescoes on the ceiling and gold plated glasses and crockery. The restaurant is pretty famous and has a clever menu that offers food cooked in the style of 4 regions of India. Service was exemplary.  I kid you not, when Mr P tried to top up his gold water goblet, not 1 but, 2 waiters gracefully ran over to stop such behaviour. We were very well looked after and in the warmest and friendliest way possible. The food was one of the best meals we had in India. For £40/head it is relatively expensive but the whole experience was a real treat!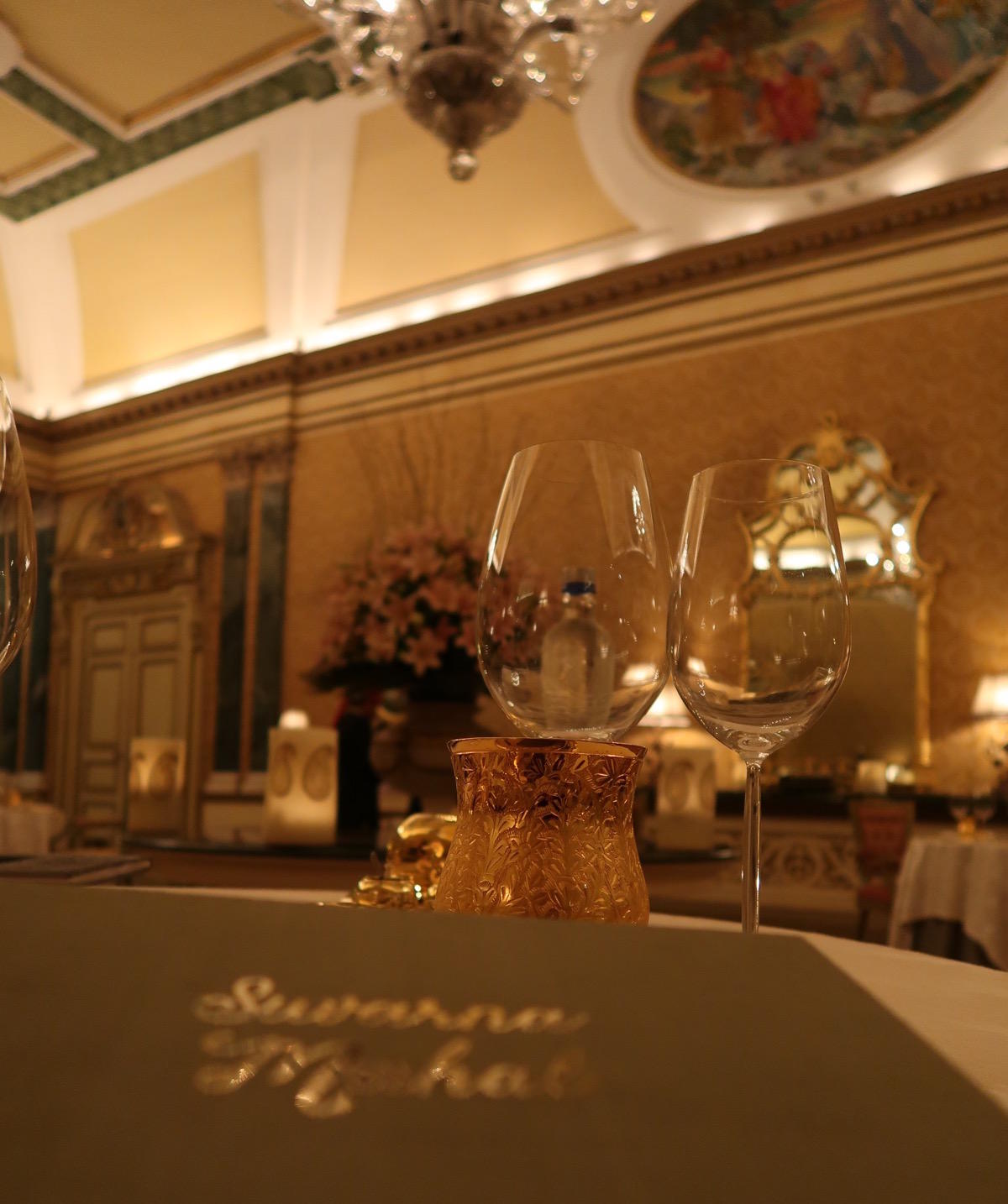 ---
Here are our best bits! This was all with another incredible guide from Banyan Tours – Vikram – and our trusty driver BD. The small world that it is, Vikram's son works at my company's offices in Hyderabad that I visited last year! Vikram really knew his stuff – he also worked out quickly we liked to stand or sit in the sunshine at any point possible!
Hawa Mahal
It looks like the most impressive of palaces, with its symmetry and ornate frontage.  But in fact that is all it is, a facade.  It is actually a wall of screens for the women of the palace, so they could observe the every day goings on of the street below without being seen.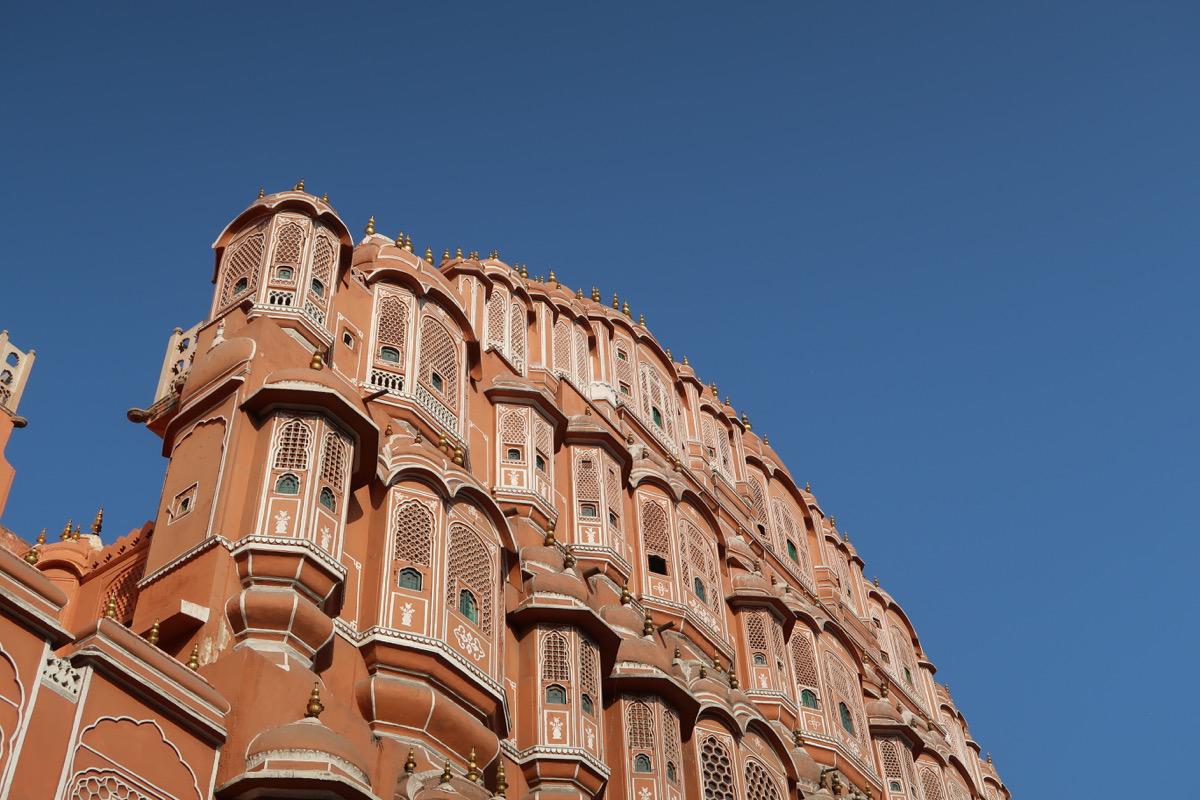 City Palace
Lots of people call this the pink balance, but it isn't pink.  It's a terracotta painted sandstone, as is the whole city. The 'pink' name comes from a former Prince of Wales visiting the city back in 1846… It was spruced up for his visit. He said it was pink.  Henceforth is has been called pink! The palace was charming and gleaming. Our particular highlight was the four seasons worth of beautiful doors.  Interesting fact – when the Maharaja visited England many moons ago he brought two massive urns full of his own drinking water! When he returned to Rajasthan the empty one was filled with Scottish whisky!

Jantar Mantar
Mad dogs and English men go out in the midday sun… That was us, but we needed sunshine to use the world's largest sundial, dating back to 1734. It's an enormous stone structure and its time-keeping is accurate to 20 seconds. We tested it, it was. There are many other astronomical instruments, for telling the time, tracking stars and planets as well for each sign of the zodiac to create accurate horoscopes. It was a fascinating place and impressive how instruments that were seemingly simple were so incredibly clever and accurate.
Old town walk about
I was particularly looking forward to this. We hadn't had the time to explore any of the shops and markets in Delhi or Agra so this was a real treat. We visited the flower market where garlands were prepared for hotels and weddings and where roses are kept on ice to keep them fresh. Into an indian sweet shop we went. So many interesting things – be it a wedding procession, a monkey on a motorbike, a man carrying Bombay mix on his head or a side-street seller of betel leaf. To be fair it was quite a sheltered tour, on another visit I would definitely don trainers and find somewhere grubbier!
Panna Meena ka Kund stepwell
Through a gap in the wall we were taken, both wondering what would be interesting enough to stop en route to the Amber Fort. Suddenly we were looking down 100 feet of stone steps to a well. It is from the 16th century and will remind you of those crazy images that dentists always have on the ceiling above the reclining chair by MC Esher.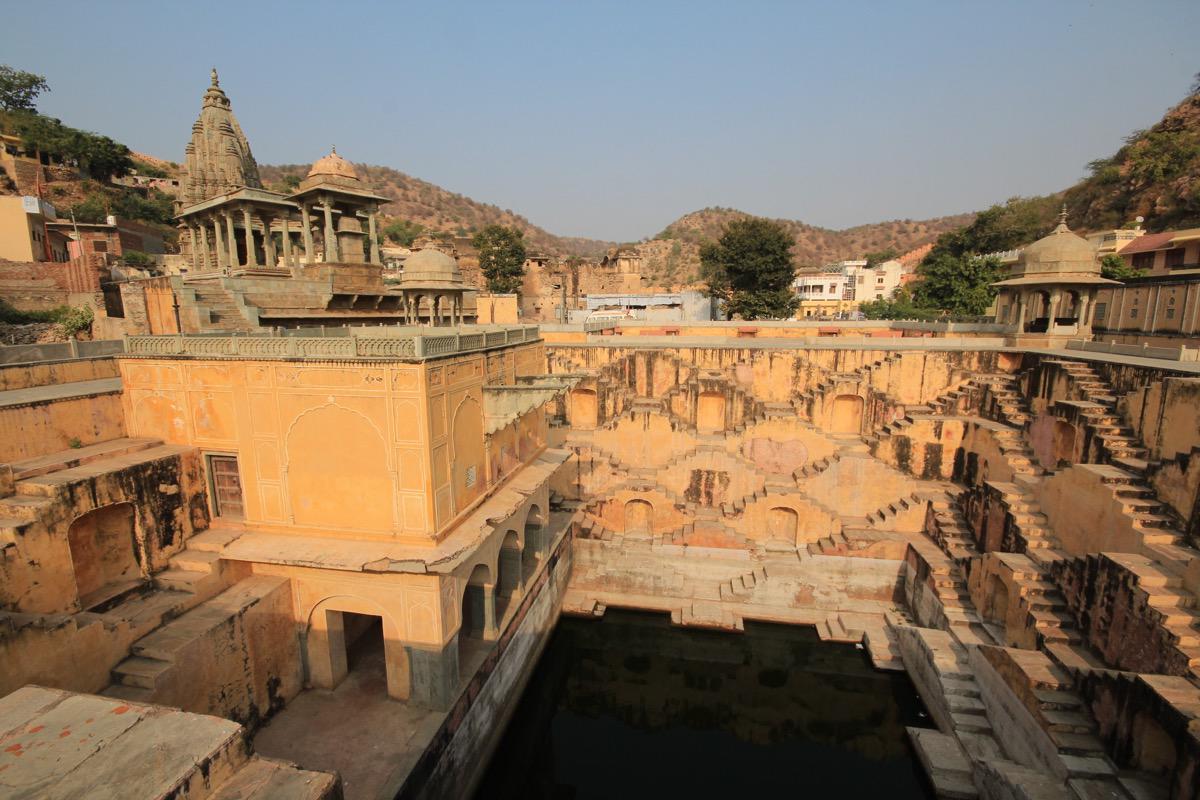 Amber Palace
One of the most striking places we visited, on the drive to the fort the size of it is clear as there is a wall around the outside of the fort's land that seems to run on for miles.  Rather like a mini great wall of China! We drove to the top where we started our tour. There is an option for an elephant ride up, but this wasn't something Banyan recommended and I'm glad. Avoiding the hawkers, goats and elephants we started our tour. The fort is high on the hill and has a certain grandeur. It is a beautiful yellowy colour and has a vast expanse of outdoor space. Many beautifully coloured walls and doors, a perfect little parterre garden, a magnificent mirrored winter palace as well as great views of the surrounding scenery.
Jal Mahal
I would love to visit Udaipur on another trip, specifically the hotel on the lake!  We did however stop to look at another such lake-structure near to the Amber Fort.  Jal Mahal actually means water palace and it is a lovely sight.  Although goodness knows how it was built.  The pig rooting through the rubbish for food definitely added to the experience!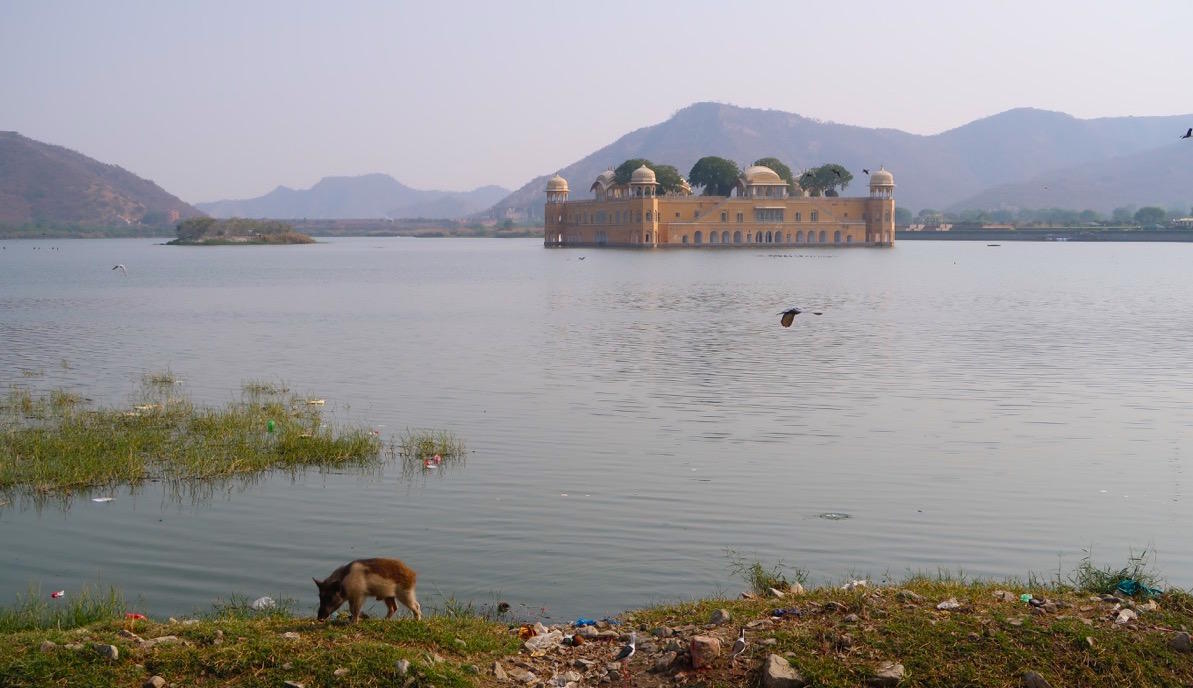 Block-printing
We missed this. It was on our itinerary but we'd taken our time at the Amber Fort and I had an appointment with a sun-lounger and pool. We were on holiday after all and with so much to see in one town we felt that we'd seen the best of it but left ourselves with enough to do on another visit in the future.
---
Worst bit?
Leaving. But even the internal flight process with Jet Airways was easy and on time. Next stop was South Goa, which had a hard job to follow….