Delhi is where our Indian adventure began.  Colleagues of mine are always here and told me it was the right city to quickly immerse ourselves in the sights, smells and sounds of India. We had just over 24 hours in the city.  Our guide Punam (an expert, she's shown Ralph Fiennes around) and driver BD – both working with Banyan Tours – gave us a great first day in India.
As the capital city of India there is a plethora of things to see, both in Old Delhi and New Delhi. We drove past some places that we didn't have time to stop at (the Red Fort looked pretty impressive), with our noses stuck to the car windows.  It was our first taste of the crazy driving the country is famous for and everything we passed was exciting!
We'd arrived in the city from London at around 2am and so we met Punam at around midday after we'd spent a lazy morning dozing in the sunshine at the hotel.  There was a lot to cover that afternoon!  It was clear to us right away that it was worth every penny to have a guide and driver.  Not only was everything easy and paid for by them at the time, but also we could ask anything we wanted and were always told the key information about a place as we toured it.
Humayan's Tomb
We were always going to be impressed with wherever we visited first. Humayan's (Mughal Emperor) tomb didn't disappoint.  It dates back to 1570 and was the first garden tomb in India and was the inspiration for the Taj Mahal, which was I believe designed by the same person.  The tomb was stunning in the hazy sunshine with the gardens divided up by water channels.  Everything is symmetrical and just so. The sandstone and marble structure is intricate and fascinating to explore. Wandering the gardens there are also other tombs to be found.  We particularly liked the octagonal tomb of Isa Khan Niyazi.
Jama Masjid
This is the largest mosque in India and not only that, it is an outdoor mosque that can hold something like 30,000 people for prayers.  Whilst not dripping with jewels like in Abu Dhabi and Muscat, this mosque was actually more beautiful. Dating back to the 17th century it really was impressive. There were no separate prayer areas for men and women and only a small amount of interior space.  Interestingly women weren't asked to cover their heads but I did have my shawl in case.  Through the haze it really is quite something and there are incredible views of Old Delhi as it was high on a hill.
Rickshaw ride through Old Delhi
It would be impossible to visit India and not take a ride on a rickshaw.  Our ride took us along many of the narrow market streets of Old Delhi and was fascinating.  Our cycling driver worked hard to drag us around and clearly knew the exact width of his carriage. It was a tad surreal being in a traffic jam on a bike, surrounded by cars, tuktuks and the odd water buffalo pulling carts.  But that's India.  We also saw in to all manner of shops selling everything one could ever need, a very easy way to see around a market/souk area without being pestered.
India Gate
24million people live in Delhi but there is still open space.  Such as at India Gate which is a memorial to those that died fighting with the British in WWI.  We saw it as dusk was starting to fall and it is a looming great structure, in the centre of a massive garden round about.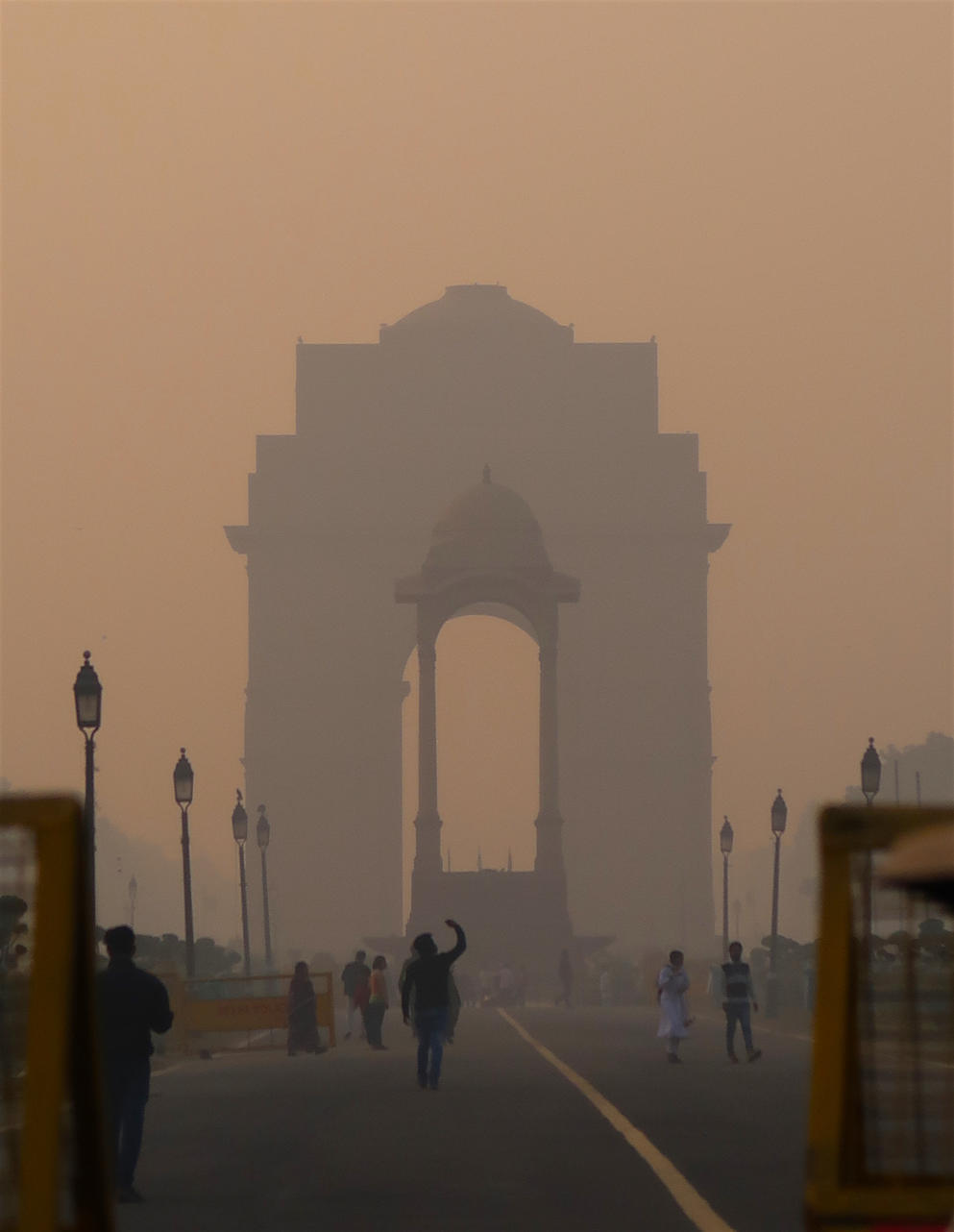 Parliament
There is an extensive area of the city dedicated to the parliament and all of the buildings that it needs.  Impressive because of the grandeur of the first (relatively) modern parts of the historical city that we saw. Having just come from the market streets it was also notable for the cleanliness and order, although we did spot our first city monkey here! The president's abode also looked rather nice.
Gurdwara Bangla Sahib
I was on national TV in India for anyone that spotted me on 9th December… The gurudwara glistens and music is played for much of the day for sikh audiences nationwide. Here we both covered our heads and took our shoes off.  After seeing inside the gurdwaras, we were also taken into the kitchen.  I know from visits to others before that food is offered to every visitor, whether sikh or not.  The kitchen here is staffed by volunteers and fuelled by donated food.  Many thousands of worshippers and visitors are served every day.  The smell was divine, it was lucky our next stop was supper!
Those are my 6 things to see in Delhi, I am sure there are many more – what are your recommendations?
---
Where we stayed
I didn't want to stay in a big 'business' hotel and so The Manor was selected for us. It was an ideal place to start our trip, with only 14 rooms and in a quiet suburb (a gated 'colony' area).  The staff were very friendly (although did need some encouraging to book us a table for dinner), the rooms were immaculate, breakfast was a real feast, there were plenty of places to relax in the garden and the presence of marigolds throughout the hotel was very pretty and a lovely scent.
Our room had a king size bed with crisp white sheets.  We also had a sofa and plenty of storage space.  The bathroom was also good size, with bath and shower.  The room had plenty of water for drinking and teeth cleaning.  It was a very practical sort of hotel.  I imagine there is a good mix of business and holiday guests here.  We were in a quiet little building separate to the main hotel with just one other room nearby.
Breakfast was a real treat – it is a la carte and there is a choice of cooked 'english' options as well as the indian breakfast choice of the day.  More about the food shortly.  The grounds have plenty of open space.  As well as a large grassy garden (that needed a bit of watering) there were a number of terrace areas and strolling around we also found a gym and spa.
Where we ate
As luck would have it, the best restaurant in India (according to San Pellegrino and Trip Advisor) was right there in our hotel.  It is called India Accent.  They are definitely doing something right as they've just opened a second restaurant under the same chef in Le Parker hotel New York.  Thankfully we had booked a table with the help of our guide.  We were in the early supper sitting and the place was busy – a good mix of holiday makers, business travellers and locals.
There was never any question of our choice – the tasting menus – ₹3300/£40.  We had between 6 to 8 courses and all were delicious, I'm not sure entirely how many as we seemed to get 'bonus' repeat courses when we showed clear delight at the dishes.  There was a meat and non-meat option so we of course has one of each.  Vegetarian food in India is fantastic, we learnt that very quickly, as is the naan.  The food was very clever and modern. A selection of what we feasted on: pulled pork phulka taco; chetinad chicken keema; baked aloo and soya chila with chilli potato grits; and black carrot halwa tart.  Washed down firstly with the local Chandon fizz and Indian Sula sauvignon blanc (which was ok, but we found better).