I have so much to tell you about India – one of the most inspiring and enjoyable trips we have ever taken.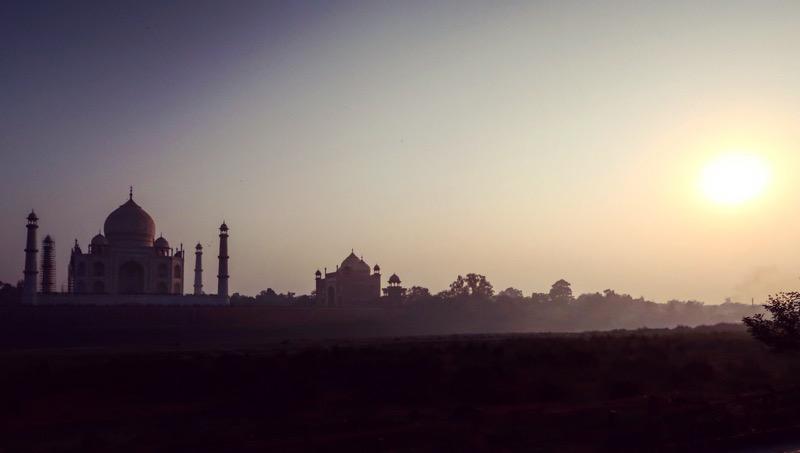 "So far as I am able to judge, nothing has been left undone, either by man or nature, to make India the most extraordinary country the the sun visits on his rounds."  Mark Twain took the words from my mouth.
Before our visit, we knew very little about India.  My visit to Hyderabad last year shattered some illusions and made me want to return. Thanks to Shantaram and Midnights Children I knew it to be a widely varied country.  Everyone told us we were bound to get sick.
The reality is that India is incredible – everything we did, saw and ate was totally unexpectedly magnificent.  We managed with next to no physical cash (thank goodness for cards and pre-paying for accommodation and tours). Our internal flights were fine. We didn't get ill (so much for the pre-Christmas Delhi-belly diet)…
First class travel
Our best holidays start in the comfort of the Concorde lounge at Heathrow. First Class flight doesn't ever get dull.
The work ban began on the plane, although clearly I was struggling to switch off as we pushed-back.  While we were away I replied to less than 5 emails. The world didn't end because I ignored the rest!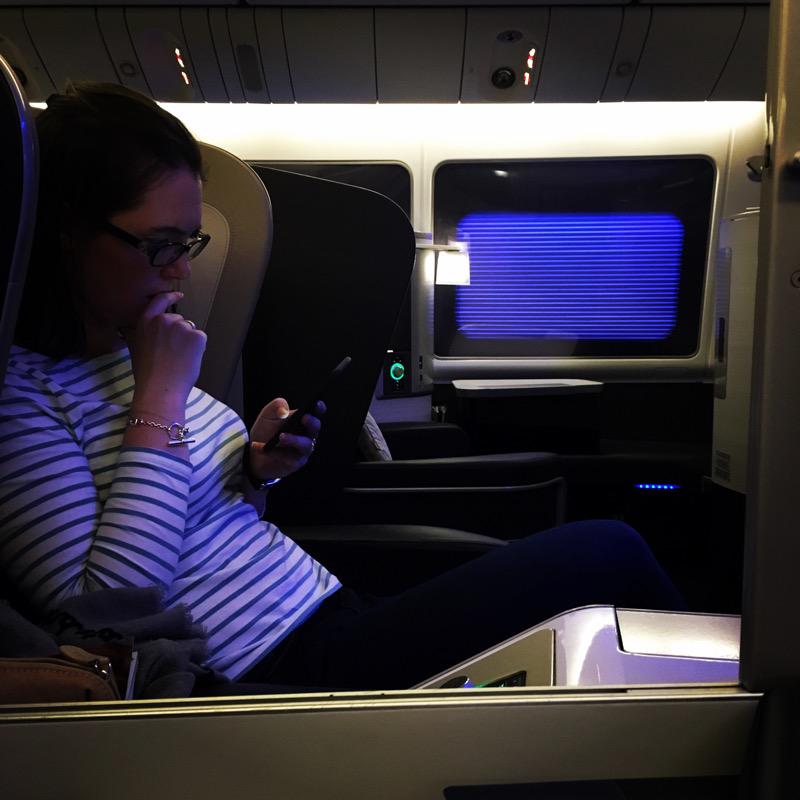 Delhi
We arrived in Delhi at 2am and were swiftly ferried to our first hotel – The Manor. I was asleep in a matter of minutes.  This is a boutique hotel, a little way out of town in a 'colony' area and away from the city noise. There was plenty of green space to doze in the sunshine on our first morning.  We didn't realise the hotel was home to 'Indian Accent'. This restaurant is widely judged to be India's best.  We of course enjoyed the food.  A divine tasting menu as well as our first foray into Indian wine!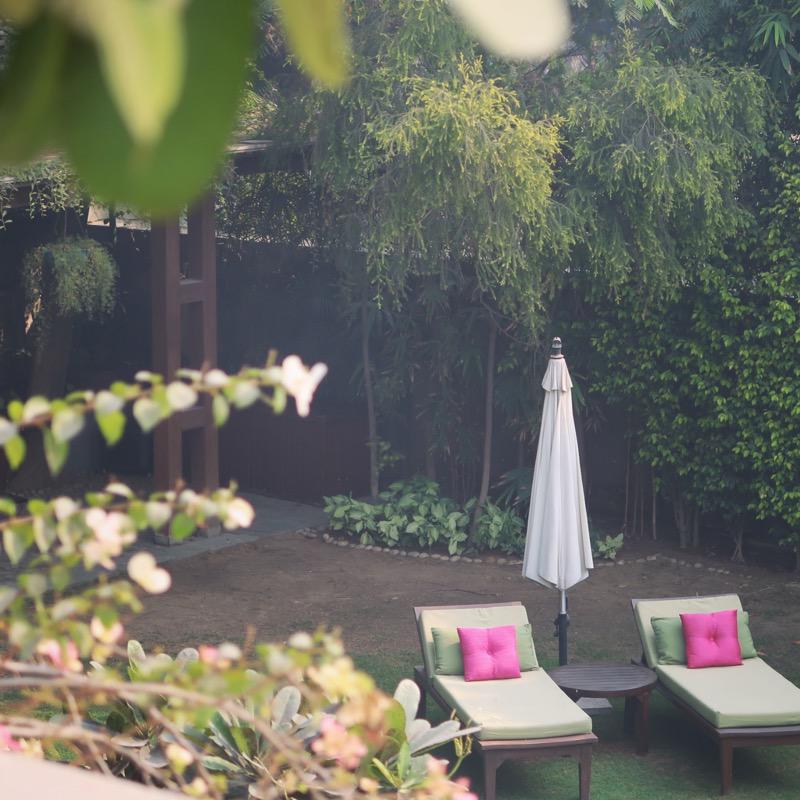 We had a private afternoon tour of Delhi, visiting Humayun's tomb, the enormous outdoor Jama Masjid mosque as well as enjoying a rickshaw ride through the old city.  An assault on the senses – eyes, ears and nose – the perfect start!
Read more about our time in Delhi here
Agra
Onwards to Agra, taking in the exciting driving styles en route – our driver proudly told us he had a 'good horn, good brakes and good luck'… First stop was the beautiful Itmad ud Daulah (jewel box or mini-Taj).  We were then spell-bound at sunset from the Mahtab Bagh Gardens watching the light fade over the Taj Mahal and the Agra Fort.
Agra gets morning fog in the winter (smog).  The day before we'd been given the "opportunity" to visit the Taj with 30,000 people or enjoy it from a distance. We chose the latter.  In the morning we had the Taj almost to ourselves and the eery shroud of fog.  Still beautiful and a privilege to see it so privately, up very close.  As the morning cleared we also visited Agra Fort and Fatehpur Siri.
Read more about our time in Agra here
Jaipur
Our next stop was Jaipur – we were here for 3 nights and it was by far our favourite city.  Beautiful, organised and the Hindu culture really shone through.  We were also blessed with amazing hotels.  First a homestay at 47 Jobner Bagh – a hidden gem with an amazing home-cooked supper.  There's such a lot to see in Jaipur we only scratched the surface – the Hawa Mahal facade, the city palace, Jantar Mantar observatory and the old city were all fascinating in their own right.  What started with a 'we're in India too' comment on Instagram turned out to be lunch with friends. What are the chances of being in the same city in a country with over 1 billion people?  Quite high – trips were compared, thali was eaten, beer was drunk, fun was had!
Then we went somewhere very magical indeed – without doubt the most special place we've stayed.  We were "camping" at the Oberoi Rajvillas.  This was no ordinary camping. Our tented villa was pure luxury and from the moment we arrived we were treated like royalty and cocooned in luxury.  Everyone (everyone) knew our names and stopped to greet us.  We even had pet peacocks (they didn't know our names)!
Leaving the hotel for a morning visit to the Amber Fort was a challenge, but worth it.  The fort is stunning and steeped in a fascinating history.  We headed back to the hotel for pool time and to enjoy some sunshine and our books.  Our guide recommended we eat at Suvarna Mahal at the Rambagh Palace and he was wise to encourage us to go.  Incredible food and when else can one drink out of a 22 carat water goblet in a banqueting hall surrounded by priceless art and ceiling frescos…
Read more about our time in Jaipur here
South Goa
With heavy hearts we left the Oberoi – our next stop had a lot to live up to.  Thankfully South Goa was the perfect change of pace.  A charming laid back culture, far away from the party destinations in the north.  The Alila Diwa delivered just what we needed. We totally unwound – books, beach walks, swimming, incredible spa treatments (the best) and carol singing at the glistening banyan tree!
Read more about our time in Goa (and Mumbai) here
Mumbai
Our final stop was Mumbai – totally different again.  Whilst this is the business capital of India it is also littered with colonial architecture.  With the help of a very helpful taxi driver we saw everything and more (including cinemas, banks, playing fields…) maybe more than once!  Eventually he dropped us off at my new favourite shop – FabIndia – where I shopped until I dropped (they're online too thank goodness).  Our hotel here was the Marine Drive Intercontinental. Surprisingly nice with only 60 odd rooms and a lovely roof terrace bar and pool.
Homeward bound
We did not want to leave India.  Thankfully the airport put on a good show.  Once over my disappointment that I couldn't buy any Indian wine at the airport (I've ordered Grover wine on Amazon, to see what it tastes like at home) we  found our way to the first class lounge.  Best lounge yet and I've seen a few. Massage booked for us on arrival, lovely Indian style decor and so few people that it was actually a relaxing and peaceful place to enjoy a final glass of holiday fizz. The flight home was smooth – a sunset that went on for ever and 4 hours of good sleep.  The super-kind cabin crew that sent us home with a bottle of fizz to make the holiday last longer!
My best advice for India is to ignore any raised eyebrows and visit.  We booked through Bon Vivant who in turn used Banyan Tours.  Banyan's drivers and guides were excellent and essential.  Throughout our trip we just seemed to waft between one amazing place and another.  There was no hassle and many hotel room upgrades (they're part of Virtuoso).
The mark of any outstanding trip in my mind is the wish to return.  We want to explore more of the extraordinary history and geography, starting with Shimla, Udaipur, Jodhpur and Kerala… The Banyan team definitely impressed on us the other places we needed to visit!
Ending as I began, with more of Mark Twain: "the one land that all men desire to see and having seen once, be even a glimpse, would not give the glimpse for all of the shows of all the rest of the globe combined."
That was just an Instagram taster. I've so much more to tell, watch this space!
Namaste.