Mr P did some vital yachting holiday research for us in October… Too kind!  I was manic with work and made a passing comment suggesting he go away with his best buddy somewhere nice and leave me in peace.  I didn't ever expect the offer to be taken up.  But it's OK as it was all in the name of research, for when next year they will take us girls with them too!  So his arm was twisted into writing this guest post so I know what to look forward to, and what not to…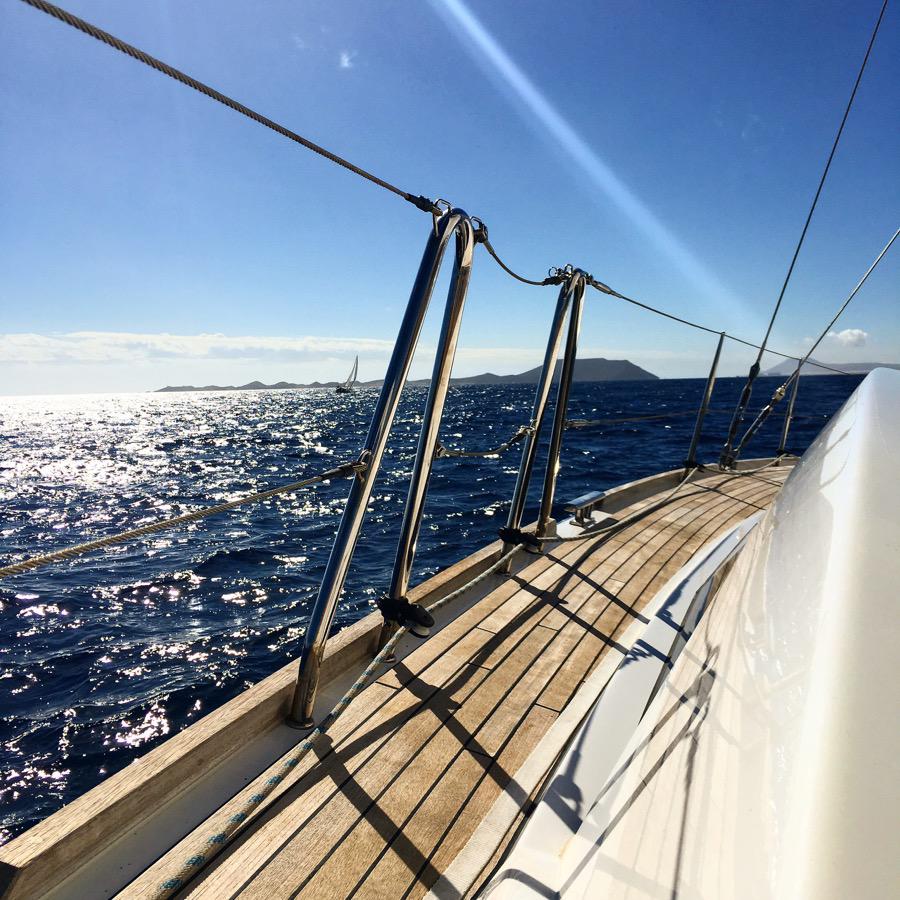 Over to Mr P…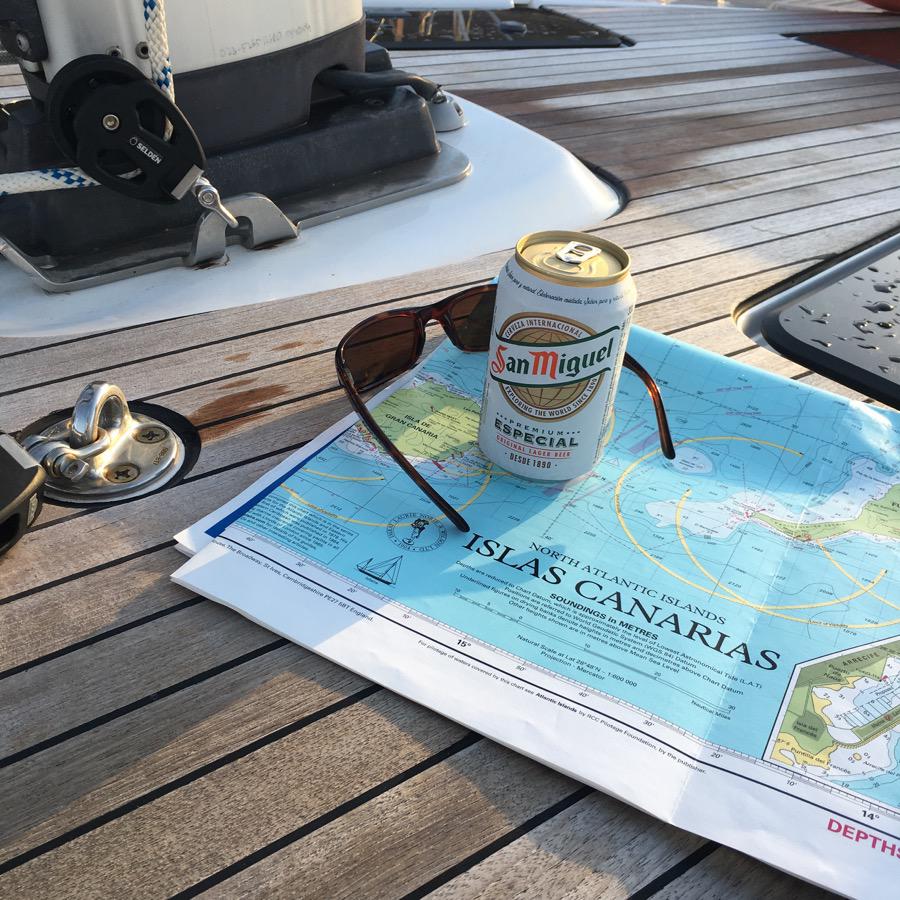 The first thing you should know about this tale is that it involves two characters. I, the author, am the long-suffering husband: "Mr P". The other is my oldest and best friend, Simon. Simon and I have been having adventures since we were 13.
We have been getting into scrapes together for the best part of 30 years. With such extended practice comes great experience and the ability to make fun – and mischief. We discovered together the works of Patrick O'Brian early on in life and have often remarked that our banter operates on a level similar to that of Jack Aubrey (me) and Stephen Maturin (Simon).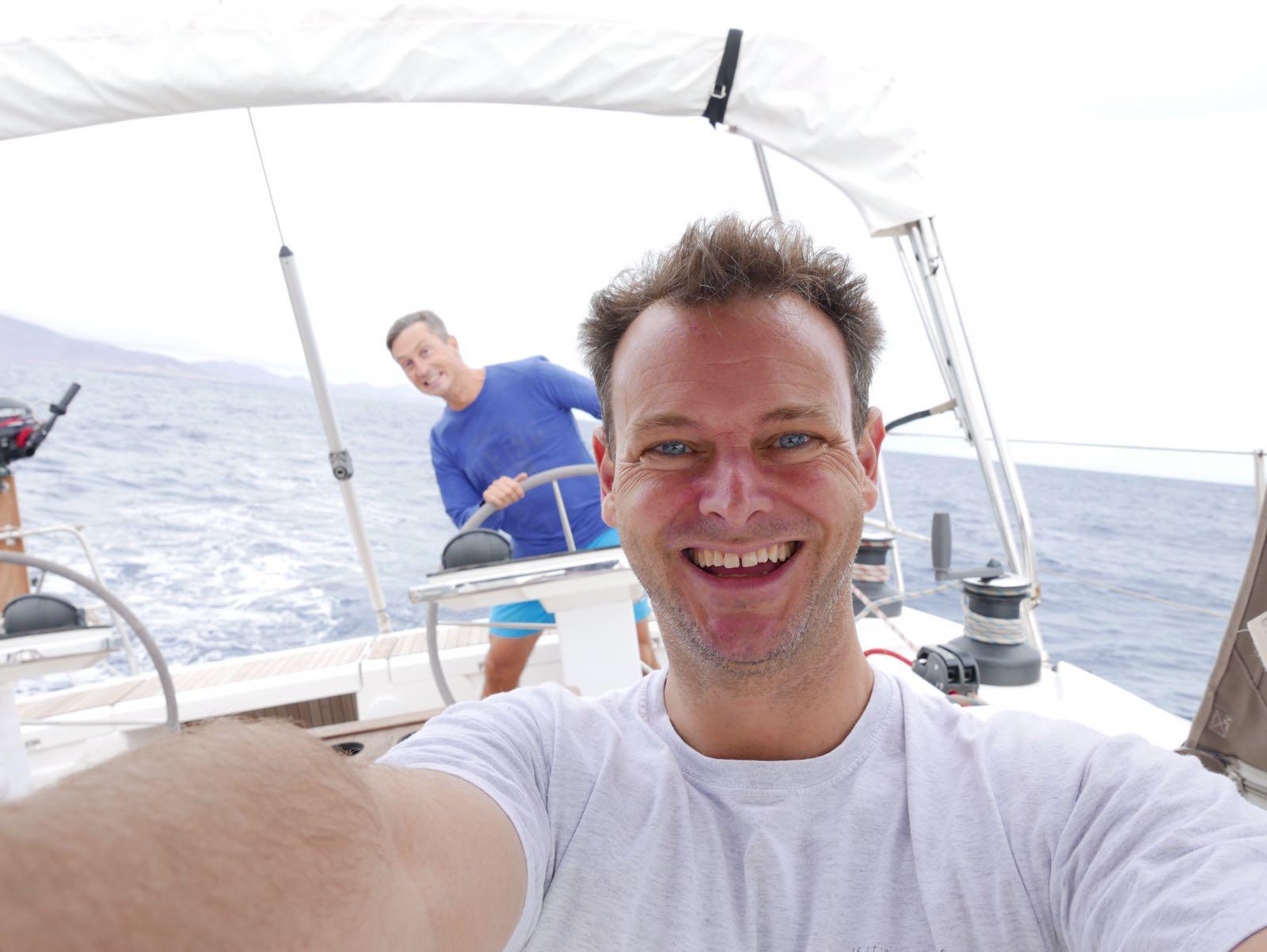 The second thing you should know is that the main justification for taking this trip was one of research. If Simon and I could successfully survive a week of sailing in some challenging waters, then maybe – just, maybe – it would be something we could involve our respective other halves in on future trips.

And so it was that we found ourselves touching down at Arecife in Lanzarote. Simon had brilliantly come up with a suitable vessel via Lava Charter based in the same town. It's a German charter company so the yacht handover process was ruthlessly efficient and very impressive. We were to enjoy a Bavaria 46 for the week which, frankly, was excessive but meant that we both enjoyed a superb cabin and ensuite alongside masses of space and sailpower.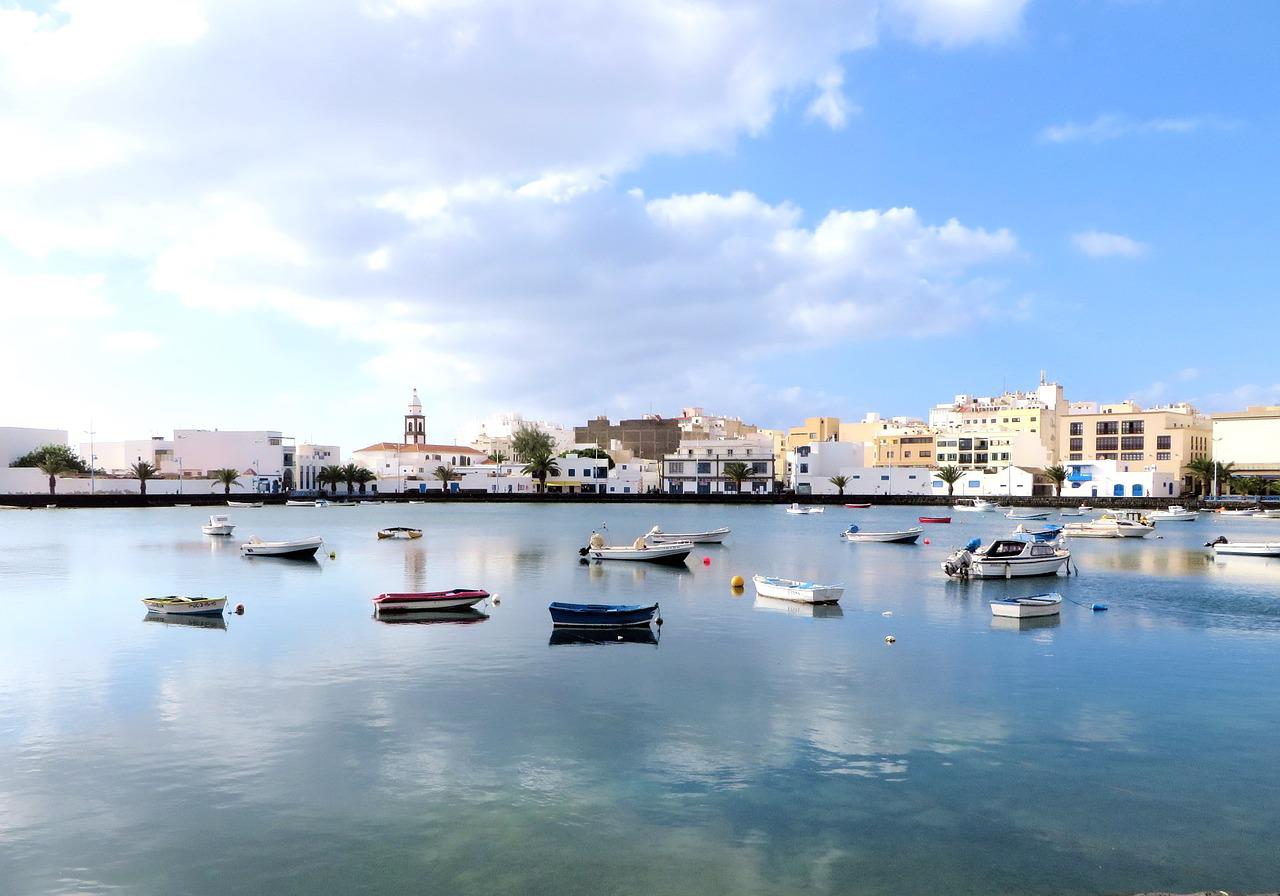 First order of business was to set about acclimatising with some Mount Gay Rum, followed by tapas in town, washed down with some splendid Rioja and finally a nightcap on board. Having not seen one another for some time, the night cap turned out to be the duration of several "watches".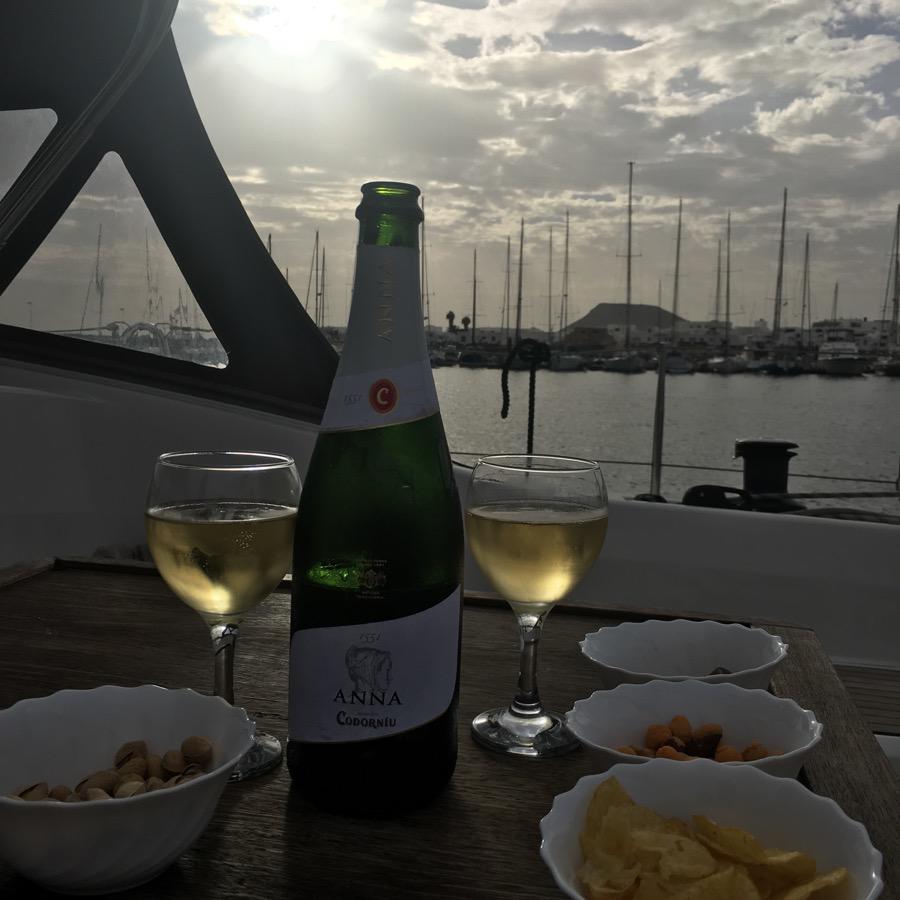 Departure day dawned with grey skies, rain and a general feeling of England. We were mildly aware of a weather system in the Atlantic that was building up to being something. We distracted ourselves by taking ourselves food shopping to the local supermarket where we purchased all the "essentials" – Rioja, Cava, San Miguel and some local rum ("Ron") as our imported stocks were already running dangerously low. Nutrition was not completely overlooked – chips, dips and even a salad were selected to balance out the other treats as we clinked our way back to our vessel.
Four hours later we found ourselves sailing south in unbroken sunshine and a gentle 12 knots of wind with our first San Miguel of the adventure in hand and some pleasant tunes wafting across the deck and a splendid feeling of accomplishment. The grey clouds had vanished and we were happy chaps.
We slipped easily into the operational routine, taking it turn about to be helm and the other to be crew for each manoeuvre. This highly democratic process ensured that we both had our fair share of challenges to overcome. None more so than a midweek altercation with an unexpected and uncharted piece of lava rock as we attempted to anchor in the exposed bay of Corralejo on the North of Fuerteventura. Our egos a little bruised we found ourselves running back to Lanzarote to shelter from a larger than expected storm which kept us in port for the subsequent two days.
Our objective all week was to put into locations where it was impossible to hear spoken English. We were almost entirely successful apart from one lunchtime spot opposite a shocking beach jam-packed full of sunburn, unmistakable shrieks and wafts of fried food. We looked at one another, made faces like we'd downed a pint of lemon juice, slipped our mooring and left!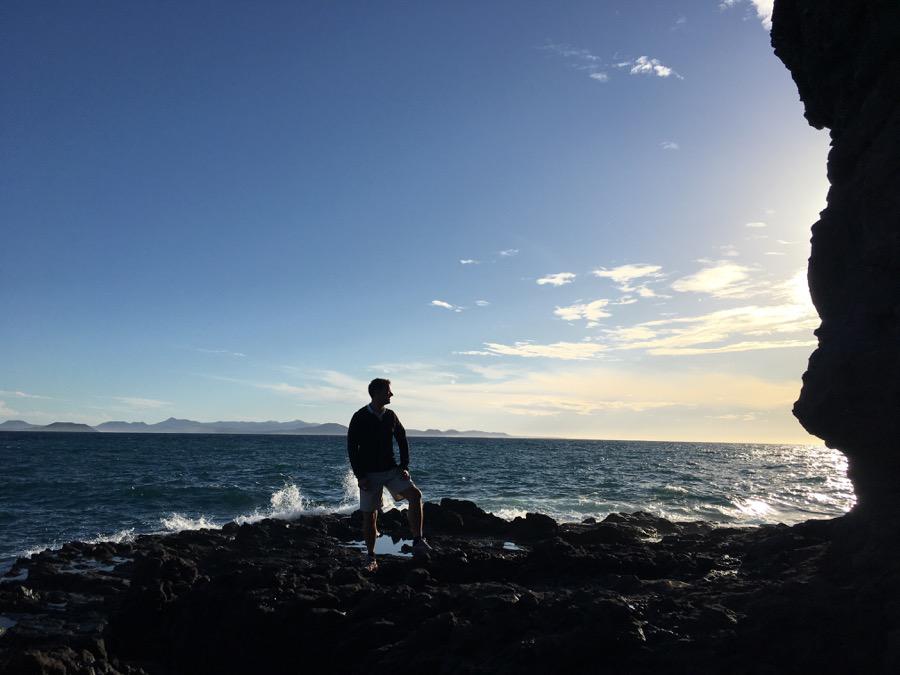 A particular highlight of the week's sailing was a visit to Isla Graciosa at the very Northernmost point of Lanzarote. Our arrival there on a dying breeze was particularly memorable as we glided past the huge, imposing 500m cliffs, together with some bleak and unusually shaped rocky headlands: a surreal experience. There are no roads on La Graciosa: it is a nature reserve with an appealing small town of low-roofed white buildings and little else, giving the island a real charm and a very basic way of life. Best of all, it is inaccessible to the British package holidaymaker.
There is something very satisfying about life afloat and our easy-going friendship meant that the adventure was as stress-free as one could hope for. Random conversations under sail, unusual food combinations that were on occasion plain weird and some rum-soaked dialogues in the cosy saloon late into the night.
The inevitable outcome is that time flies and the week's adventure felt as if it was over in just a few days. We learned a great deal about the area. It's challenging sailing but very rewarding.
The food is good and reasonably priced, despite eating in high-end marinas even with the pound being what it is at the moment. Would I recommend sailing in this part of the Canaries? Yes, absolutely but with particular care in adverse weather as there are limited places of refuge and the few available anchorages can often be quite exposed.
Roll on summer 2017, looking forward to putting this strong research to the test – considering whether a catamaran is needed, one hull for the boys and another quieter one for the girls?