The Palomar really did tickle our tastebuds!  If you have been under a rock or hibernating recently you won't have noticed that we went to Israel in May and loved it – the place, the culture, the people and the food… For everyone else, you know already!  Imagine our delight when we ate at the super-cool Machneyuda in Jerusalem, had one of the best meals ever and then found out it has a sister restaurant in London – The Palomar!  I booked us in – a six week wait for a table at the kitchen bar was undoubtedly worth the wait (I wanted it near promotion day as a treat but wasn't nearly organised enough)!  I was worried it might not be as good as Machneyuda, but it absolutely was!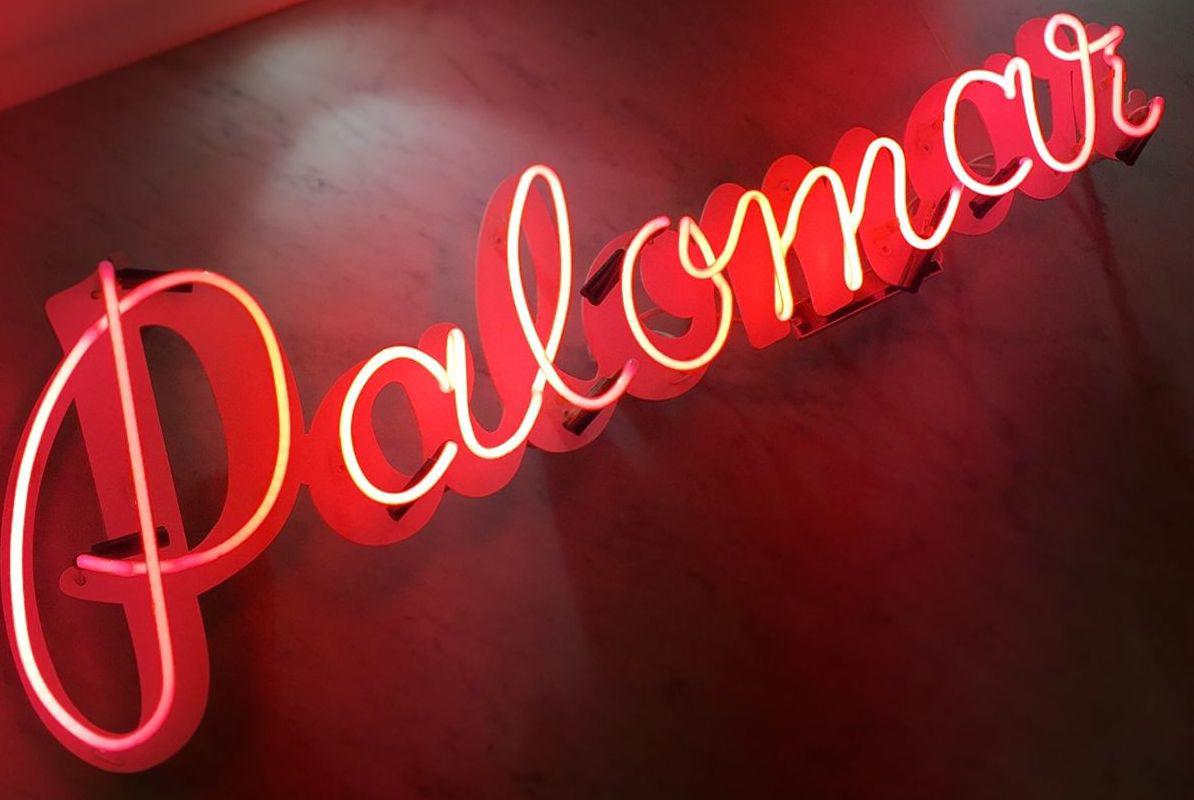 The restaurant has a great vibe.  Machneyuda is loud and hectic. The Palomar is a calmer version, more suited to the British stiff upper lip but with enough activity and noise to make it fun and characterful.  Can I call it fine-dining street food?  As that is kind of what it is.  The highest quality food, with fresh ingredients every day, lots of little plates best for sharing.  I said to Mr P half way through dinner… why would anyone go for tapas when they can have this!
Our seat booking at the kitchen bar was strictly for 2 hours and the maitre d Jason looked after us perfectly, explaining the menu and making sure we ordered the right amount in the right order – he'd even worked in Machneyuda during his training!  I really would recommend booking a space at the kitchen bar – you are right in the middle of everything and can chat to the chefs who work incredibly hard.  We'd sat at the bar in Machneyuda too so I knew we were in for a treat!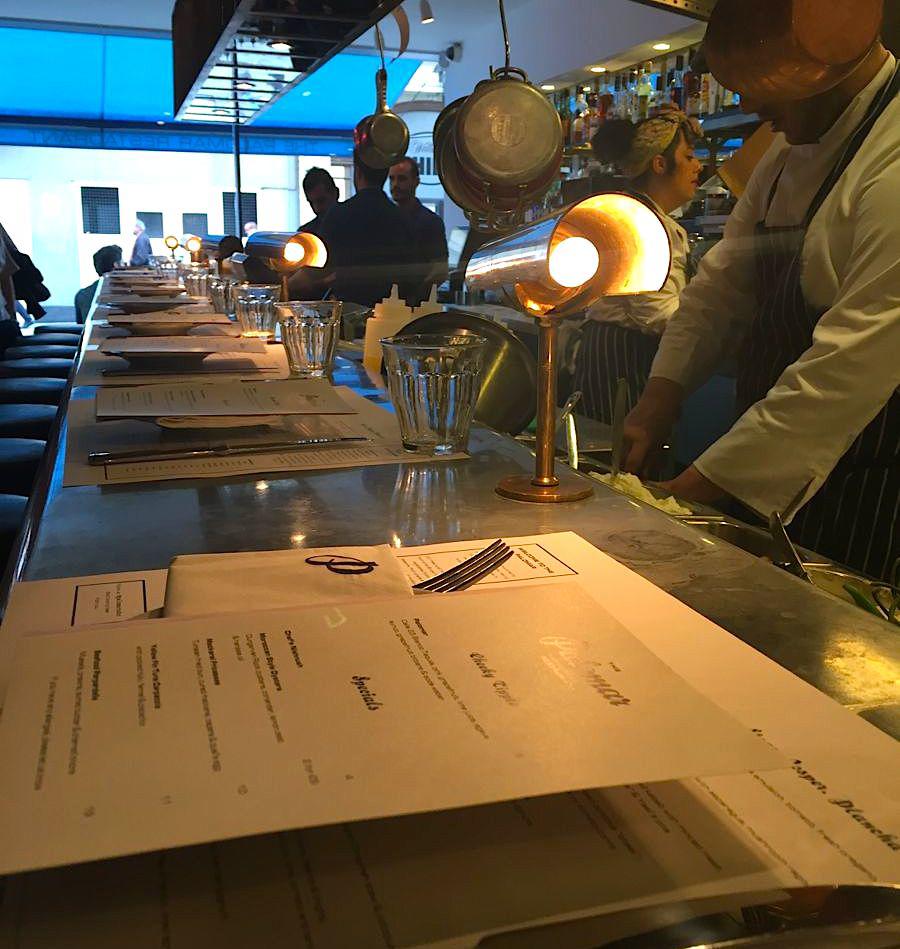 The flavours and the food definitely reminded us of our meals in Israel, but as their website says the menu is also influenced by Spain, North Africa and the Levant too – basically a taste sensation.  I love that the dishes are all little, it means you really can have a fantastic mixture of veg, meat, fish, sauces and bread.  First question once we were sat down was 'any allergies'… My answer was 'not today' – there was no way I was missing out no the richness of the food so I brought my lactase with me as a special treat!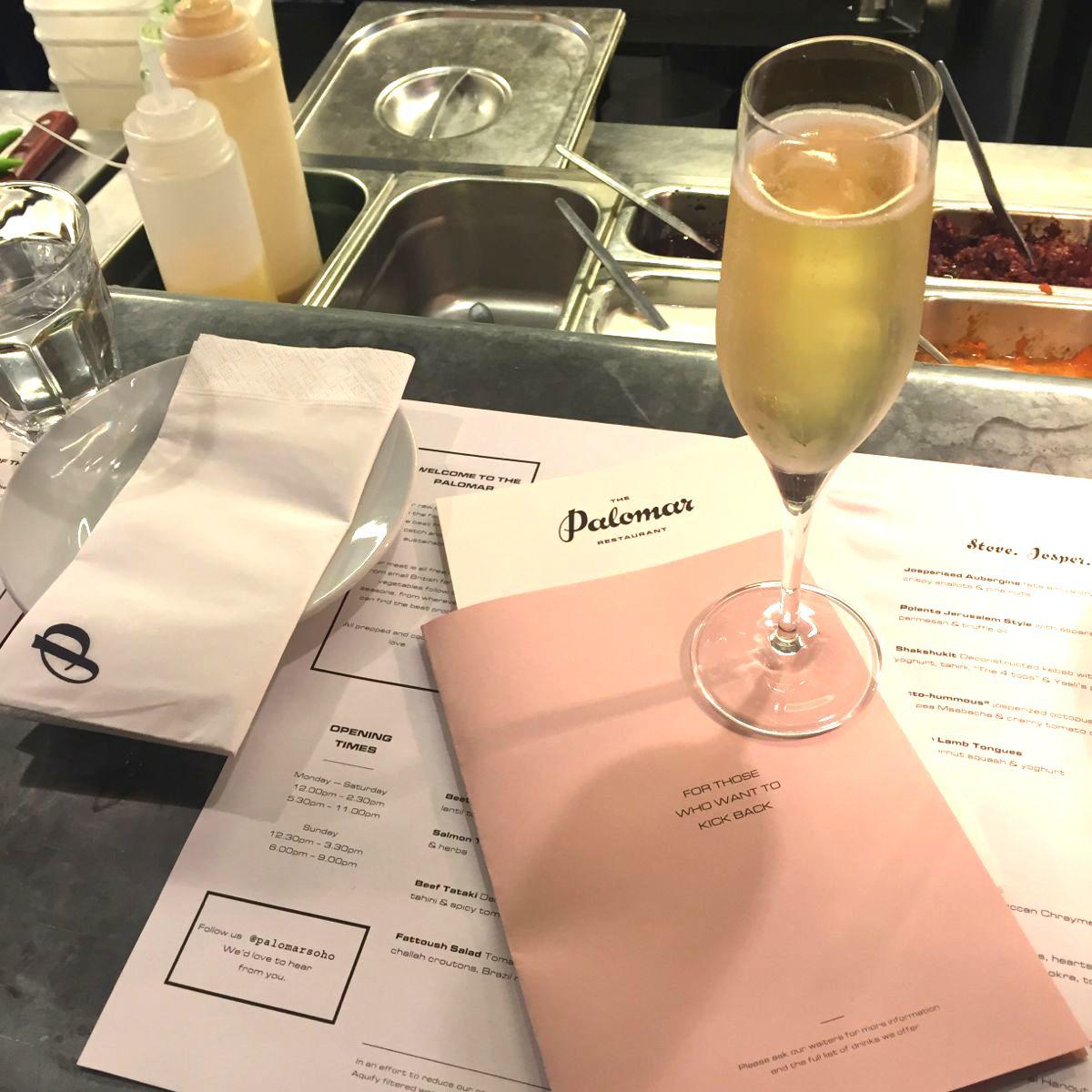 Because of the location in theatreland, it meant we dined at 5.30 which is the first sitting.  It was a treat to leave work early for date night and have a glass of fizz perusing the menu knowing that most people were still at work!  One could eat here alone – there is so much to watch in the kitchen!  We were captivated by the activity but also by how well prepared and calm the full team was, and as soon as they'd finished service for our sitting they were all straight into preparing for the next arrivals!
Nishnushim – I think it is Hebrew for snacks, but what isn't to love about a menu that starts with such a cute word!  These are the little plates – full of flavour.  Jason wouldn't let us order any bread at this stage, very sensible as it turned out… For our little plates we had the 'chef's nishnush' special which was fish falafel, we also had pickled mussels with carrots and then the 'spicy experience' of chilli's and dips.  The presentation was fantastic and the taste perfect.  Mr P had to order the kubaneh bread at this point to finish mopping the sauces.  Eat the bread slowly as you need it to mop, no plates are given back anything other than shiny clean at The Palomar!
The bread – we were almost tempted to get a second, or take some home.  It was just divine.  If they let guests order it first then they would just be a bakery – it's that good! Kubaneh is a yemeni pot baked bread and it comes with tahini and another tomato dip too.  It was like a brioche, only better, and it was warm.  The perfect mopper upper of the fine tasting sauces.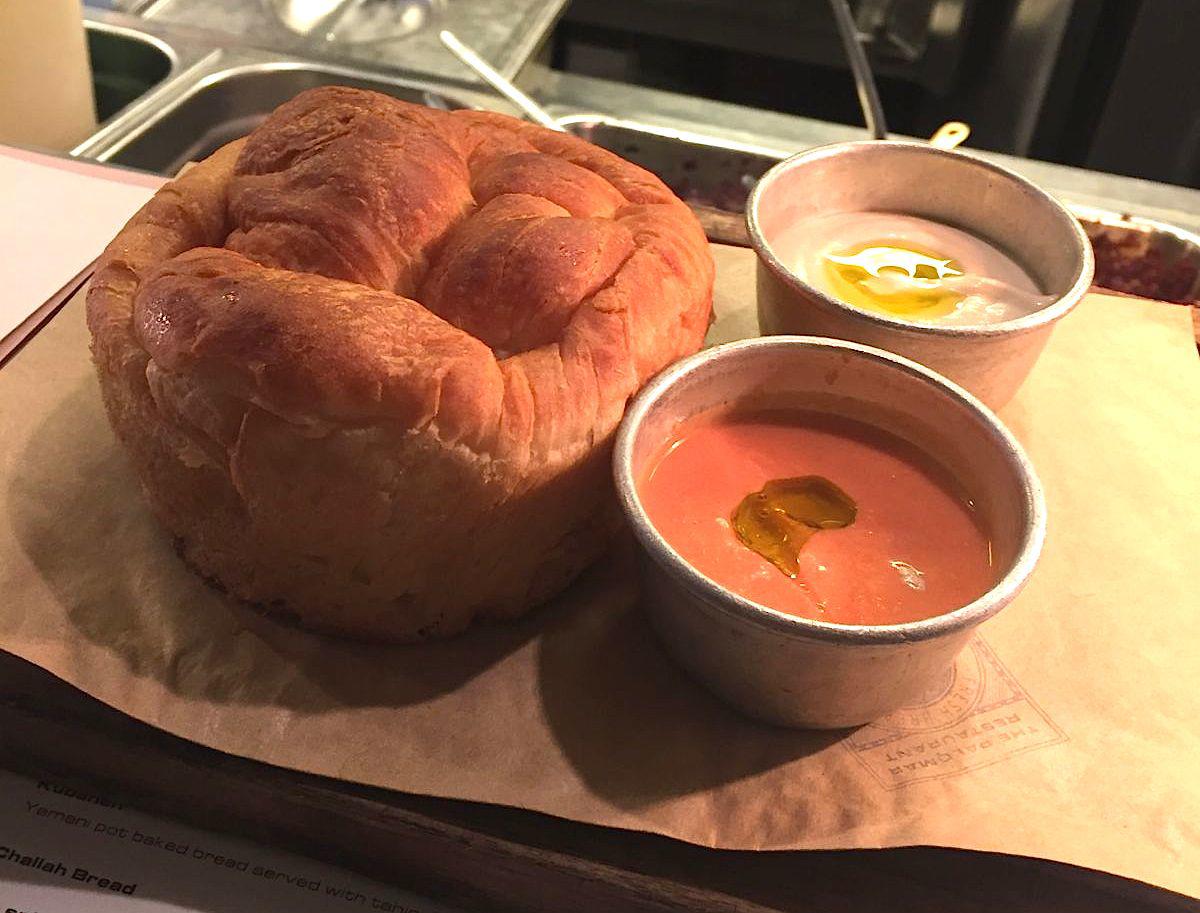 Much to our delight there was of course Israeli wine on the menu and we enjoyed a bottle of Chanson Blanc from the Clos de Gat winery in the Judean Hills.  I've drunk a fair bit of Israeli wine recently and I have to say, it is pretty good indeed!  I just looked this one up online and it rates very well indeed – sadly it isn't yet on the Wine Society list…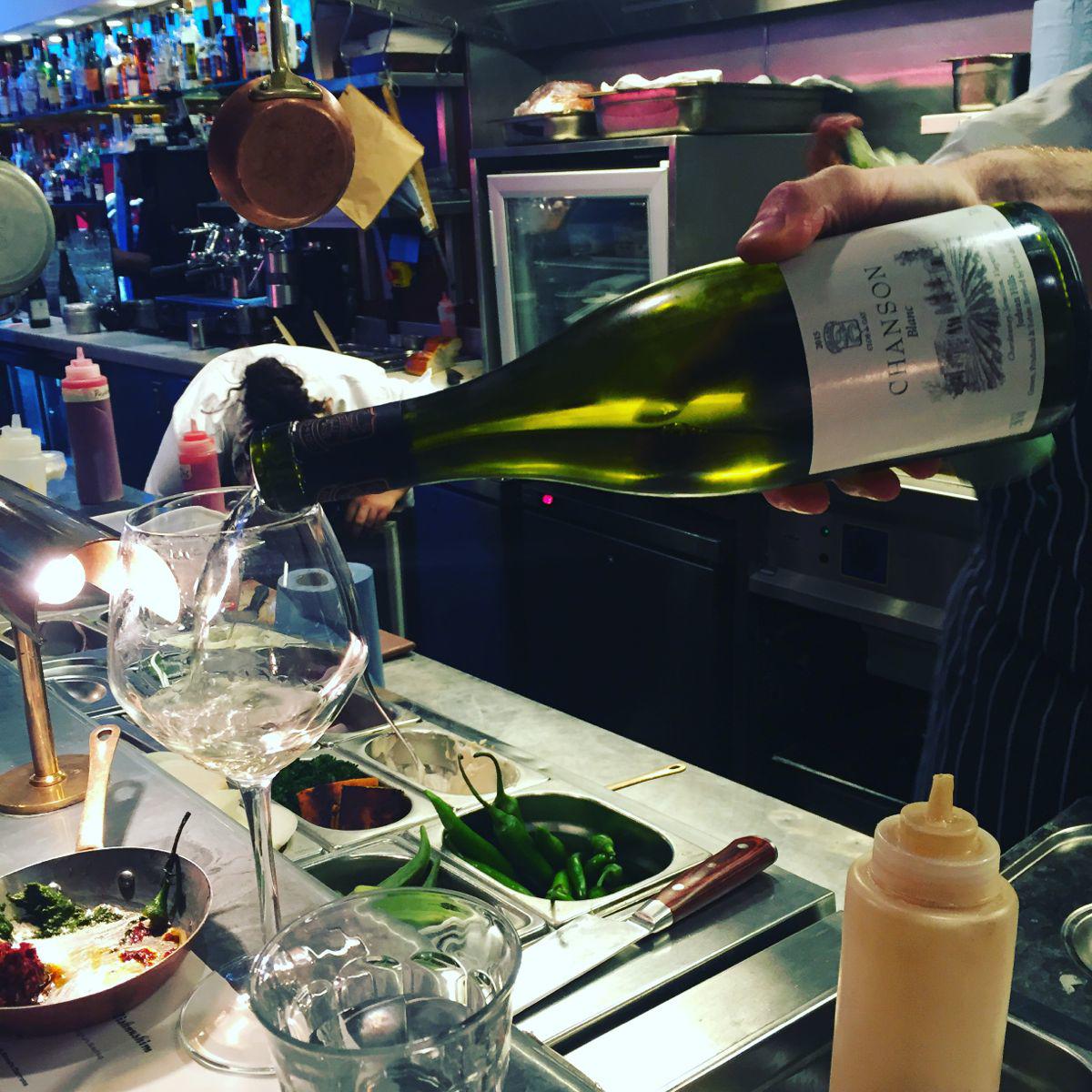 Next up, the bigger plates – again spoilt for choice.  One chooses from the 'raw bar', the josper stove which is charcoal fired and a selection of larger dishes and specials. Jason was very specific with his guidance – maybe 5 dishes, but not 6 and make sure you save some bread!  What a treat we had.  I knew that one of the house specials was the Jerusalem style polenta with mushrooms and truffle oil – in fact we'd had it in Machneyuda too.  The taste was divine and took us right back to holiday, I might almost say the London version had the edge taste wise!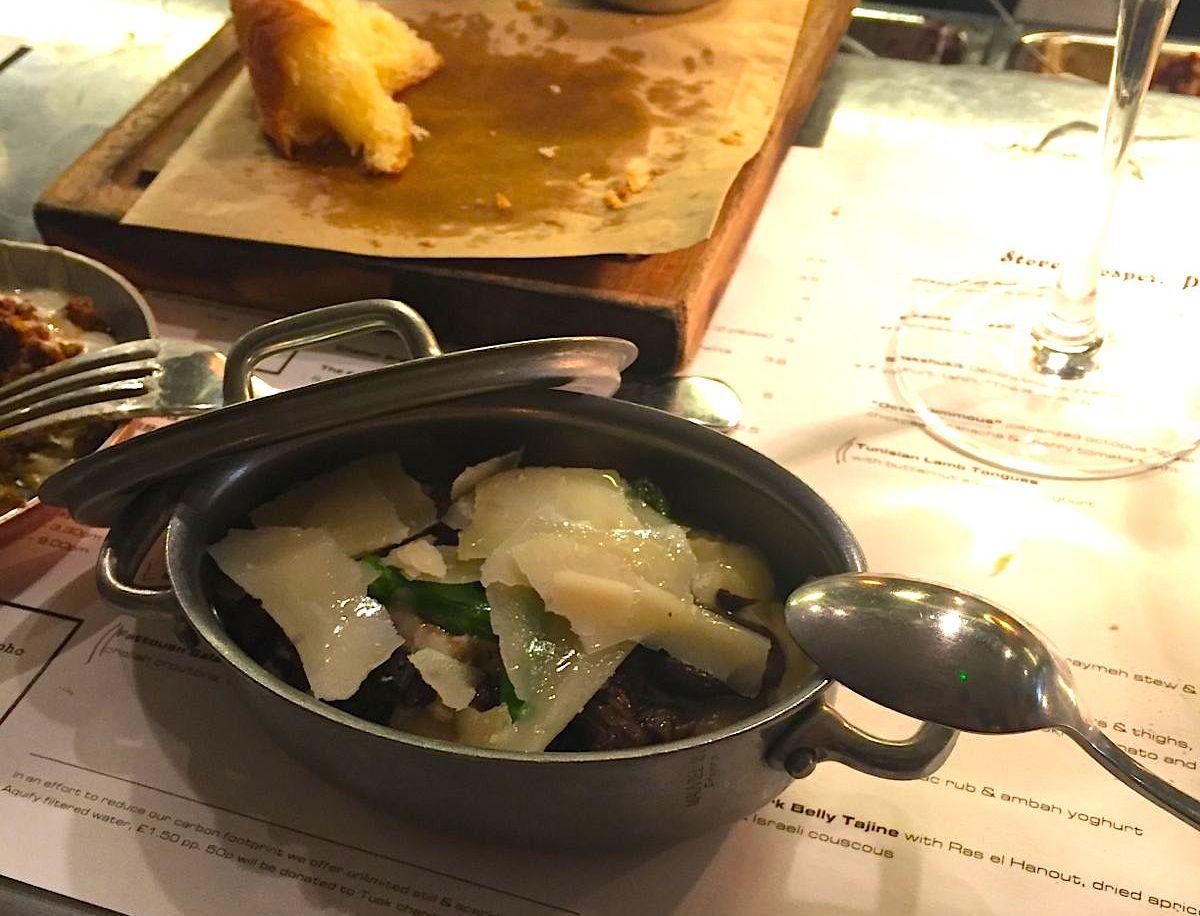 Another famous dish was the josperised cauliflower.  The cauliflower is now replaced with an aubergine in a feta sauce with shallots and pine nuts.  Those flavours all together – fantastic!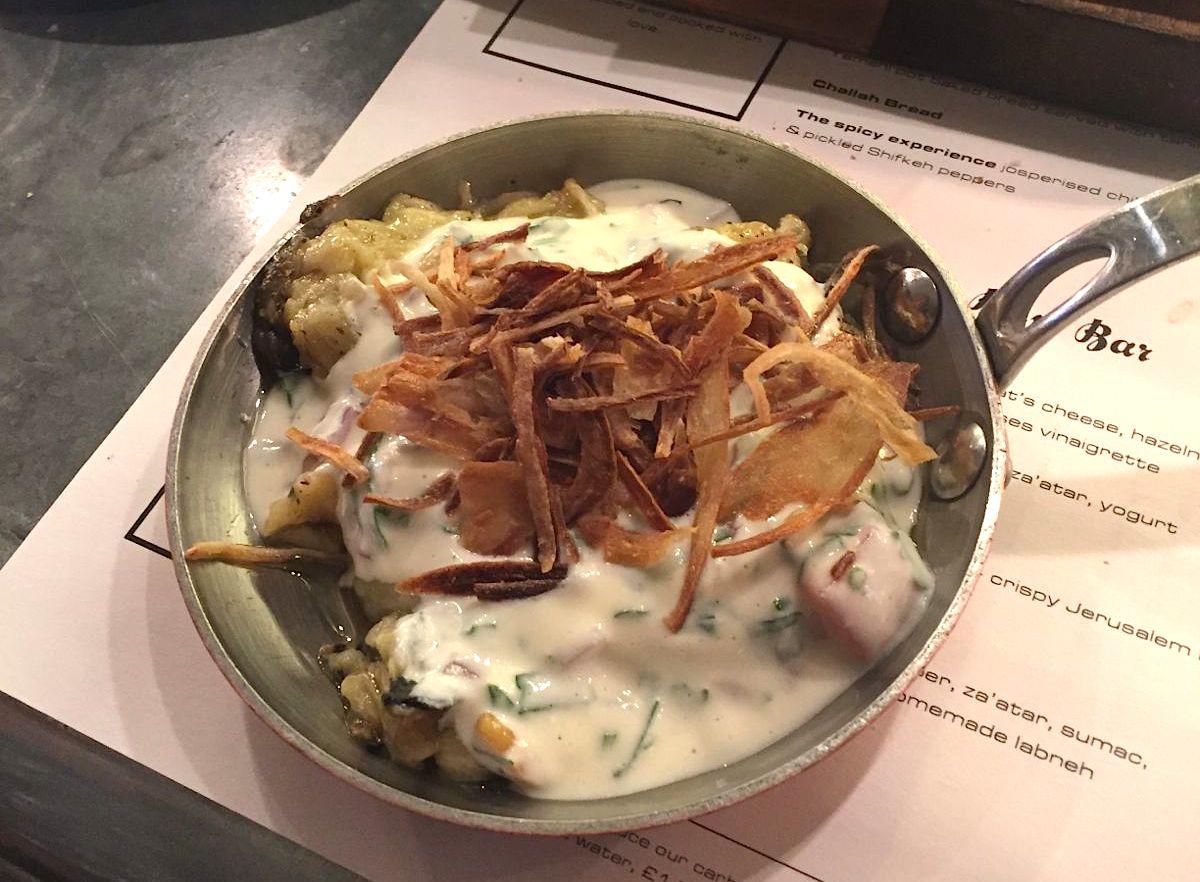 The shakshukit was a favourite (what am I saying – all the dishes were favourites).  It was a deconstructed kebab with a soft and warm pita, tahini, harissa, pesto, yoghurt – all the tastes setting each other off nicely.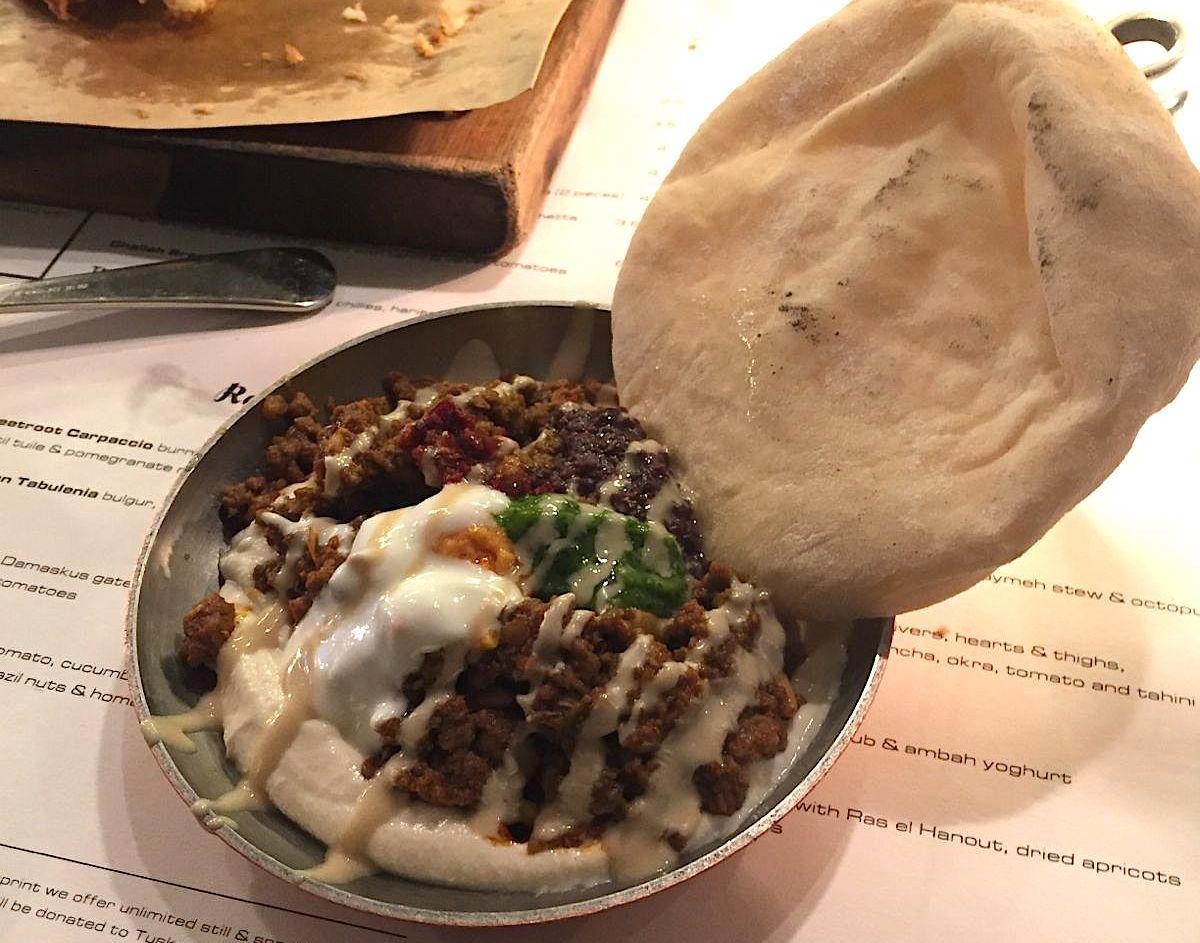 One couldn't eat this sort of food without a fattoush salad – tomato, cucumber, croutons, nuts, some soft cheese.  It was nice to have something chilled and almost as a palette cleanser before our final dish off the specials menu which was parpardelle with mussels, prawns, charred onions and sumac (spiced) butter.
There was of course a tasty looking dessert menu but we were all tasted out.  A really fun meal, with so many corporate type places in London it is nice to find somewhere with a buzz and its own culture and which pumps out incredible food one little beautiful dish after another.  The early sitting at the kitchen bar meant that we were home by 9.30pm after a lovely stroll back to Waterloo and a tipsy ride home on the train – so it wasn't even a late night.
Next stop for us will be to the little brother of The Palomar that recently opened – The Barbary…  Oh, and there's a recipe book coming out in August that I've just pre-ordered on Amazon prime!  The ultimate accolade is when this anti-chef orders a cook book!