When I was travelling too much with work, Mr P always used to ask when he could join me for the weekend.  I always deferred as I wanted to get home from a trip as soon as I could.  Then he started travelling an incredible amount with work and so started asking me when  I would join him for the weekend…  Well will you twist my rubber arm!  A trip away where we need only pay for one flight, a lot less hotel costs and have the benefit of local knowledge from his colleagues? If you insist!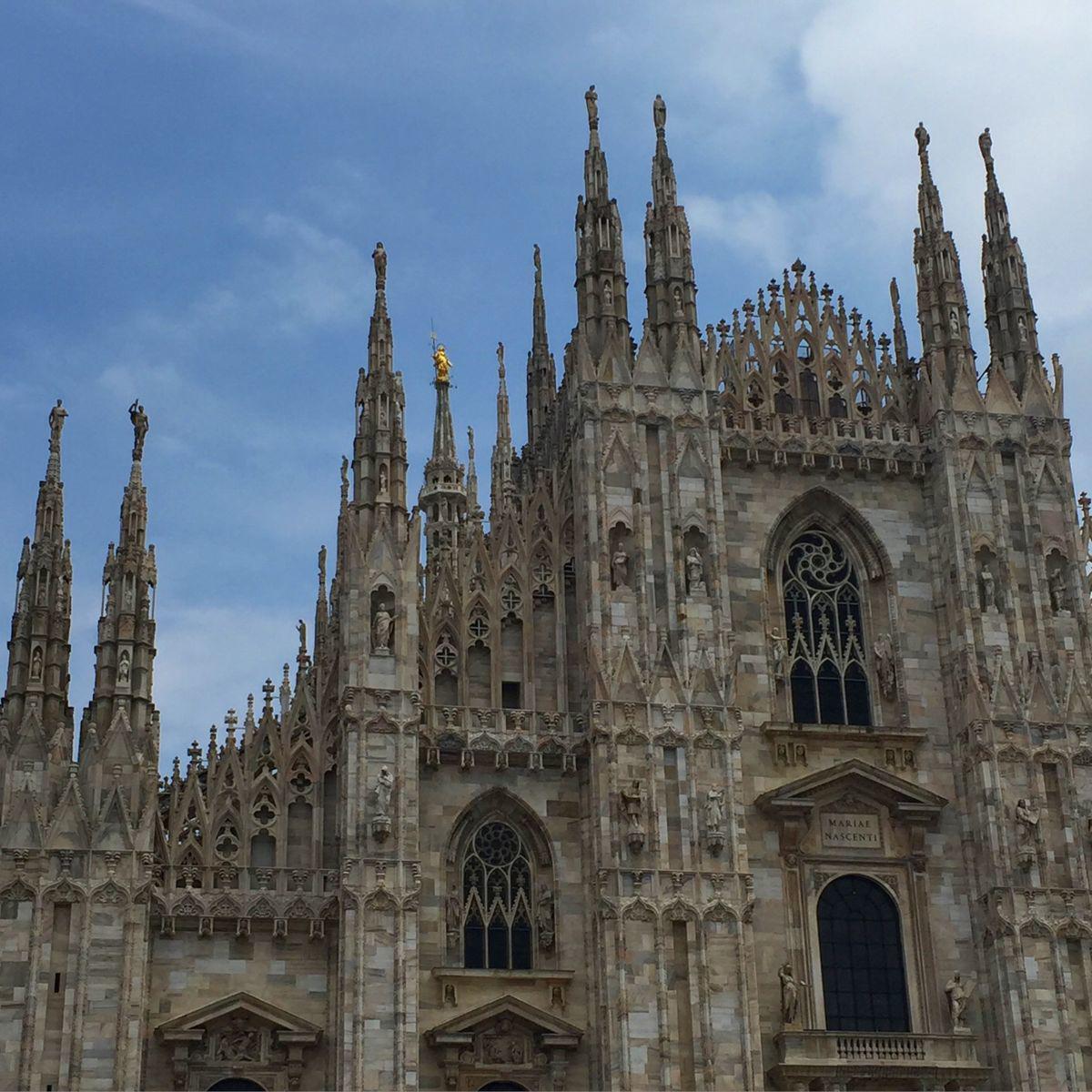 So far this year he's been (more than once) to Brussels, Vegas, Stockholm, Milan, Athens, Copenhagen, Helsinki, Cape Town, Riyadh, Istanbul, San Francisco, Dublin… You get the idea, a fair few places (follow his delights on Instagram) and this isn't the full list I'm sure, just what I can remember!  The first weekend that worked for us was June when he was in Milan, and BA had a sale on.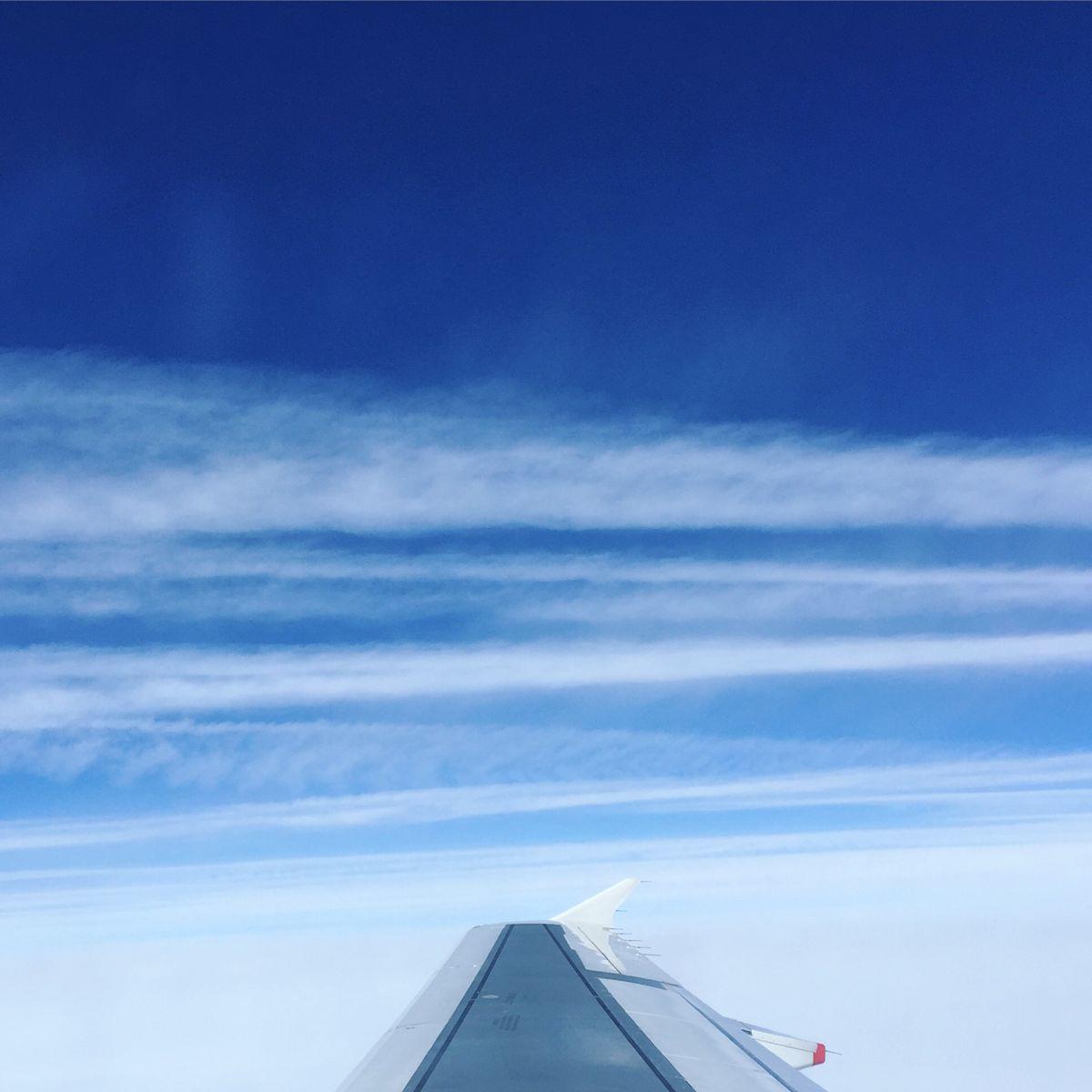 I didn't really do much research, I dipped around on Pinterest and found some stuff to see, then forgot about it until about a day before my flight when I sent Mr P my pin-board and asked him to review it with a map and his colleagues… What I did do though, was find us somewhere nice to stay.
Our accommodation
I'm not really a fan of big city hotels and so sought out something more bed and breakfasty.  I came across the charming LaFavia Four Rooms, which has 4 rooms priced at 100 Euros a night.  The owner Fabio has a gorgeous home – unique decoration from his travels all elegantly put together.  We stayed in room 4 – La Palmera.  I liked the look of the decoration when I was on the website and Fabio also told me it was at the end of the balcony so most private.  Comfortable bed, lovely decoration, fridge, bathroom with Korres goodies and a lovely little terrace area that gets dappled afternoon sunshine.  Mr P enjoyed a lovely organic breakfast on one morning and also got to know Fabio who was beyond helpful – booking us taxis, dinner and giving us recommendations.  It's in a great location – far enough out of the city but also close enough to walk in and 10mins walk from Garibaldi Station (great connection to the buzzing canal area of the city) and China Town, Eataly and Corso Como.
A day in the city
So Milan.  I arrived mid-morning and right away we walked into the city.  The forecast had been terrible so I had an umbrella, but after a cloudy start it brightened up and sunglasses and summer clothes were totally necessary thank goodness!  Parco Sempione is near where we were staying and made for a nice stroll taking us through to Castello Sforzesco.  This is a pretty iconic and scary looking place with gun slits all around the external walls.  It is red-brick and dominates the area.  There is a lovely grassed moat as well as pretty wild flower gardens.  We didn't stop in the museum and indoor displays, but plenty more to see with more time.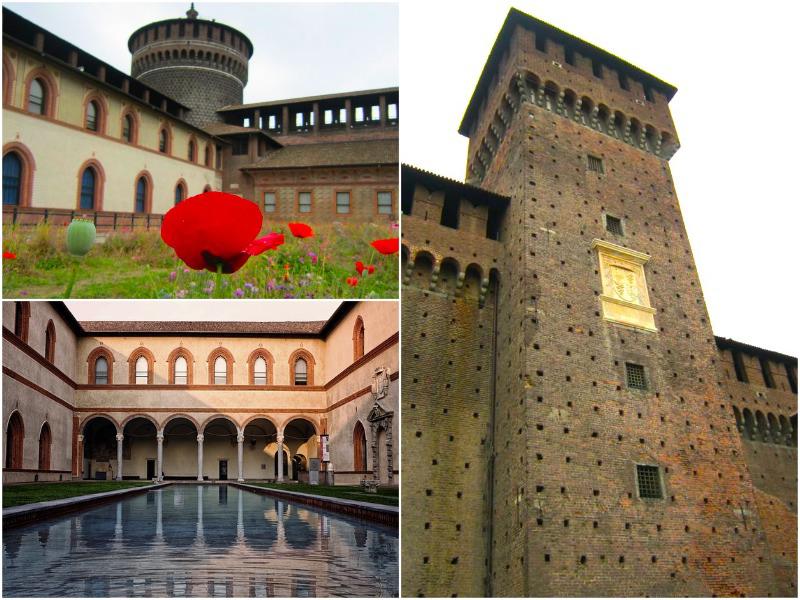 Onwards to the city centre where we found the finger monument outside the Italian stock exchange (irony of it not lost) and the stunning Galleria Vittorio shopping precinct and took the obligatory photos.
Then we snuck out of a side street and stumbled across the main event – The Duomo.  It's a beautiful building – so intricate and there seemed to be layer after layer of steeples.  We walked right round the building to take it all in and it's clear there was no scrimping on design, the detail goes right round!
After the obligatory pasta lunch, preceded by an aperol spritz (what else), Mr P got to enjoy my limited 'research' of off the beaten track surprises…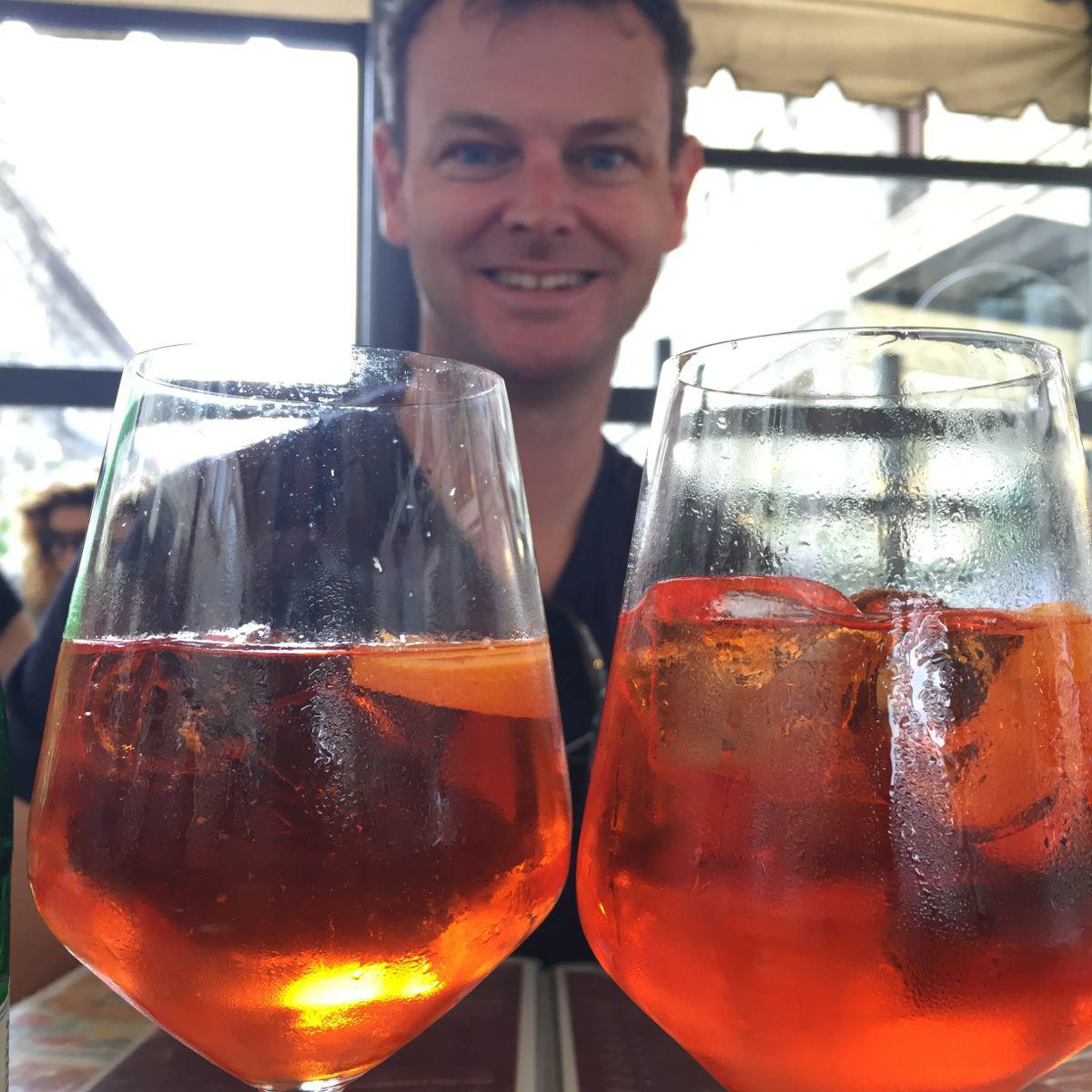 Art nouveau down a little side street that we almost missed because we thought the restaurant was so pretty that we didn't look up and had to consult google maps…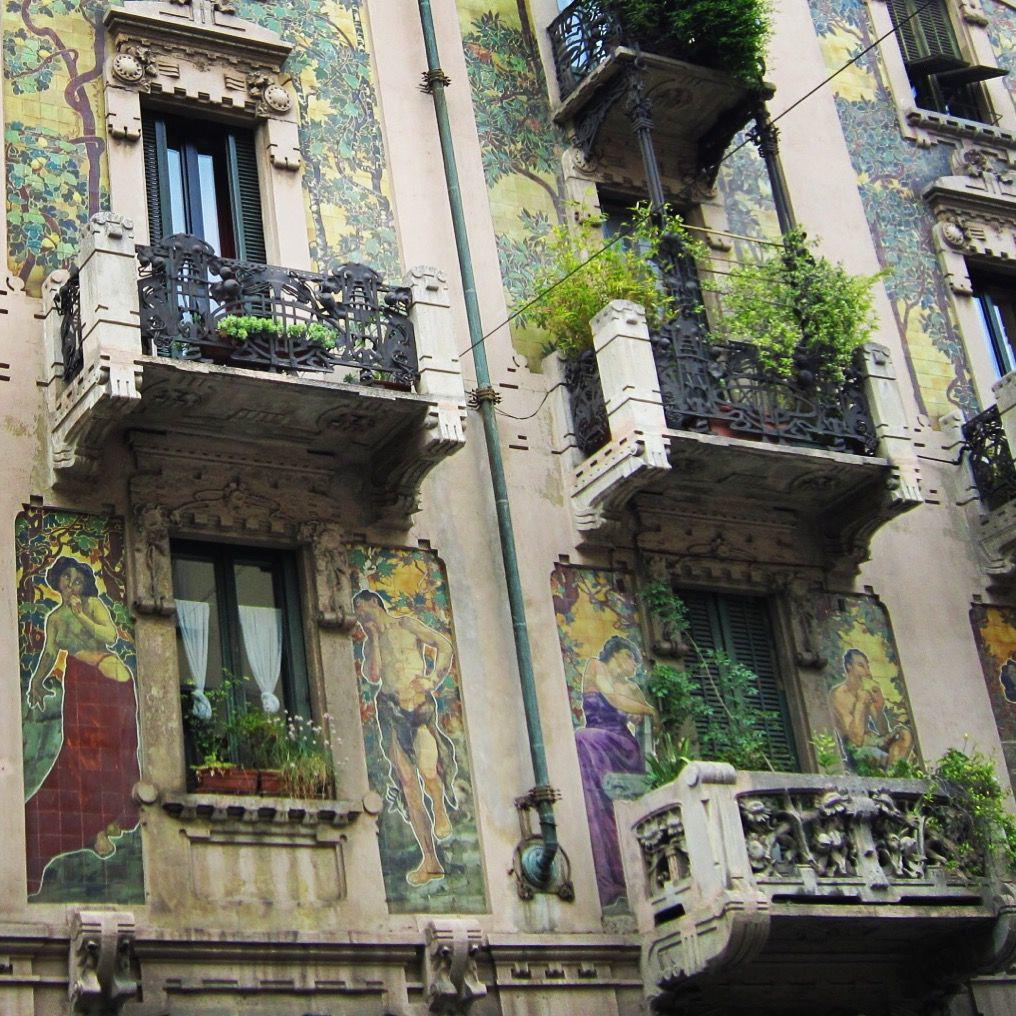 A vertical forest in a modern apartment building…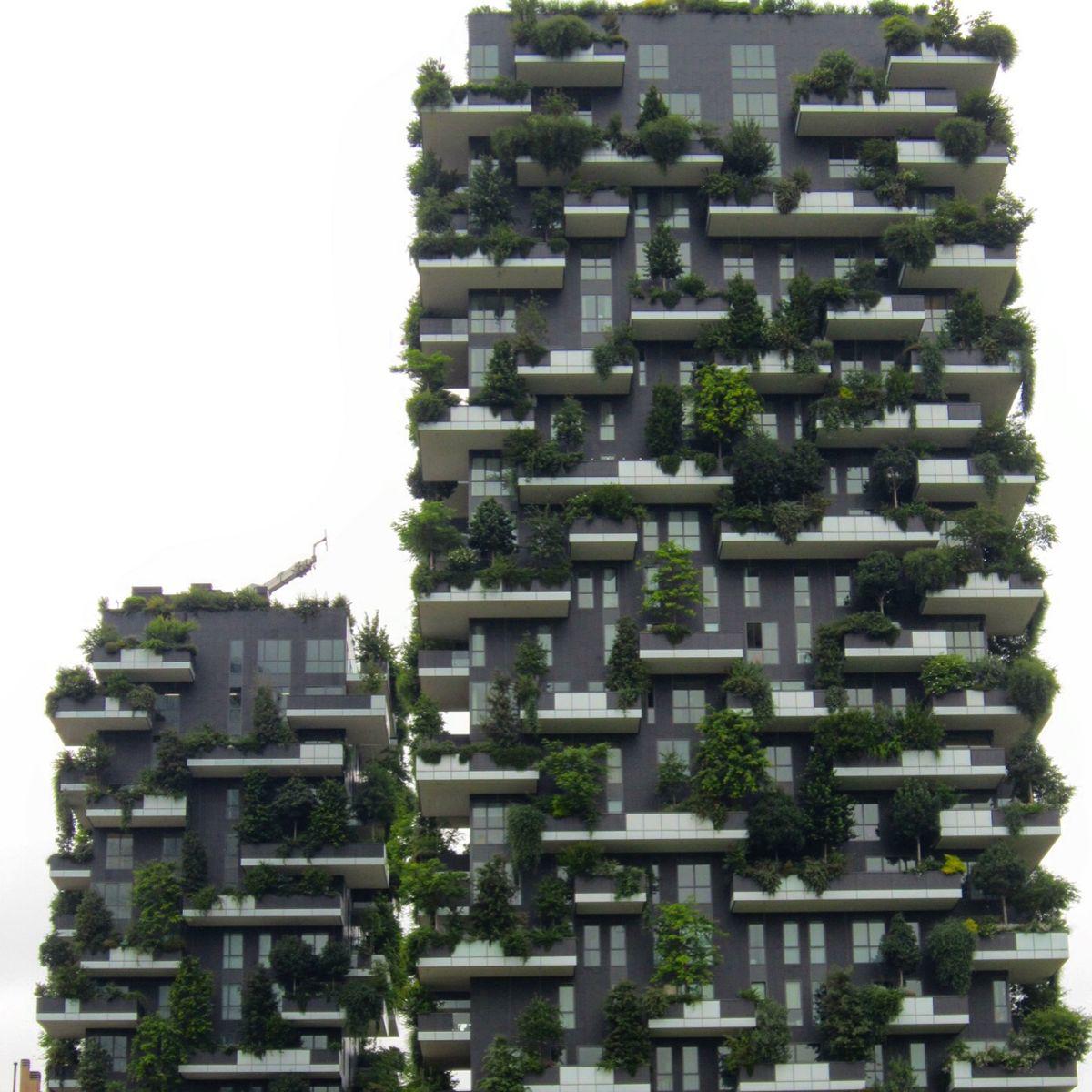 No idea why they aren't in the guide books?
With that, we headed home via Eataly to get a bottle of prosecco (eat your heart out Waitrose, this three storey food hall is where it's at) and chilled out with our books in the little garden at LaFavia.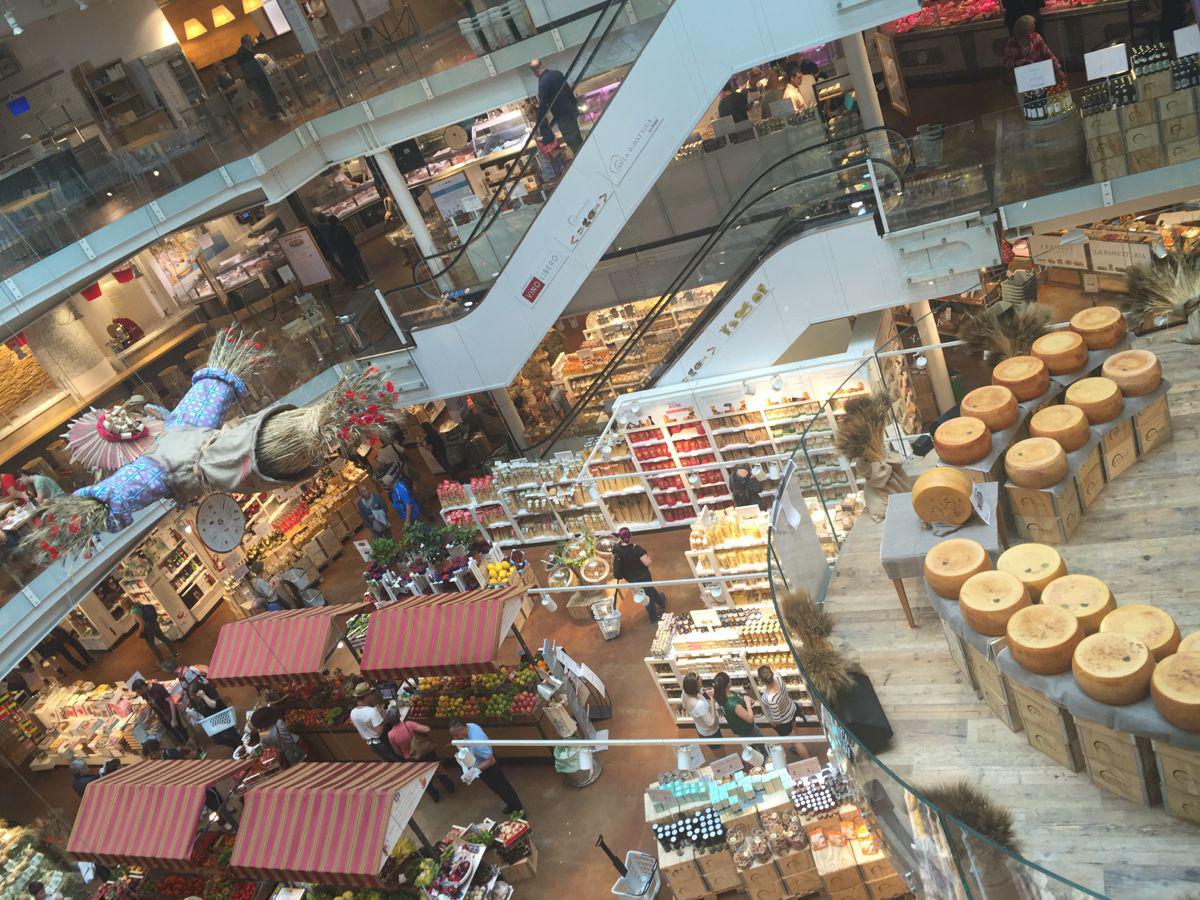 In the evening we headed to the canal area of the city – to the south of the centre.  We hopped on the Metro for this little adventure.  We thought we were early heading out at 6pm, but already the area was buzzing.  We stopped at Rebelot for a picky bits kind of supper and drinks which was very enjoyable (whilst water-skiers whizzed past us on the canal).  Mr P spied a gelateria across the water and made a beeline for it after dinner… 5Euros buys a lot of ice-cream!  Strolling back to the metro past the main canal there was such a lot going on – big screens to watch the football (amazingly – people sitting civilly on the river banks or the extra chairs set up for the occasion) and plenty of activity, but I think (much like Vienna) even without the football it is still a place where people congregate on a summers evening.
A day by the water
As you can tell from above, we exhausted what we wanted of the city in an afternoon… Thankfully Mr P was prepared for this – and had already researched taking the train up to Lake Como.  This was a genius idea, despite the early start this was where the blue sky sunshine was to be found.  63 minutes from Milan we hopped off the train at Varenna straight onto the tracks – it was very country!  Thankfully we had only bought single tickets up there, as we hadn't validated our ticket, so we bought new ones on the train and could use our original tickets on the way home.
Varenna is a pretty little lakeside village and well worth exploring.  When we came back at the end of the day it was very busy – presumably because of the station – with many places to eat and little gift shops.  We only passed through Varenna grabbing some breakfast and buying ferry tickets for the day that covered the middle lake.  Our first stop was Bellagio (thankfully no casino) which I think was the prettiest place, with steep winding alley ways and quirky buildings.
Because we were standing near a ferry when it came in, we then decided to hop across to the other side of the lake to Cadenabbia.  Not so pretty on this side, but we did find a little slip way to relax on for a while and dip our toes.  As I remember from sailing in Lake Garda, glacial melt-water is of course on the cold side, so very refreshing!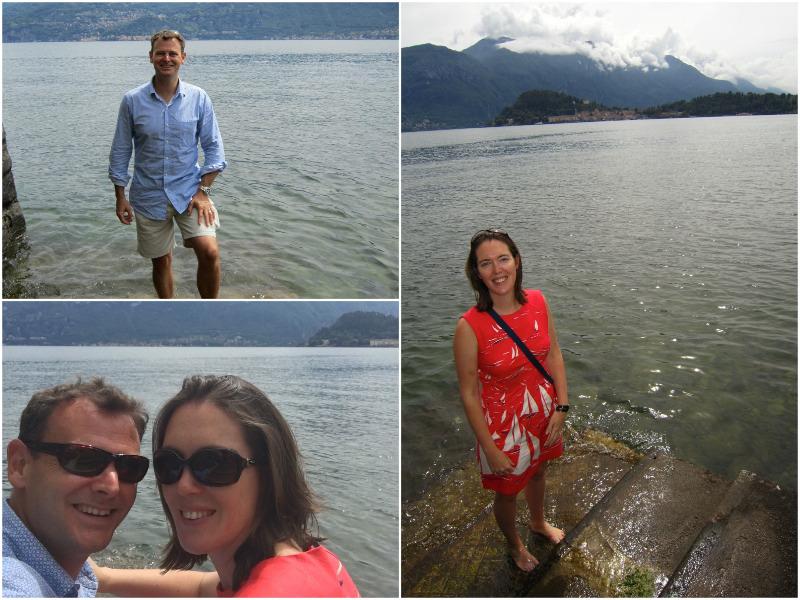 We returned to Varenna for lunch and found a lovely spot right by the water and enjoyed watching the comings and goings.  Obligatory prosecco and aperol spritz followed by salad and pasta (no pizza at all for either of us this trip).
When we'd been in Cadenabbia we'd spied the gorgeous Giardini di Villa Melzi and took ourselves there for the afternoon.  A gorgeous tree-lined waterfront and stunning steep grassed terraces and a little water garden.  It was so peaceful and I even managed to catch 40 winks in the sunshine as I was shattered from too many early starts!
I slept most of the way home too – coming back into Milan was a shock, clearly most of the city's residents decamp at weekend and it was like being in rush hour as we returned!  We had a lovely evening pre-booked at a much recommended restaurant Sant Eustorgio which we really enjoyed.  Charming waiter service, delicious food (I had the veal schnitzel and Mr P a sea bass pasta dish) and a fitting end to a relaxing and enjoyable weekend away!
We need the planets to align again so that I can join Mr P on a work trip in South Africa… But I'll settle for Stockholm, Copenhagen or Helsinki for our next work-linked adventure.  The weekend proved that regardless of whether a place is on my wish list, it's fun to meet somewhere new, go exploring and make the most of the opportunity that presents itself!