We first went to Vienna in November – it was the first weekend of the Christmas Markets and the beautiful city was full of festive cheer. It was superb to head back in July to see a different season and more of the city. Mr P's oldest friend lives in Vienna and we will I am sure be back there again for more soon – good hosts, surpassing themselves by ordering in a case of Brundlmayer ahead of our arrival! Such good sparkling wine, so very (very) gluggable!

In hot weather I like to be by the sea for the breeze, so a trip to Vienna in July was somewhat daunting – especially in the heatwave conditions at the start of July. 38 degrees! Thankfully we had seen the city in the cold months so we were able to make the most of the outdoor space during the day, and enjoy the city dining and bar culture in the evenings.
Vienna has a fabulously hip scene – which we did of course enjoy. The museums quarter has a great vibe – outdoor dining in a number of restaurants and plenty of space for groups to meet and enjoy a drink. We'd eaten by the river at Motto on our last visit and instead dined in their summer restaurant in museum square – good food, fast service, nice wine. There are loads of arty seats in the area so groups meet for picnics and drinks here too – all very civilised. After dinner we had a lovely stroll through the city across to the river. This is where the city comes alive at night. I've heard about the riverside beaches in Paris, but the riverbanks of the Danube are crammed full of funky bars with plenty of sand and good tunes. We enjoyed a 'hugo' – wine, elderflower, sparkling water and mint leaves. The perfect drink for a hot and humid evening!

Having seen the city by night, and in winter – we made the best plan possible for the heat. We hired bikes and headed to the Donauinsel. First though we had to get the tram – this was hot, there is no air conditioning on the public transport. Prepare well – take water – and wish the tram faster… Also – note what the locals do, standing outside the tram until departure! Do the same!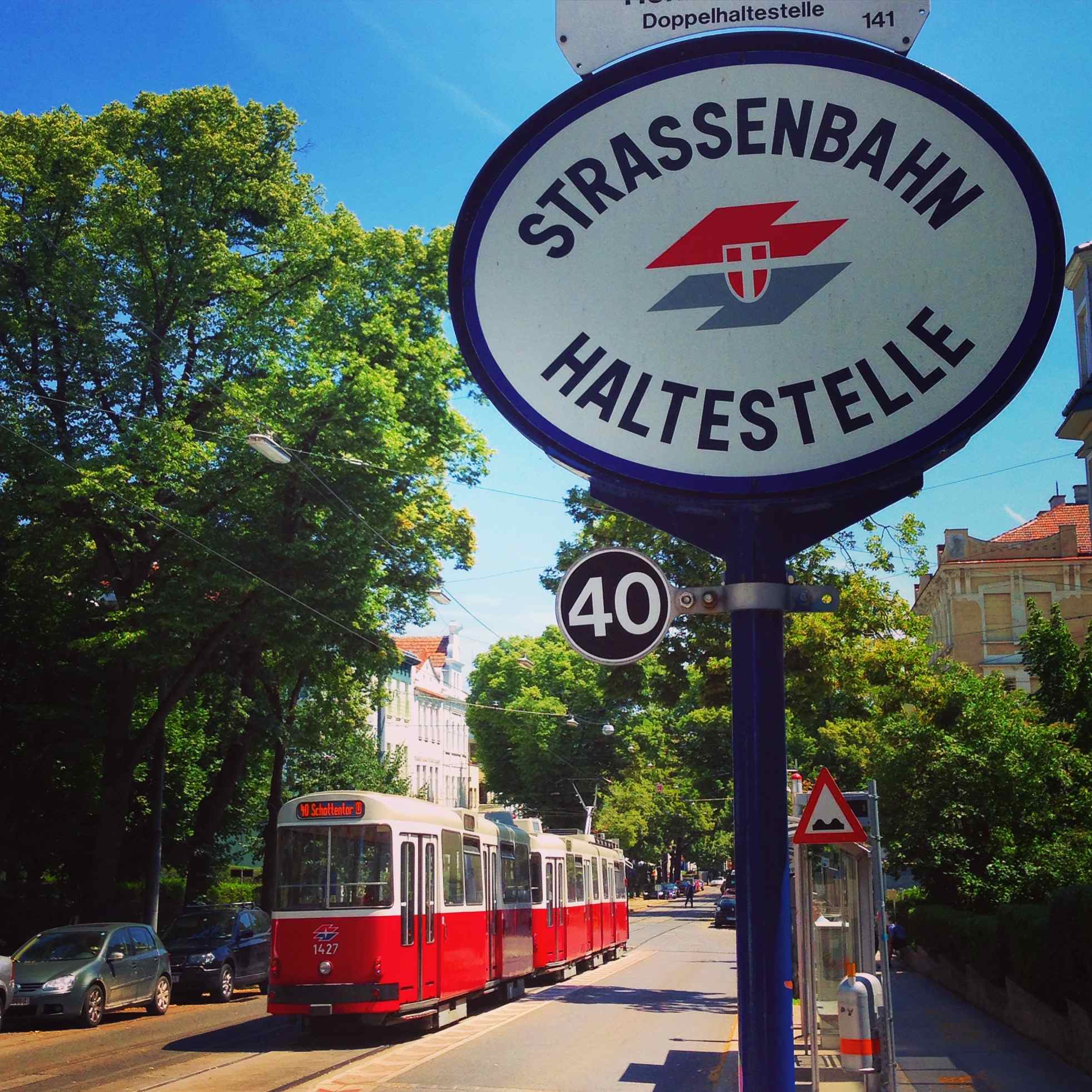 The Donauinsel is a 20km long car-free island on the Danube river. Vienna locals that don't head to the Neusiedler See on a hot weekend head here instead. There are cycle paths and countless jetties and slipways that allow easy access into the Danube for swimming. Incredibly refreshing, and clean, water – a perfect 'in-city' getaway. We cycled the length of the island picking our spot carefully – there is a large FKK (nudist) area at both ends which appeared to be very popular as we cycled through! There are plenty of maps to help you navigate your way around the island too. There aren't that many places to buy food and drink though, so do plan ahead (Mr P and his friend were a little grumpy mid-afternoon that we didn't have a cooler with beers!)

Vienna does culture and public entertainments far better than anywhere else we've been. As chance would have it – we were there during the Film Festival. The set up for this is quite incredible. Countless stalls selling good quality food from all over the world, upper class wine bars and good quality and plentiful seating for all. And free entry. Not only is there all this on offer, but there is also a big screen hung off the side of the Rathaus with stadium seating. We enjoyed a Pink Floyd concert from a years gone by on our evening there. A very pleasant evening indeed – culture without even needing to look for it, and in a stunning setting.

Our final day and it was still scorching – we sought breakfast in the shade enjoying the wind created as we cycled there. We headed for the Augarten which is a fascinating place – gorgeous gardens and buildings and a number of anti-aircraft bunkers from the third reich. The cafe restaurant in the gardens was a perfect place for ham and egg, orange juice and coffee. A popular place with locals on a Sunday.

We were at a bit of a loss of where to cool off for the rest of the day and so headed to one of the city's many lido's. I was expecting a 25 metre pool and some concrete seating round the edge. Not so! The lido is where the world heads to and the grounds are enormous with 4 or 5 pools and hundreds of people. A fascinating place – people watching at its best! Perhaps not as civilised and calming as a day on the Danube, but perfect to cool off for a little while!
We still have a lot more of Vienna to see – but what I really enjoyed about this particular weekend was doing as the locals did. A relaxing time without getting too hot all the while enjoying good company, the varied cultural sites and great food and wine!